---
Calendar Giveaway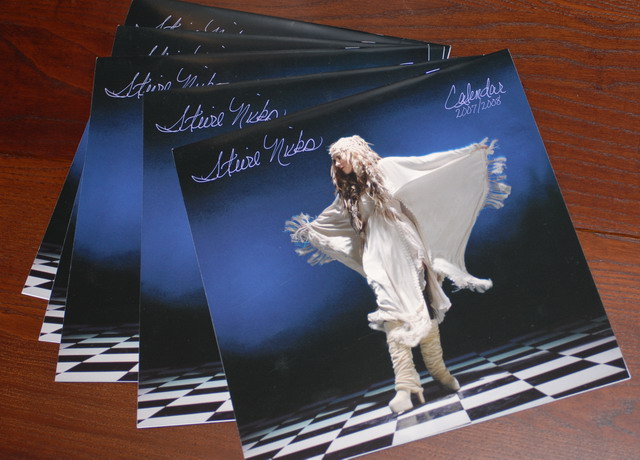 ---
Week 4
This contest has ended! (See week 5's contest )
The Nicks Fix is having a contest to give away 5 of the new Stevie Nicks calendars. The photographer, Herbert W. Worthington, had donated the calendars for this contest. The calendar contains 14 previously-unavailable photos of Stevie. The calendar runs from June 2007 to May 2008 and each month has its own 12"x12" photo. The calendars are autographed by the photographer.
The calendars will be given away one at a time with a different contests for each calendar. The first three calendars have already been given away (see the first and second and third week's winners). To get in the drawing to win the fourth calendar, correctly identify the 10 song titles that contain the lyrics below. A winner will be randomly selected from the correct entries received. Just submit your answers below. Entries for this fourth contest must be received by midnight EST on August 4th. The winner will be announced on August 5th and they will be contacted by email for shipping information. If there is no response from the winner, after seven days they will forfeit another winner will be selected. Winners must allow their name to be listed here. Good Luck.
The winner this week is Vickie Woodruff. Congratulations Vickie!!
Name the song titles that contains each of the following lyrics from Stevie or Fleetwood Mac songs.
Answers: 1. Well it's better to have loved and lost - Affairs of the Heart
2. Well you held her prisioner, And after all these years - Welcome to the Room...Sara
3. Sometimes I hear you crying - Thousand Days or Whole Lotta Trouble
4. Glowing in the darkness, In her own angel way - Touched by an Angel
5. Still through the sunlight days I wait - Sweet Girl
6. You gotta take it as it comes - Sometimes It's a Bitch
7. Well it had to do, with a dream come true - The Second Time
8. Yes he did send me flowers, Well that was a long time ago - One More Big Time Rock and Roll Star
9. Well, it's hard to be civil, And it's real hard to be nice! - No Questions Asked
10. ...across her lips to the corner of her mouth - Love Is
---
If you don't win a calendar, you can order one from the calendar website.
---