---
Calendar Giveaway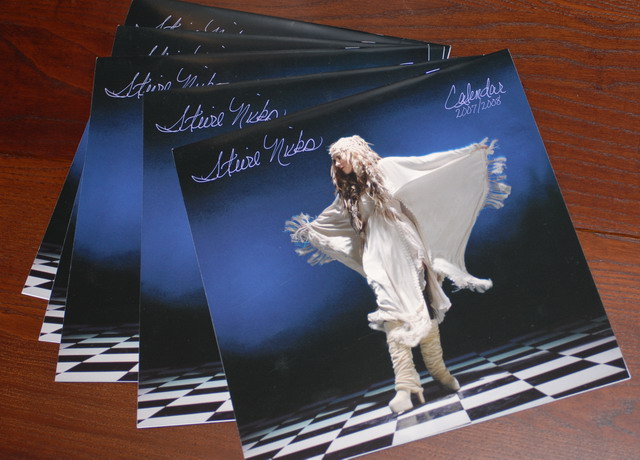 ---
This week's contest has ended!
Week 2
The Nicks Fix is having a contest to give away 5 of the new Stevie Nicks calendars. The photographer, Herbert W. Worthington, had donated the calendars for this contest. The calendar contains 14 previously-unavailable photos of Stevie. It runs from June 2007 to May 2008 and each month has its own 12"x12" photo. The calendars are autographed by the photographer.
The calendars will be given away one at a time with a different contests for each calendar. The first calendar has already been given away (see the first week's winner). To get in the drawing to win the second calendar, correctly identify missing words from the 10 songs below. A winner will be randomly selected from the correct entries received. Just submit your answers below. Entries for this second contest must be received by midnight EST on June 30. The winner will be announced on July 1 and they will be contacted by email for shipping information. If there is no response from the winner, after seven days they will forfeit another winner will be selected. Winners must allow their name to be listed here. Good Luck.
Determine the missing word or words in each of the following lyrics from Stevie or Fleetwood Mac songs.
---
The winner this time is Christina Homer! Congratulations Christina!
Thanks to everyone who tried. There are 4 more calendar contests coming up, so try again. The next one will start in mid-July. Watch for it on the main page. If you can't wait to win a calendar, you can order one from the calendar website.
---
This week's answers:
1. The loneliness of a one night stand is hard to take.
2. Would you die of grieving when I leave.
3. I turned around And the water was closing all around Like a glove.
4. When the rain washes you clean...you'll know.
5. And I see you doing what I try to do for me, With the words from a poet, and the voice from a choir
6. In secret she says she needs to see him, But no words are spoken
7. But she was like some missionary dancing to the beat of some man's ancient drum
8. We see no change in sight, Watching her decline, She gets on a midnight plane, She's done it a thousand times.
9. Can I sail through the changing ocean tides, Can I handle the seasons of my life.
10. She rules her life like a fine skylark, And when the sky is starless
---
If you don't win a calendar, you can order one from the calendar website.
---