---
Calendar Giveaway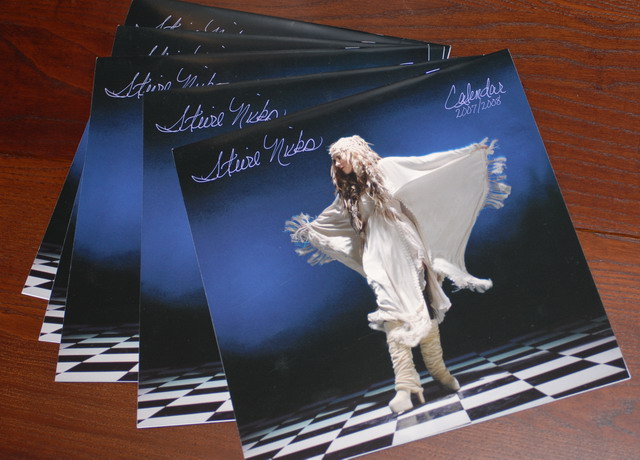 ---
Week 3
The week 3 contest has ended!
The Nicks Fix is having a contest to give away 5 of the new Stevie Nicks calendars. The photographer, Herbert W. Worthington, had donated the calendars for this contest. The calendar contains 14 previously-unavailable photos of Stevie. It runs from June 2007 to May 2008 and each month has its own 12"x12" photo. The calendars are autographed by the photographer.
The calendars will be given away one at a time with a different contests for each calendar. The first and second calendars have already been given away (see the first and second week's winners). To get in the drawing to win the third calendar, correctly identify the 10 song titles that contain the lyrics below. A winner will be randomly selected from the correct entries received. Just submit your answers below. Entries for this third contest must be received by midnight EST on July 28. The winner will be announced on July 29 and they will be contacted by email for shipping information. If there is no response from the winner, after seven days they will forfeit another winner will be selected. Winners must allow their name to be listed here. Good Luck.
The winner for week three is Maria Wingfield. Congratulations Maria!
Name the song titles that contains each of the following lyrics from Stevie or Fleetwood Mac songs.
Answers:
1. No speed limit...this is the fast lane Bella Donna
2. She is like a cat in the dark Rhiannon
3. Time cast a spell on you...you won't forget me... Silver Springs
4. Well there is magic all around you, if I do say so myself... Rooms on Fire
5. The applause from it all is so defining Fall From Grace
6. Too many flowers here to cut down Running Through the Garden
7. Like a willow I can bend Stand Back
8. When I want something...I get it Whole Lotta Trouble
9. Do you understand the word, pleasure Sister Honey
10. I wait for you to say, just go Beautiful Child
---
If you don't win a calendar, you can order one from the calendar website.
---