Visit the Online Store for Stevie Nicks Merchandise.
Tonight Show
Stevie will be performing on The Tonight Show with Jimmy Fallon on Monday, November 3. The show will air on NBC at 11:35PM (10:35PM Central).
Stevie's new solo album "24 Karat – Songs From The Vault" is available now!!
Fleetwood Mac announces 28 additional dates
Fleetwood Mac have confirmed they will be adding 28 more dates to their already scheduled 40-city ON WITH THE SHOW tour. The second leg of the tour will begin on January 16, 2015 in St. Paul, Minn. American Express card members can purchase tickets before the general public beginning Monday, Oct. 13 at 10:00 a.m. Tickets go on sale starting Oct. 20. Fleetwood Mac is currently performing with their five star lineup including the returning songbird Christine McVie who rejoined the band following a 16 year absence. Visit the official Fleetwood Mac website for a full list of On With The Show tour dates and details.
Today Show
Fleetwood Mac performed live on The Today Show Octomer 9th on NBC.

Order Stevie's new album now. See Details
You can also order it on Amazon.
---
Stevie's New Album
Stevie released her new solo album "24 Karat – Songs From The Vault" on October 7th! In addition to the brand new solo album, the deluxe edition features never-before-seen polaroids taken by Stevie herself throughout her career. The deluxe photobook will be comprised of 48 pages of new/old pictures.
---
Stevie Self Portraits
Beginning in the mid-seventies, Stevie Nicks took a series of Polaroid self-portraits in her home as well as hotel rooms around the world while on tour. Earlier this year, during the recording of her new solo album 24 Karat Gold - Songs From the Vault, she decided to share these never-before-seen self portraits. Each one of these archival pigment prints is hand-signed and numbered by Stevie Nicks. Visit the gallery website to see them.
---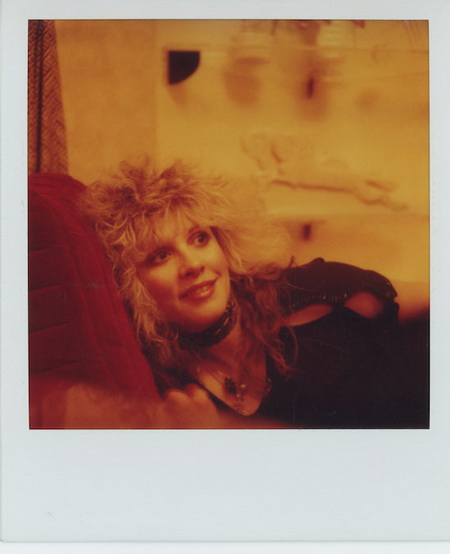 Stevie has a new official Instagram account at "stevienicksofficial"! Follow her now and get tastes of her upcoming record every week beginning August 5th!
---
Stevie Nicks, Lindsey Buckingham, Mick Fleetwood Guest InTheStudio For "Best of" Fleetwood Mac Tour
North American syndicated Rock radio show and website InTheStudio: The Stories Behind History's Greatest Rock Bands welcomes the Big Mac back with a two part, two week radio special inaugurating their "On With the Show" North American tour, which marks the 35th anniversary of their 1979 classic Tusk.
To celebrate forty years since forming this line up, Fleetwood Mac will perform forty dates including multiple shows in several of the biggest North American cities, an unequivocal testament to this specific band's evergreen starpower. With singer/songwriter/vocalist/keyboardist Christine McVie on board, once again, Fleetwood Mac is back to full strength with the mid-'70s line up that made them international superstars.
FLEETWOOD MAC Tour Special "Best of" /InTheStudio interview is available now to STREAM
See more details on the In The Studio website.
---
Edge of Everything
There is a nice article about Stevie in the Music section of the Out magazine website.
Design a Shawl
Stevie has invited fashion designers and stylists across the world to design her a shawl, representative of her mystical style and unique fashion. You can see more details on the Talent House Artworks website.
Stevie to join The Voice
Stevie will be joining The Voice this fall and will be working with Adam Levine to help advise his team. The 7th season of The Voice premieres September 22 on NBC and will include judges Blake Shelton, Gwen Stefani, Pharrell Williams in addition to Adam.
Articles about Stevie and The Voice:
Starpulse
Headlines & Global News
Stevie performs at Adam Levine's Wedding
Stevie sang at the wedding of Adam Levine and Behati Prinsloo, who tied the knot at in Cabo San Lucas, Mexico on July 19th. The wedding included entertainment by Adam and his band, Stevie, Sublime and reportedly a solo performance by the bride. Stevie will be working with Adam this fall on The Voice, where she will providing advice too his team. You can read articles about the wedding below:
Mail Online
Hollywood Life
GuardianLV
People.com

Rock & Roll Hall of Fame
Stevie performed with Bonnie Raitt, Sheryl Crow, Emmylou Harris, and Carrie Underwood for Linda Ronstadt at the Rock & Roll Hall of Fame Induction Ceremony on May 31 on HBO. If you missed it, check out the videos below.
Check out the trailers of the event:
- Trailer 1
- Trailer 2
Read articles about the event:
Huffington Post - includes video interview with Stevie
RTTNews
Hitfix
axs.com

---
BMI Awards
Stevie received an Icon Award at BMI's 62nd Annual Pop Awards in Beverly Hills, Calif. Lady Antebellum, Sheryl Crow and others paid tribute to Stevie with performances at the event. Read an article about the event at msn.com.
---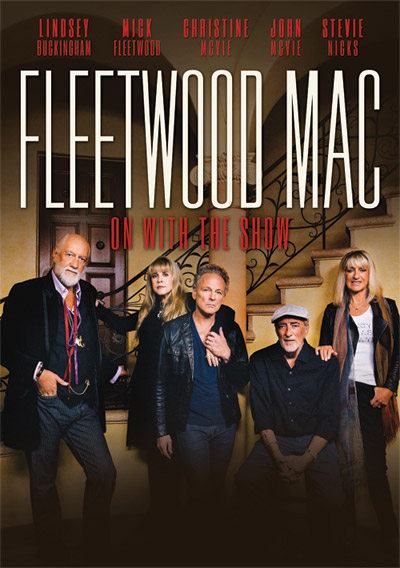 Fleetwood Mac 2014 Tour
Christine McVie will be re-joing Fleetwood Mac members Mick Fleetwood, John McVie, Lindsey Buckingham and Stevie Nicks as they launch the "On With The Show" tour. The tour will kick off on Tuesday, Sept. 30 in Minneapolis, Minn. and the reunited band will perform 34 shows in 33 cities across North America.
American Express® Card Members can purchase tickets before the general public beginning Monday, March 31 at 10:00 a.m. through Sun, April 6 at 10:00 p.m.
Get your presale tickets to Fleetwood Mac's 'On With The Show' tour! Use facebook code: MAC.
Tickets go on sale to the general public beginning Monday, April 7 at 10am local time [Public Ticket Link].
See the Tour Dates on fleetwoodmac.com. Read articles about the tour:
Huffington Post - article about new music and tour
Dallas Morning News - article with Stevie
People Magazine - Interview with Christine
CNN Entertainment Christine McVie to tour
Rolling Stone - Q&A with Christine
USA Today - Christine rejoins Fleetwood Mac
Billboard - Fleetwood Mac announces US tour
Today Entertainment - article and video about tour announcement
CBS News - Fleetwood Mac announces tour with Christine McVie
Boston Globe - article about the tour and upcoming Boston show
NY Daily News - article about the tour and Christine's return
WPEC CBS 12 - article about the tour
Birthday Greetings
Thanks to everyone who sent birthday greetings to Stevie.
---
American Idol Finale
On the American Idol finale on May 21st, Keith Urban and the other judges performed Fleetwood Mac's "Go Your Own Way". See the performance on youtube.
Rock & Roll Hall of Fame
Stevie performed at the Rock & Roll Hall of Fame Induction Ceremony on Thursday, April 10! The show will premiere on HBO on Saturday, May 31. This year the Rock and Roll Hall of Fame will have a wide array of special guests to pay tribute to this year's inductees: Peter Gabriel, Daryl Hall and John Oates, KISS, Nirvana, Linda Ronstadt, Cat Stevens, the E Street Band, Brian Epstein and Andrew Loog Oldham. Special guests this year include: Chris Martin, Glenn Frey, Michael Stipe, Questlove, Stevie Nicks, Bonnie Raitt, Bruce Springsteen, Peter Asher, Carrie Underwood, Emmylou Harris, Tom Morello and Sheryl Crow. The 2014 Rock and Roll Hall of Fame Inductions was held at Barclays Center in Brooklyn, New York on Thursday, April 10 and premiere on HBO on Saturday, May 31 at 9pm ET/PT.
The Rock and Roll Hall of Fame and Museum in Cleveland, Ohio, will open a special exhibit featuring the 2014 Inductees this June. The Museum is the nonprofit organization that tells the story of rock and roll's cultural influence through its exhibits, public events, educational programs and a world-class Library and Archives. For more information on the Rock and Roll Hall of Fame, visit www.rockhall.com.
Jimmy Fallon
Stevie was the musical guest on The Tonight Show with Jimmy Fallon on Wednesday, April 9th where she performed Edge of Seventeen with her long time guitarist Waddy Wachtel and the Amazing Roots. Watch the Edge of Seventeen video and also >Stop Draggin' My Heart Around with Jimmy Fallon.
Fleetwood Mac Adding New Dates
Due to overwhelming demand, Fleetwood Mac has added additional dates in Los Angeles, New York, Boston and Philadelphia to their "On With The Show" tour. American Express® Cardmembers can purchase tickets before the general public beginning Apr 8 at 10AM. Tickets go on sale to the public beginning Sat, Apr 12 at 10 AM. Visit fleetwoodmac.com for a full list of tour dates and details
LADY ANTEBELLUM CELEBRATED UPCOMING ACM PERFORMANCE WITH SPECIAL RELEASE OF "GOLDEN" FEATURING STEVIE NICKS
Three-time ACM "Vocal Group of the Year" and current nominee Lady Antebellum gave fans a preview of their upcoming performance with a special release of their song "Golden" featuring Fleetwood Mac's Stevie Nicks, available on iTunes now .
"Never in my wildest dreams would I have ever thought we'd have the chance to perform with Stevie Nicks, let alone develop a friendship like we have on and off stage," said Lady A's Hillary Scott. "When we first sat down with her, 'Golden' was one of our songs that really touched her, so we recently asked her if she'd be willing to record her vocal for it - and she agreed! The timing ended up being perfect and we may have even worked up a little ACM-twist for Sunday's performance!"
"I love Lady Antebellum, and to me, this song is their Landslide because it's just that spectacular," said Nicks who wrote Fleetwood Mac's iconic song, which first debuted on their self-titled album 1975 and has remained a legendary hit for decades.
See clips from the ACM Performance:
Golden
Rhiannon
---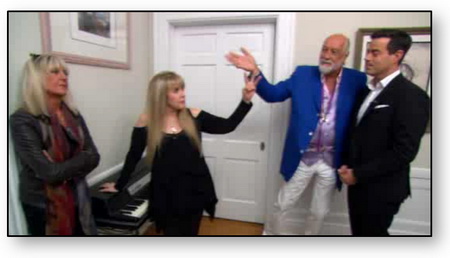 Carson Daly with Christine, Stevie and Mick
The Today Show
The Today Show's Carson Daly interviewed Fleetwood Mac, including Christine McVie, at Stevie's home on March 27th where the band announced their 2014 tour. Christine confirmed she'll be rejoining the band for this special reunion tour. They'll perform on TODAY on Oct. 9. Watch the video on the Today Show website.
---
BMI Icon Award
Broadcast Music, Inc. will present the BMI Icon Award to Stevie Nicks at the 62nd Annual BMI Pop Awards on Tuesday, May 13, 2014, at the Beverly Wilshire Hotel. The evening will also include an all-star musical tribute to Stevie. Read more at BMI.com.
American Idol Contestant covers Rhiannon
Contestant Jessica Meuse sang Stevie's Rhiannon on American Idol on March 26th. See the video on youtube.
AMP Radio
Carson Daly discusses his conversation with Stevie on AMP radio. You can listen to it on the AMP website.
Game of Thrones
Read the article on KPopStarz where Stevie talks about Game of Thrones.
Interview with Stevie at the Grammys
Watch the very cool interview with Stevie backstage at the Grammys on YouTube.
New York Times
Read the February 4th interview with Stevie on the New York Times website.
People Magazine
There is a article about Stevie on the People Magazine website from February 6th. Read the article.
Star Pulse
There is a short article about Stevie on the Star Pulse website.
American Horror Story
Stevie was on the January 8th episode of American Horror Story. If you missed it, you can see it on the FX website.
Seven Wonders American Horror Story video
The Seven Wonders Video is popping up all over the web. See the articles and watch the video below:
MTV
Huffington Post
Celebrity Buzz

Interview on Ultimate Classic Rock
In an interview with Stevie by Ultimate Classic Rock she talks about visiting injured troops and Dave Grohl's help with her documentary. You can see the video of the interview on the Ultimate Classic Rock website.
Fleetwood Mac in Las Vegas
Fleetwood Mac ends 2013 with a bang as they performed a sold out show in Las Vegas on December 30th and a private show on New Year's Eve, both at the MGM Grand. Bass player John McVie, who has been undergoing cancer treatment, was able to perform his normal duties with the band.
Read article about the shows:
Classic Hits
KLOS

Vanessa Carlton's Wedding
Stevie officiated over the December 27th wedding of Vanessa Carlton and John McCauley from the alt-country band, Deer Tick. Stevie and Vanessa have been good friends since Vanessa toured with Stevie as a opening act. You can see Stevie and Vanessa performing together on The One. Read article below about the wedding.
E online
Daily Mail
junkee.com
the Frisky

The In Your Dreams Documentary DVD is out now and you can get it at Amazon or on the Barnes & Noble site.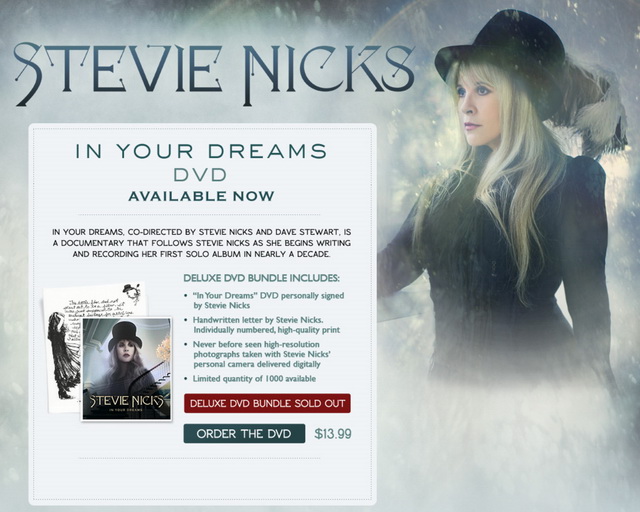 Stevie's DVD Signing
Stevie greeted fans and signed DVD copies of her In Your Dreams documentary on December 4 a at the Barnes & Noble store at the Grove in Los Angeles. Thanks to all of you who came to see Stevie. She is very proud of her documentary and was happy with the positive input from the many fans who attended.
Read a fan review of the signing.
European Tour Ends!
Fleetwood Mac wraps up the European leg of their tour on October 26th in Amsterdam at the Ziggo Dome.
If you attend a show and want to send a fan review, send it to reviews@nicksfix.com
Read articles/reviews of the European shows:
aftenposten - Oslo Review
GQ UK - article about Fleetwood Mac
The Herald Scotland - interview with Stevie
KSTE.de - Review of Cologne, Germany show in Lanxess Arena (Dutch)
Manchester Evening News - review of the Manchester Arena show
UK's Daily Mail - Christime joins band

---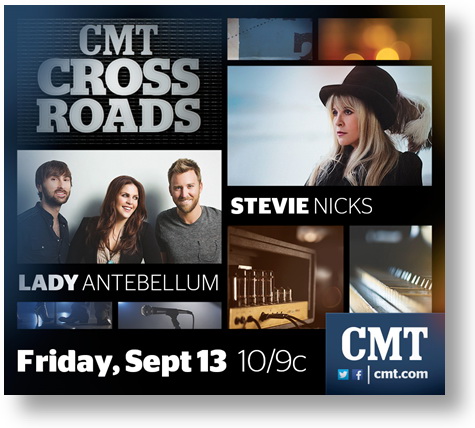 CMT Crossroads: Stevie Nicks and Lady Antebellum
Stevie Nicks joined country superstars Lady Antebellum onstage when CMT presented this new episode of CMT Crossroads. Stevie and Lady Antebellum performed together on songs such as Stevie's "Landslide," "Rhiannon," "Edge of 17," "Stop Draggin' My Heart Around," and a variety of Lady Antebellum's hits. The show premiered Friday, September 13 but you can watch the full episode online on the CMT website.
Read articles about the Crossroads episode:
tasteofcountry.com
Reality TV Magazine
countrymusiclove.com
tvguide.com
CS Monitor
kpopstars
Zap2it
---
"Stevie Nicks: In Your Dreams" Download - Free Bonus Scenes
The "In Your Dreams" film documentary is available for digital download. The film is being released after a recent successful theatrical run where it received rave reviews by the fans across the U.S. and Canada. You can download "In Your Dreams" instantly and get two previously-unreleased exclusive scenes with purchase only at www.inyourdreamsmovie.com.
The film is also available for instant download at Amazon in Regular or HD Video.
Fleetwood Mac show in Vegas
Fleetwood Mac will perform at the MGM Grand Garden Arena in Las Vegas on December 30, 2013. Tickets are available at Ticketmaster.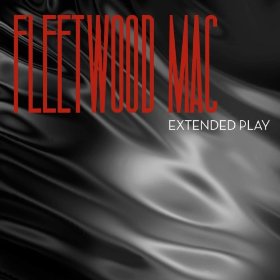 New Fleetwood Mac Songs Released
Fleetwood Mac has released 4 new songs on a downloadable set titled Extended Play. The set includes Lindsey's "Sad Angel" and Stevie's "Without You" which are being played on the tour, plus two other songs, "It takes Time" and "Miss Fantasy". The songs are available on iTunes and Amazon. The songs can be downloaded individually or as a set. Reviews of the new songs: Rolling Stone
The Oakland Press

Fleetwood Mac - Vintage Releases
Fleetwood Mac's third album, "Then Play On", will be released in a deluxe, remastered edition on Reprise Records. The new release will contain 18 songs, which includes the songs released on the various UK and US versions of "Then Play On" in 1969. It will be released on August 19th in the UK and August 20th in the US. In addition, a Vinyl Boxed set titled "FLEETWOOD MAC: 1969-1972" will be released at the same time. The boxed set includes four of the band's classic albums, Then Play On (1969), Kiln House (1970), Future Games (1971) and Bare Trees (1972), each reproduced on 140-gram vinyl. As a bonus, the set comes with an exclusive replica of the original 1969 7-inch single of "Oh Well – Pt. 1" b/w "Oh Well – Pt. 2." The two releases will be available for pre-order in stores in the US and UK. For more details and track listings, see the article on the Rhino website.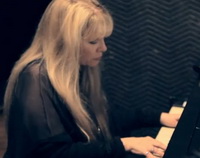 Exclusive Video Clip from "In Your Dreams"
See the new video clip from Stevie's "In Your Dreams" documentary, created exclusively for the Nicks Fix.

See the official Trailer for the "In Your Dreams" documentary.
"In Your Dreams" documentary came to theaters on April 2nd
Following the tremendous positive response to the Stevie Nicks documentary "In Your Dreams", this up close portrayal of Nicks recording her critically acclaimed "In Your Dreams" CD in collaboration with Dave Stewart was shown in over 50 theaters across North America on April 2nd. Stevie fans filled the theaters to get a chance to see it on the big screen. See the press release for more information. The movie poster is below.
Reviews/articles of the film:
- Montreal Gazette
- Somethingelse Reviews
- The Star Phoenix
- BlogTo.com
- The Star - Review
- IRPress - short Article
- Ottawa Citizen
- Now Toronto - Review

---
SXSW Conference & Festivals
Dave Grohl performed at South By Southwest with the Sound City Players, a band comprised of some of the artists who appear in his recently-released Sound City documentary. The concert took place on March 14 at Stubb's in Austin, Texas and accompanying Dave was be Stevie Nicks, John Fogerty, Rick Nielsen and others. See more details on the SXSW website.

Stevie gave a SXSW Interview in the Austin Convention Center at 5 PM on Thursday, March 14. You can read the interview on NPR.com. See more details on the SXSW Music page.

Articles/Reviews:
Sun Times review
---
Relix Magazine
Stevie is on the cover with Dave Grohl in the new edition of Relix Magazine. See the article on the Relix Website.

Oprah's Master Class
Stevie was the special guest on Oprah's Master Class on March 24th. You can watch videos of portions of the show on Oprah's Master Class website.

Stevie at Fantasy Springs
Stevie performed a concert on Saturday, March 2, 2013, at the Fantasy Springs Resort Casino Special Events Center in Indio, CA. This was the final show of her In Your Dreams tour. Stevie ended the show with a beautiful version of Love Is. You can read fan reviews of the show and can read the press reviews and articles about the show below:

- Hollywood Today
- Press-Enterprise
- Inland Social


ET Interview
There is an ET Online video interview with Stevie, Lindsey and Mick. Stevie talks about the band getting back together and also about the influence of her mom's passing on the band. See the video on the ETOnline site.
---
Sound City Movie
Sound City has now been released to the public. See details below on how to get the movie. The film features Stevie along with a host of great musicians who recorded at the legendary Sound City. See the official movie trailer, the movie's Facebook Page or the Official Movie Site.

Details on the release:

Digital Version for Sale/Rent as of Feb. 1 Buy DRM free download direct from the filmmaker
Rent or Buy from iTunes
Rent from Amazon
Buy from Amazon

Limited Theatrical Run – North America, AUS/NZ
ONE NIGHT ONLY showings begin 1/31, Regular runs begin Feb. 1 – list of theaters

Video On Demand: Available globally as of Feb. 1

DVD/Blu-Ray: Available March 12 on Amazon

Album : available March 12 Amazon (Audio CD)
Amazon (Vinyl)

Website: soundcitymovie.com
Twitter: @soundcitymovie
Facebook: /soundcitymovie
YouTube: /soundcitymovie

Read articles/reviews about Sound City:
- Best of New Orleans
- Rolling Stone Hollywood Reporter
- Hollywood Reporter
- Film Threat
- Daily Telegraph
- Interview with Rolling Stone
- 100% "liked it" on Rotten Tomatoes
- Rolling Stone
- Digital Spy
- RTT News


Sundance Film Festival
On Friday, January 18th, Stevie joined Dave Grohl and his Sound City Players at the Sundance Film Festival, among others, in honor of the documentary about the legendary Sound City recording studios in Los Angeles.
Stevie on Sound City Soundtrack
The soundtrack to Dave Grohl's documentary about Sound City will feature Stevie along with other great musicians participating in jam sessions at Sound City. You can see the list of musicians and songs on the Sound City site. The soundtrack is available for pre-order from Amazon. The Sound City - Real to Reel soundtrack is due out March 12 via Roswell Records.
---
CMT Crossroads
Stevie will join Lady Antebellum on a new episode of CMT Crossroads to be taped later this year. Read the article from CMT News.
More articles about Crossroads:
Rolling Stone
Nashville.com
Country Weekly

Interview in The Guardian
There is an interview with Stevie in the January 12th issue of The Guardian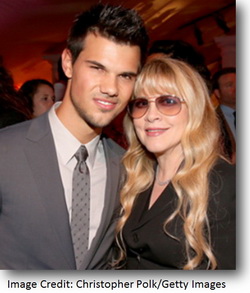 Stevie Attends Twilight Premiere
Stevie attended the world film premiere of The Twilight Saga: Breaking Dawn - Part 2 in Los Angeles on November 11th. You can read/hear her comments about the film in the articles below:
- The Insider (includes video)
- Entertainment Weekly
- Huffington Post
- NME.com
The Strand
Stevie performed a concert on October 27th to benefit the renovation of The Strand Theater. The benefit included a dinner with some of San Francisco's top chefs. See the newspaper ad for the benefit.
Stevie at Elton John's Gala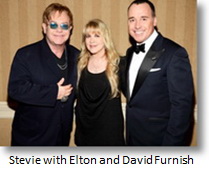 Stevie was the headliner at the Elton John's AIDS Foundation Gala in New York City. VIP guests helped raise $2 million for Elton's AIDS Foundation. Read articles about the event:
- Rolling Stone
- Vanity Fair
- Contactmusic.com
---
In Your Dreams Documentary
Stevie's In Your Dreams Documentary Premiered on October 7, 2012 at the Hamptons International Film Festival.
The second screening for the In Your Dreams Documentary took place Oct 12 at the Mill Valley Film Festival.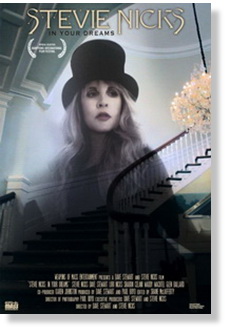 Stevie sings at Hamptons Film Festival
Stevie was on hand at the Hamptons International Film Festival where she answered questions from the crowd and sang medley of a few songs, including Bella Donna. Fans came to this sold out premiere screening of Stevie's new documentary In Your Dreams. An additional screening will take place at the Mill Valley Film Festival on October 12.
Read articles about the Documentary Screenings:
- Long Island Newsday
- WFJA
- NewsDay
- Hamptons.com
- South Beach Patch
- Danshamptons.com
- 27East
- press release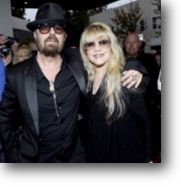 Mill Valley Film Festival
Stevie and Dave Stewart were present at the October 12th screening of the In Your Dreams Documentary at the Mill Valley Film Festival. You can see photos at Getty Images.
Interview about IYD Documentary
Read the October 4th interview from the Huffington Post about the premiere of the In Your Dreams documentary.
---
Charity Auction
Grammy Charity Online Auctions is auctioning off a framed magazine autographed by Stevie to benefit the Grammy Foundation and Music Cares Foundation. The Music & Musicians Magazine, dated May 2011, features Stevie Nicks on the cover. The item is up for bid on eBay. See more datails and bid on it at the auction page on eBay. Mojo Magazine
Fleetwood Mac is featured in the January 2013 issue of Mojo Magazine with a cover photo of Rumours. The magazine includes a Rumours tribute CD. See the cover at the Mojo Website. Sunset Sessions in Vegas
Stevie will be performing at Sunset Sessions Vegas 2012, where artists will perform to raise money for their favorite charities. See more details about the event.

Songwriters Hall of Fame
Stevie, Lindsey and Chritsine have all been nominated to the 2013 Songwriters Hall of Fame. Read the AP article about the nominations.

Stevie attends Premiere of Zeppelin Film
Stevie attended the promotion of the Led Zeppelin concert film "Celebration Day". The film had its United States premiere on October 9th at the Ziegfeld Theater in New York. Read the New York Times article.

RE/MAX Convention
Stevie was the featured artist at the 40th Anniversary RE/MAX R4 Party with a Purpose, February 28th, 2013 at the MGM Arena in Las Vegas. More details on the RE/MAX Facebook site.

Us Weekly
The US Weekly website has an article and video which discuss Stevie being one of music's biggest style pioneers. See the article and video.

Elton John Foundation Benefit
Stevie headlined the Elton John's AIDS Foundation's 11th annual An Enduring Vision benefit show in New York City on October 15. See the RTT News site for an article about the event and visit ejaf.org for more details and ticket info.

Soldier's Angel
If you attended one of Stevie's concerts this summer you probably saw a list of organizations which support our injured military personnal and listened to Stevie's story just before she sang Soldier's Angel. Stevie feels strongly about helping our wounded servicemen and servicewomen, and we lists these links for those who wish to help as well.
- uso.org
- walterreedsociety.org
- woundedwarriorproject.org/

If you haven't heard Soldier's Angel, you can download the single or buy the album at the links below:
Soldiers Angel - single
In Your Dreams -album
---