---
---
Fleetwood Mac Concert Reviews
September 17 to October 24, 1997
---
Hartford September 17
from Liz
Wow. Better than I had ever hoped for. What have they done to get back to being so great?
Set List:
Chain
Dreams
Everywhere
Gold Dust Woman
I'm So Afraid
Temporary One
Bleed To Love Her (slower tempo)
Gypsy
Big Love
Go Insane
Landslide
Say You Love Me
Sweet Girl
You Make Loving Fun
My Little Demon
Standback
Oh Daddy
Not That Funny with Drum Solo and Intro
Rhiannon
Eyes of the World
Silversprings
Tusk
Go Your Own Way

Encores
Don't Stop
Songbird
Farmer's Daughter
---
from Gypsy23
I would personally estimate the crowd to have been around 20,000. Although they were scheduled to open at 8PM EST, Fleetwood Mac didn't actually go on until 8:30. The audience definitely got what they were waiting for (for 15 years!!!). They were AWESOME. They were definitely at their peak, and it was so good to see them back together in person. I traveled by bus and train for 4 1/2 hours both ways to see them (this was truly an historic moment, I felt, and I simply had to be there), and I didn't get back home 'til 8 AM this morning, but it was so very very 'worth the trip'!

I think most FM fans thought they had gone to heaven. The vibe between people in the audience was great, with people hugging, dancing, and with the crowd chanting along to most of the songs, the band blazed away in typical FM fashion.

They played 22 songs, until 11:15PM. Here is a songlist (not in order, sorry-I was too busy dancing around in sheer rapture most of the time.)

Opener:

THE CHAIN
RHIANNON
GYPSY
DON'T STOP
SAY YOU LOVE ME (I believe I saw MICK join in on vocals!)
EYES OF THE WORLD
NOT THAT FUNNY
DREAMS
STAND BACK (YESSSSSSSS!)
SONGBIRD
BIG LOVE
SWEET GIRL
LANDSLIDE
SILVER SPRINGS
TEMPORARY ONE
BLEED TO LOVE HER
EVERYWHERE
I'M SO AFRAID
GOLD DUST WOMAN
TUSK
MY LITTLE DEMON
And a new one I and some other folks had never heard before, was it FARMER'S DAUGHTER? OR 'FOLLOW THE STORM' (OR SOMETHING LIKE THAT?)
The band thanked repeatedly us for being there to welcome them back, and Stevie dedicated 'LANDSLIDE' to the crowd. She changed from a black velvet dress with gold shawl halfway through the concert to a red velvet brocade dress and a multicolored fringe shawl. Whenever she twirled around on stage, the crowd went WILD. She sounded wonderful.
Lindsay played ferocious guitar to the delight of the crowd, showcasing his talents on BIG LOVE, EOTW, NOT THAT FUNNY, & I'M SO AFRAID. He was into it and it was evident. He had a ball, as did:
Mick- When he did his electonic techno-vest thing, the crowd went into a truly tribal frenzy in the dance area.
Christine did a beautiful SONGBIRD, and jammin' EVERYWHERE and TEMP. ONE.
John, Lin, and Mick got into some hot jamming sessions on a couple of the tunes.
All the band members were in peak form, they had a great time together, and.............
THERE WAS DEFINITELY MAGIC IN THE AIR LAST NIGHT IN HARTFORD. THE MAC IS BACK!!!!!!!!!!!!!!!!!!!!!!!!!!!!!!!!!!
---
anonymous
The MAC is back! My wife and I attended the opening show at the Meadows in Hartford last night. The show was great! We have attended Mac / Nicks concerts since 1976. This show was the best we have seen at least since the 1979 Tusk tour. We paid $85 per ticket for 9th row seats the day they went on sale. Thanks for the heads up on sale dates. Reserved seats sold out in two hours. The show was worth every bit of what we paid. Beg, borrow or steal tickets! The show started 1/2 hour late at 8:30 and ran until about 11:00. Lindsey stole the show!! Stevie's voice was great, best in a long time. Hope it holds up for the entire tour, she has a tendency to strain. She did some of her old screaming on Rhiannon and was great on Landslide and Silver Springs. Lindsey was excellent on Bleed to Love Her, My Little Demon, Not That Funny (with Mick's percussion vest solo), Big Love and others. Encore of Farmer's Daughter and finish with Songbird. Song list was similar to The Dance CD and Hartford Courant article of 9/17. They also performed Stand Back and Gypsy. Tell everyone that Best Buy is giving out coupons at the shows for a collector's CD of Mac music and interviews with a 36 page artist bio-booklet for $3.95 postage and handling, one per person with the coupon only.
---
anonymous
Save your money... there is alot of GREAT merchandising! Some prices are $25 - T-shirt, $25 - baseball cap, $45 Baseball jersey (button down)and $50 or $55 for a sweatshirt. There is at least 6 or more different T-shirts to choose from. I bought 2 T-shirts and 1 baseball cap... and if I ever get my ticket for Friday... I'm going to buy the sweatshirt, baseball jersey and another T-shirt. Unfortunately there were NO tour books! Do you think they will sell them later in the tour?

They looked and sounded phenomenal... Stevie and Lindsey received very LOUD applauds and standing O's... in my opinion the fans seemed to give Stevie more. She was AWESOME!!!
---
from Kim
Ok...there was traffic. Of course.....it's FLEETWOOD MAC! The weather was mild......the moon was full...only to peak out of the cloudy nite sky ever so slighty now and then.

The stage set was simple. Colored lights....nothing fancy. Perfect for such an open yet intimate setting.....Stevie kept the costume changes to a minimum, :) she was in an elegant black dress dressed up with her different shawls and lace. She wore very big rhinestone bracelets on each arm. The glitter and sparkle could probably be seen from the lawn seats!!! :)

The sang and played togather soooo beautifully. You never would know they haven't been togather in years! Incredible!! Mick had a drum solo that rocked !! How old is he now anyways!!?? :) I was thrilled by him!!!! Christine handles the ivory keyboards with such grace!!!! She had a wonderful solo in the 2nd encore......Chris, her baby grand, and Songbird.... :) Simply Awesome!! :) John had his few shining moments playing his strings....standing closer to Christine than anyone else.. :) ALL OF EM had such repoire and love for one another. You could see they had come full circle!!!

Lindseys playing was as youthful as ever! His melodic bellows ROCKED the house!!! Lindsey kissed Stevies hand after playing Landslide with her. She gave us a hint of the rhaspy Rock Queen she was famous for....something we didn't see in the MTV show. :)

They played for 2 1/2 hours!!!!!!!!!!!!! 3 encores!!!!!!!!!!!!!!!! ending with Farmers' Daughter and i can only say they couldn't have picked a more perfect "Good bye song" as Stevie called it. :) The new songs from what we saw on MTV or The Dance CD are GO INSANE, GYPSY, STAND BACK, NOT THAT FUNNY, MICK'S BODY DRUM SOLO, OH DADDY and FARMERS' DAUGHTER! All done with the famous Fleetwood Mac flair we love em for!!!

T-shirts went for $25 to $60.( i couldn't decide on which shirt to buy so expect to buy 2!! LOL) A couple key chains and a few hats. No programs.

All I can say is that they were performing like people who have never stopped.....dreaming about tommorrow.......knowing it was gonna soon be here.. :).. that was yesterday...and even though yesterday is gone...it'll live on in my heart forever!!!!

Thanks for this dance Fleetwood Mac!!!!!!!!!!!! Wouldn't have wanted any other partner!
---
from Amy Christmas
O.K. where do I begin? The place was packed. We sat in traffic for 30 to 45 minutes to get to our V.I.P. parking. This was a promising sign.

There was quite a mixture of people. I saw parents with there young children, junior high students, and people my parents age! One thing I did notice was that I did not see one person with the traditional Stevie outfits on! I was so bummed! Everyone get out your long skirts and boots.

They came on about 40 minutes late and did play the full 2 1/2 hours. There were about 8 different style of t-shirts for about $25 each. They had one black simple long sleeved t-shirt for $50 and a sweat shirt for $60. Everyone take out your loans now! I was too cheap and got a long sleeved t-shirt for $15 from the scalpers. I didn't see any programs being sold. Of course, I forgot to ask, too. Sorry, guys.

They came on to a very simple stage. But that is all they needed. The different colored lights really did it all for them. Stevie wore a long black dress and changed her shawl, jacket, wrap every chance she got. She also wore a pair of beige platform, high heel boots. Her hair was long thick and beautiful. She wore the most sparkly rhinestone bracelets I have ever seen. They must have been at least 3 inches wide on each wrist. The lights bounced off of them like magic. Mick wore his typical vest and knickers outfit but it was all in velvet. With bright red elf shoes! Christine was beautiful as always with her black pants with different colored velvet jackets (I think sometimes with tails!) and a white satin shell under. Lindsey wore his black pants, black shirt and black blazer. John looked just as classic as always, with his blue jeans and vest and a bright red bandana on his head.

They had one guy back up on drums and bongos, one guy back up on voice and guitar, one guy on vocals and keyboards and Sharon Celani and one other woman on backup vocals. They seemed to have some trouble with their lighting queues during the first 45 to 60 minutes of the show.

Stevie and Christine's maracas (sp?), tambourine and microphone stands were wrapped with white lace and white ribbon probably to go with the new album cover.

Some of the other songs they performed were, Oh Daddy, Gypsy, Farmer's Daughter, Songbird, STAND BACK, I think one of Lindsey's solo songs, um,... I can't think of anymore but I know there were more! My head is just too full remembering the rest of the night! Farmer's Daughter, Don't Stop and Songbird (on grand piano) were their two encores.

They all looked like they were all giving 110% of themselves out there last night. There were so many smiles to one another up there. And walking on and off stage together was a kind of behind the scenes peak that was really great! Holding hands, hugging and just arms around each other. At the end, they looked very happy with themselves and each other. They had every right to be. It was a top notch performance by each and everyone on that stage last night.

There is so much to tell and I'm trying to organize my thoughts! I may think of something later and pass it along and I hope you won't mind if I do.

For all of you who read my note yesterday before the concert, Lucas Leroy was born 6:30 pm last night, 8lbs. 9oz. Mother and baby are doing fine. Thank you for all of your kind thoughts. Especially Connie. We didn't find out until 12:30 am today.(When we got home from Hartford.)

Everyone at Greatwoods this weekend, have a wonderful time and please pass along every detail! Everyone else, ENJOY, ENJOY, AND ENJOY!!!
---
Boston, September 19
from Dorothy
September 19, 1997
Hi All,
In a word phenomenal is too mild to describe the Fleetwood Mac experience this evening. There was a great deal of excitement in the parking lot as people were partying, listening to music (FM of course). and just waiting with anticipation. I will try to write more later but the following images and moments I will treasure.
Christine saying how FM began their "love affair with America in Boston" even before she joined the band.
Lindsey hugging and kissing Stevie after the incredible "Landslide".
Stevie as "Gold Dust Woman"
Lindsey starting to introduce "My Little Demon", Christine interrupting to say it's not the next song, Lindsey then says it's an example of "earn while you learn". Then he gives Stevie an oops I goofed kind of look.
Stevie's fabulous performance of "Stand Back", she has never been in better or stronger voice.
Stevie singing her heart out on "Silver Springs" and Lindsey blowing her a kiss at the end of the song
After "Songbird Mick came up behind Christine and kissed her as he often does but then he and Stevie danced across the stage to each other, kissed warmly and walked off the stage holding hands.
The rousing rendition of "Tusk"
Lindsey lying on the floor of the stage as Mick plays his drum solo during "Not That Funny"
John's steady, dependable bass
The addition of a real crowd pleaser "Second Hand News"
Stevie stepping up on Christine's keyboard platform and hugging her
The "five" lined up at the end of the concert bowing and again Lindsey seemed to go out of his way to kiss Stevie.
It is clear that the band is very much enjoying each other's company, camaraderie and truly professional musicianship. They genuinely like each other and there is a lot of forgiveness in the air. We are the lucky beneficiaries of this. I for one never dared to dream of such a magical treat as the Rumours Band Reunion. As Lindsey declared and I paraphrase thanks for being a part of this project as it unfolds. Awesome doesn't begin to describe the evening and I have to pinch myself to realize I will do it again tomorrow. More later...
---
Boston, September 20
from Dorothy
September 20, 1997
I think it's safe to say that The Dance will get better each night out. Case in point tonight the concert was being videotaped. I spoke to the cameraman after the concert and he was doing the taping privately for the band. I asked him to compare the two evenings at Great Woods. He said that Friday night got off to a slower start but that at the beginning of any tour you rather expect that. So you see that there are always kinks to work through.
Just let me say that Saturday night's Dance was brilliant from the word go. There were subtle differences as each show has its own reality and special moments. Stevie danced and twirled, smiled more and was more passionate and animated. She spoke to Lindsey before "Landslide" started and during the solo guitar part. Mick's red shoes seemed to move his feet just a bit quicker during his drum solo. Lindsey was more pleased with the pacing of the concert. He was quoted in the Boston Globe as thinking that replacing "Eyes of the World" with "Second Hand News" really helped to sustain the momentum. Christine as always was rock steady and right on. John was his usual wonderful self but he even moved around more on stage. This band really cooks. They are so tight and the evidence is there that they really care about pleasing their fans and giving them their money's worth. There is a maturity about them but at the same time a newness and a freshness. Rather unusual don't you think!?!
Stevie new clothes are breath-taking. There is a brown-beige top she wears over her dress that is short. The side would drop and Stevie kept pulling it up over her shoulders. The fabulous black chiffon dresses have spaghetti straps and are simply stunning. The other top pieces are the usual full length.
Here are some impressions song by song. I apologize that through the middle the songs are not in the exact order.
The Chain - Stevie did a leg kick to the side during the bridge.
Dreams - Stevie played air guitar. She locked eyes with Lindsey during "Players only love you when they're playing".
Everywhere - Christine praises Boston again and another flawless rendering of this upbeat song.
Gold Dust Woman - Stevie twirling and dancing "Shadowwww she's a dragon..."
I'm So Afraid - My favorite Lindsey song and I'm thrilled to hear Stevie's harmony again on "dark as night" and "so afraid".
Temporary One - This song is growing on me as it is better live, again Stevie moved around quite a bit.
Bleed To Love Her - I hope this is the next single. "All the world is laughing at you, somebody's got to sacrifice, if this whole thing's gonna turn out right"
Big Love - Lindsey is simply brilliant. I seem to be repeating that word.
Poem Intro to Go Insane - Lindsey gives a very emotional recitation of a poem. If anyone knows this please post. It is gorgeous and very moving. Landslide - Stevie saying, "I'm getting very much older too" Stevie gesturing to the fans on "I built my life around you." This song is always a highlight. The hug and kiss at the end of the song seems to be extending. Stevie saying at the end "We thank you"
Sweet Girl - I'm realizing how beautiful the harmonies are on this song. The crowd reacted more to it last night. "It's all about possession..." "Sometimes I feel like I was always on call, sometimes even I am allowed to fall."
You Make Loving Fun - The fans love to sing along.
My Little Demon - During Lindsey intro there were two separate drum bangs as in the video. Lindsey "there's one, there's another one" "I really don't like it ... I'm giving it to you whooooo..."
Gypsy - Stevie again smiling more "And it all comes down to you..."
Say You Love Me - Christine saying we're going to have some fun with this song. John is singing and Lindsey is playing the banjo - lots of looks being exchanged between band members.
Rhiannon - Stevie has a gorgeous red 'piece' with black flowers on it over her dress. "Dreamer, try hard you can't leave her..." very emotional.
Not That Funny - Lindsey's primal screams "I didn't want to bleed so..."
Stand Back - The lights here are exciting and really get the fans hyper. Of course it really rocks. Lindsey was over by Christine interacting and jamming with her.
Second Hand News - Again the harmonies and Stevie gave a front leg kick at the end of the song.
Oh Daddy - This is another song I like so much better live. There is a beautiful intro and Stevie plays maracas another treat.
Silver Springs - This is one of those crowd pleasers, a rousing reaction to the intro. It just gets better each time you hear it, very romantic. Lindsey continues to give Stevie those looks 'egging her on' to an even better rendition.
Tusk - Lindsey saying "We'll just play a couple more and get out of here" Of course it was superb.
Go Your Own Way - I love the way Stevie sings so much on this song. At the long musical ending Stevie does not parade, collect gifts or shake hands. She stand over by Christine and Mick as much as to say pay attention to Lindsey. When she left the stage after the song Friday night she got a bracelet and flowers from two people. Saturday night Stevie shook hands with three fans on the side on the way out and again got flowers. As you know this is a major departure from times past.
Encores
Don't Stop - Here Stevie had pulled her hair back and had a barrette of some beautiful stones in the back of her hair. Again a real rouser everyone singing along.
Songbird - Another beautiful vocal by Christine. At the conclusion of the song Lindsey and Stevie walked back on stage holding hands.
Farmer's Daughter - Although not familiar to many, this is a very fitting ending. "Thank you and I'm much obliged ...I do hope to see you again... many thanks it was MIGHTY RARE ...
I think that about says it all. Thanks for listening...
---
from DLM. Cape Cod
I had the chance to see Fleetwood Mac at the Great Woods Ampitheater last night. Let me tell you, they were HOT!!!!!!

They began with " The Chain" and went onward covering most of their albums. Stevie sang an outstanding version of "Gypsy" and got rockin' on "Stand Back" On "Stand Back" she cut loose on the vocals and let her full range show through. She danced around alot during one song, delivering a high kick I have't seen sine the Bella Donna tour. During "Tusk" she stayed back by the drums letting Lindsey enjoy his moment.

Lindsey was in great form actually cutting down on some of the screams he usually does. He sang a slow version of "Go Insane" and during Mick's solo in the middle of "Not That Funny" Lindsey laid down on the stage and sayed there until Mick was done.

Most of the in between banter that happened was the same as the TV special. Lindsey's "belief in cycles" and Christine's introduction of John McVie.

I personally had my eyes glued on Stevie most of the time. She was terrific n "Sweet Girl" again letting her range show. During "Sliver Springs" she forgot the lines to the second verse, but covered it well. During the encore of "Farmer's Daughter" she came to the microphone laughing and saying the lines out loud. Christine was beautiful on "Songbird" Sounding just a melodic as always.

It was well worth the wait, the group sounded much better live than on the CD or on TV. They harmonize much better now. Every time Lindsey and Stevie got close to each other, the crowd would roar with delight. For the encore the two of them came out holding hands, and they kissed and hugged after "Landslide" It was definitley worth the wait, and putting up with the rain that dumped on us. I'm just glad I didn't have lawn seats.
---
from Nadaone241~~Amy
What can i say ,,,but WOW!!!!!!
It was truly incredible....the lights , the Vibes , the MUSIC...was sheer Heaven!!!!! Everyone was fantastic!!!!....the Entire time they were there (( which for me was still Not long enough But hey i can't be greedy ...they must've been VERY tired))

The songs are as they were played....:::at least as best as i can remember!!!!! LOL...

The Chain::Sounded So Melodic...i almost died!!
Dreams::: This was AWESOME!!!!!!!
Everywhere ::::::: Chris Sounded terrific,,,and didn't break a single Note!
GOLD DUST WOMAN:: this was a Highlight for me !! It was better than the Video !
I'm So Afraid::::: Lindsey....just went CRAZy here!!
Temporaory One:::::: they all Blended so well !
Gypsy::: Again...this was STEVIE now.....can't describe!!
Big Love::: LOVED IT !!!!
Go Insane::: Magnificent Guitar here!
LANDSLIDE::: I actually Cried when they sang this One....She Hugged Him Right after...and i cried again...
Say You Love Me ::::: Loved the Tempo !
Sweet Girl.:::::::: left me Speechless!!
My Little Demon::::: Better than the Album Version...
Stand Back:::ELECTRIFYING ....AWESOME LIGHTING EFFECT!!!!!!!
Oh Daddy:::: Beautiful and Haunting ....Chris EXCELLENT JOB !
RHIANNON.:::::::: the crowd went insane !!!!!
You Make Lovin Fun::::: Great Song.....All were Smiling on stage !!
Not that Funny::: Was surprised to hear this One ....It ROCKED !!!!
Silver Springs:::::: I Cried again....what can i say !!! ( NEVER Get Away...Never GET AWAY!))
Tusk:::::: Had to Be the Best Drums ,,,,next to Micks Solo!!

==== They tried to Fake us out by Saying Good Bye at this point....
Would you believe the idiots that Left !!!======

SECOND HAND NEWS!!!!!! It was simply Mahvelous Darling!!!
Go your Own Way:::::: Loved it ..Hey , what's not to love !
Don't Stop;;;;;;;;; was waiting for the Marching band ...but alas...Nope!
SongBird;;;;;;; dedicated to the Fans........and Yes...I cried AGAIN!!
and last but not Least .......................FARMERS' DAUGHTER!! It was amazing!!!!

I can't even Talk ...i have no Voice!!!!(( Not a real good thing ,,,but HEy it was FM!!!))...
I still sang ALL the WAy home!!! HA !!
I can't even begin to describe it !(( But i'll try ))
Stevie Changed about 4 times i think....she started with her White Plat boots , and a Metallic Flowing Dark Grey Dress , with a Striped jacket ........She looked amazing!!(( As always))..
then she went for the Gold shawl for ......GDW!....AND ROCKED THE STAGE!!! then she changed in to a red velour Dress......for Stand Back... .....then before the end of the Night , she put on a Black dress , and a Black Jacket.....
Not a CAPE in sight....... :(........
as far as the rest ,,,they had there outfits from the Video on....
Mick did an Awesome Drum solo.....During Not that funny....he wore a DRUM Vest....with the Pads built right in ....He just HAd the time of his Life ...I LOVED IT ..HE went wild!!

Well i'll stop here .. I have to go to bed ...and leave you guys with something to look forward to .... i can go and have sweet : DREAMS:....about the 'Gold Dust Woman'....and the" Chain" gang....being "Everywhere!

To all those that are going ......YOU'LL NOT BE DISAPPOINTED...!!!.. P.S. Stevie Looked kinda sad,,though...she didn't smile a Whole Lot...looked VERY ...I don't know ....Maybe she was Nervous...(( I hope that was it ))) :)
WE LOVE YOU STEVIE!!!!!!!!!!!!!!!!!
---
from Lee
After ariving early driving from Maine, about 2 1/2 hours away, not wanting to get stuck in the traffic.....I found myself wandering around this wonderful venue called Great Woods.

It was about 7:00pm and my best bud and I noticed a beautiful sunset, with awesome clouds and colors.......nice touch.

7:30pm the beautiful sunset was now a very dark and black sky.

7:45pm the sky has now literally opened up over us. I being very fortunate had front row seats, did not get to wet.

8:15 the lights went down and the screaming began, second night in a row I have no voice!

One light came up...Stevie's silhouette was outstreched in front of the drum kit of Mick. A wonderous sight all by itself. The croud went nuts. The wind came up and at this point blew through the place......Stevie's dress was blowing......the song? The Chain! Such a feeling.........

The show was almost a carbon copy of the Dance. With the set lists that are here earlier. Even to the anamated Lindsey in Landslide putting his hand to his chin during the guitar break. There were parts that were not like the dance. Like Lindsey introducing a song "This is a new song....." then laughing Christine interupting with that awesome voice of hers..."Lindsey we did that song already, but if you'd like to do it again...." Mick broke into the cymbal crashes of You make loving fun. To funny!! To the 4th song of Stevie again in front of the kit lights down, and the baby grand of Christine.........and the song, Rhiannon just liktke the CD....Like a que the wind whipped up again! My hair was blowing everywhereenought that I looked behind me to see........There was more rain wind leavesblowing all over It amazing I thought there was a wind machine or something back there!!! Welsh witch was the first thing that came into my head! Very creepy, eerriiee, strange, welcome, needed, unexplainable feeling! To Stevie singing the first verse of Silver Springs twice. Not so sure everyone noticed they coverd it well. I being up in the front got to see the confused faces and Stevie immediately turning around and motioning to Mick second verse.....I begin not to love you turn around see me running I say I love you years ago tell myself you never love me.......and no one ever knew the difference! If they did they didn't care!! The whole was a dream come true. The band looked happy and the end of Silver Springs Stevie & Lindsey were laughing. There didn't seem to be any tension agoing on at all!!!!! They truly seemed to be having fun. The crowd was on its feet throught the show, I think, I was!

If you get the chance go! If you can afford it pay the scalpers (even though they are scum) ooppps brokers.......It is worth it if you are a true fan you will never forget it! I got lucky on the phone. You just can't see the emotion from the back! Christine singing Songbird and having Mick come out afterward crying.........John up front and talking with people, asked me if I though he should sing! Lindsey's solo...........Stevie playing with everyone in the front, smiling pointing laughing. She even winked at me because I got a picture of her at a no camera event!

Do whatever you need to get there!!!
See you on the NIX FIX!
---
Uniondale NY, September 23
from Oona
They came on about 45 minutes late (WELL WORTH THE WAIT!) And of course, lead in to "The Chain" Stevie let a kick so fabulous during this...WoW. First all, for all of those who HAD TO KNOW what she was wearing... (like myself, ha ha) Stevie had this long black chiffon skirt. It had three layers. The first layer was plain black chiffon and was the longest... Then a second mid-length layer was black chiffon doused with silver glitter. Then the final layer was lace. It was the length of a mini-skirt. This was breathtaking. For a top, she had a tight, low cut (Oooh la la Stevie!) maroon kind of danskin type material. Over this she had a soft velvet brown coat with a slight hint of black dots...
Now, after "The Chain" there was "Dreams" (Yes, Melanie, hon, Dreams was play ed... you must have been asleep or somethin...) Dreams was beautiful, as always.
Then came "Everywhere"--very good. Oooh--and I MUST ADD--Stevie had her glow-in-the dark tamborine again, which really added to the magic. But towards the end of the show she alternated between this one and another black one...
Then came "Gold Dust Woman" Of course it had THE GDW shawl... And when Stevie let out her scream and threw her head forward and all of her golden hair fell around her shoulders in a huge mess... It was so great and cool!
Then was "I'm So Afraid" which had Lindsey playing guitar but this song has always been kind of long for me, but it was pretty nice... Then there was "Temporary One" which was good for what it was (this one is a little too pop for me...) Then there was "Bleed To Love Her"--very good. Then came "Gypsy" really unbelievable! It was so great! Everybody screamed when Lindsey began to sing... "Lightening strikes...maybe once..." Then there was "Big Love"--very good. ANd at the end, where Lindsey oohs and aahs, the audience oohed and aahed with him! Then came "Go Insane" which is kind of high on my list right now... Excellent job. Then came "Landslide" where Stevie changed into a red satin cape covered by black lace. Everybody oohed and aahhed at the "I'm getting older too" part" And at one point Stevie had to stop singing and look at the crowd cause they were yelling so much, but Stevie didn't mind, she just smiled :-D Now my mind begins to get foggy right around here... I am pretty sure it was "Say You Love Me" in which Mick looked absolutely adorable in his little red elf shoes! Then Lindsey started his speech about Demons and Stevie went over to Christine and whispered something in her ear... And then she started laughing and Lindsey looked over at her nad said, "Uh oh. I did this last night too. This is actually a song of Chris'" And then they began, "You Make Loving Fun" Next was "My Little Demon" Then I think there was "Stand Back" (but after this, I can't remember the order) STAND BACK ROCKED THE FREAKING HOUSE TO, I MIGHT ADD... It was SOOO great! And, I must tell you all a funny story... As I was dancing to Stand Back (but, of course!) And do you know where Stevie sings the "STAND BACK!" part? and you punch your fist into the air?? Well I was doing that and I hit the lady in the head next to me... TOO funny. Stevie got really into to "Stand Back" and she was kind of dancing on the stage... So thet end she does this little cute thing, where she goes and wipes her forehead as if to wipe the sweat off...and then smiled cause she was joking with us... She is TOO adorable! Then there was "Second Hand News" which was great and then I think, "Not That Funny" which led inot Mick's drum solo which I thought was pretty cool. And I just love his little elf shoes... I need a pair of those! LOL They are TOO adorable... Then it was "Rhiannon" not too sure about the order so bear with me here... "Rhiannon" was UNBELIEVEABLE. When Stevie got to the end, (you know, where she usually goes nuts) She gave the audience a look like, "you know I can't do that anymore, but I am gonna rock the house with what I am about to do."
And she did scream out quite a few lines, and it was SUPERB. Then "Oh Daddy" and then "Silver Springs" for which they had purple lights going all around the sides... And Stevie sounded GREAT. What was also really cool was that it seemed like almost all 20,000 fans were singing along with her for both "Rhiannon" and "Silver Springs" which was SOOOOOOOOOO cool... It was like one big huge family...
"Go Your Own Way" rocked. Of course. Thats a great song. Then "Tusk" Then they thanked everybody and left. Then they came back and did "Don't Stop" "Songbird" and "The Farmer's Daughter" which I never personally cared for until now. It is really great. And a great ending song too...
Everyone who hasn't seen their show yet...YOU ARE IN FOR A REAL TREAT!!!!!!!
---
Pittsburg, September 24, Star Lake Amphitheatre
from Shawn
Well......I dont know where to begin?????????????
The set list was the same as the rest, no changes there, nor tourbooks. They kicked major ass. First, I thought Stevie during I think Gypsy, had got a piece of sequence stuck to her forehead. BUT, it turns out, it was one of those jewels like Gwen Stafoni of No Doubt puts on hers!!! This was TOTALLU COOL!!!!!! She was dancing ALL around the stage. It was kinda cool and chilly, and she said to the crowd about staying warm and being in San Jose. She wore a cute long sleeve type thing ( Im not good at describing clothes) and it had ruffles around the sleeves. So adorable, She smiled at me during Dreams, waved to me at Everywhere, and nodded to me at Sweet Girl, blah, blah, blah......I LOVED staring at her!!! If you can get good seats, even from a broker.....DO IT!!!!!!!! Standback was AWESOME!!!!!! Lindsey did a GREAT job......I mean, his solos were magic!!! Second hand News was great......Stevie was smiling and staring at Lindsey the whole time!!!!!
She was VERY into the crowd and her songs!! Before Say You love me( I think that was the song) Stevie was joking around, and chatting with LB and went over and started to chat something to Chris......that was so cool!!!! Silver Springs......intense!!! Rhiannon!!!!!!!!! Rhiannon was 100 times better than the MTV thing. She was trulley into that one!!!!!! THis was so great.....I mean.....she didnt spin except for GDW.....and she did some cool kicks during the chain ( i think that was the song)........this is too much for me......I need to go to bed now.........gotta get my film devloped!!!!!!!! see ya'll!!!!!!!!!
OH......another cool thing was, that it was kinda chilly, and when all of them sang you can see their Breath in the air.......so much magic.......It was truely a night to remember..........
---
Camden, NJ - September 26, Sony Entertainment Center
from Rochelle Markee
What a truly incredible experience having second row orchestra pit seats was!!! This was an evening I'll never forget! Our seats were right in front of Lindsey! Stevie looks and sounds fantastic! She was wearing a dance outfight similiar to what she use to wear during Rumours, a long black chiffon skirt, with a short lacy glitter hankerchief type skirt over top, beige boots, and a long black and gray coat. You could see the sparkle of her bracelet, and the red jewel like gem on her forehead!! For Gold Dust Woman she wore the beautiful gold cape, and for Rhiannon a red and black coat, a long black and gold cape drapped all the way around her for Stand Back, and finally at the end she wore a short waist lenth black jacket! The song set was the same as the last couple of concerts others have written about. My sister and I brought flowers for the band, corsage for Chris, boutonnieres for the guys, and for Stevie, my sister had a flowered headpiece done and I had a tambourine decorated with flowers with ribbons hanging down! Although we hoped with all our hearts they would wear them for at least a song, it didn't happen! The band had requested all flowers placed on stage before it started and then it was taken back to them. We were excited when one of the ladies assisting Stevie brought out the flowered tambourine, and placed it up with the other tambourines in front of the drums!!! Then a few minutes later, she came back and brought it back stage! But she did take it back into Stevie's tent, so hopefully she did see them!
It really seemed they all were enjoying them selves, and the crowd loved every minute of it! They all sounded fantastic! Stevie dedicated Landslide to the audience, and it was a beautiful version of Landslide. Lindsey played behind her, and during the guitar solo she turned to him and placed her hand on his arm. Silver Springs was another highlight, she sounded wonderful, and she again turned her mic around to face Lindsey who had moved slightly to the rear, and he moved right up to face her, he couldn't be any closer and still play! Stand Back was full of energy, everyone loved it! Gold Dust Woman and Rhiannon were awesome!!! Dreams as beautiul as ever, and Sweet Girl a wonderful new song to hear live! She thanked the audience often, and one time mentioned that although they don't say alot, they really do appreciate, and was so glad everyone was there with them. It was hard to hear everything she said, as the crowd went crazy when ever she said anything, so some of what she said I missed!
Lindsey seemed to be having a great time and really seemed to appreciate all the applause for him! His guitar solo on I'm So Afraid and Not That Funny is incredible! Big Love and Go Insane brought him alot of applause, and he looked so happy! Go Your Own Way was another great one for Lindsey! Not That Funny is awesome live and it has never been one of my favorite songs, but last night it was phenomenal! Even Chris's Oh, Daddy, which I couldn't picture hearing live was fantastic! She sounded as great as ever! Micks solo playing the drums from his vest was really cool! He really can enchant the crowd!
This was a spectacular show, and no one should miss it!!! What a wonderful memory!!!!!
---
from Eric
First I must say they are back!!!!!! The sounds are better than ever .They are as though they have never been apart. The group plays as a group and I feel are enjoying themselves to the fullest. The New York show was great but I must say a few things, the fans there are not as appreciative of all the talents that are on stage in this group. They went wild over Stevie, and she does deserve it, but I watched Lindsey play his heart out on two continuous songs and they did not stand or give him the reward due to him, they must know that they are the ones who suffer as the Philly concert the fans gave their hearts to the group and the music and antics of the Mac was reflected in their playing and actions to the crowd. I must say I enjoyed both concerts but Philly was so much better and it was because of how the fans opened themselves to ALL members and they well deserved it. Stevie is still Stevie, the goddess she is, and her voice is fabulous, and Christie is even more beautiful and her voice is as smooth as always, John seems more at ease and outgoing and it is good to see him more visual and Lindsey is the guitar king and more playful than ever, at one point during It's Not That Funny, when Mick begins his drum solo, he falls onto his back and fades away giving Mick the stage and when he returns later in the set he has his legs folded in such a manner he is walking on his knees, Mick was his jolly self and the crowd cheered each member individually and as a group, IT WAS INSPIRING.............The set of songs was great with yes, alot of Rumors but who would think of complaining on that? The mix of new songs was great and in the Philly concert I feel the hearts of all were present and in the closing with Farmer's Daughter the chills are tremendous. Please if there is anything that everyone must realize is that they must show them how we have all missed them and want them to stay together and share their talents and if we are lucky, do another album and tour behind it. There was young and old alike present and I know the talent and creativity of this group is unsurpassed. I hope they play New York as planned on Thanksgiving so I can go again. Fleetwood Mac LIVES !!!!!!!
---
from Gail Cahill
This Mega Fan rated the concert B+. Having not seen this line up of Fleetwood Mac since 79/80, I got a chill when they walked on stage. They all sounded great! It was wonderful not only to see Lindsey, but also hear him sing and pick live again.

Stevie's voice was in good form; however, she did not smile a lot, she looked either sad or simply tired, she was extremely gracious and sincere, a number of times, thanking the fans for supporting the group in this reunion tour. Stevie was not very active on stage, "Rhiannon" was toned down a lot with her twirls, her energy level was not there. But she Rocked and Got Down on "Stand Back;" however, she did flub towards the end of the song as if she wasn't sure what words to continue her ranting with.

Chris looked great and sounded great. She made only two wardrobe changes with pants, jacket, boots. Stevie made a few changes and, of course, kept putting on different shawls and long chiffon jackets, one was absolutely stunning in reddish tones. John wore a scarf on his head, not a cap. Mick and Lindsey dressed as usual.

I rated this concert having watched The Dance Video a number of times and listening to the CD constantly since its release. Both of those I rated AA+ -- everyone should have both in their collections. This live version sound quality was excellent, not to mention that each member looked and sounded fabulous. After seeing The Mac 8 times, I never really thought I would see them again after '91, especially this line up, so I was thrilled to be there for my 9th last night. Unfortunely, I was disappointed in a few things and I base that solely on having watched and listen to The Dance prior to the concert.

First, here's the Set List in order:
The Chain
Dreams
Everywhere
Gold Dust Woman
So Afraid
Temporary One
Bleed To Love Her
Gypsy
Big Love
Go Insane
Landslide
Say You Love Me
Sweet Girl
You Make Loving Fun
My Little Demon
Stand Back
Oh Daddy
Not That Funny
Fhiannon
Second Hand News
Silver Springs
Tusk
Go Your Own Way
Encore:
Don't Stop
Songbird
Farmer's Daughter
First, "Not That Funny," still isn't! Definitely should have been lost from the set their last time out. Most say that they don't like the song, especially live. I never have. Lindsey certainly has enough other songs to choose from. He does a mean "Oh Well" or "Don't Let Me Down Again" or even "Monday Morning," etc. This song showcased Mick on his electronic pad drums. I happen to have enjoyed this during "World Turning" days.
Christine, of course, was Perfect. Did anyone get that? But, I must say that both "Say You Love Me" and "You Make Loving Fun" were only OK. The group definitely changed, not the music, but the way the chorus' were sung. Seemed in a flater key. More on the later song. Sorry I can't be more articulate with explaining voice changes with these songs compared to The Dance versions. Where Stevie sang 8 songs, Chris did 7. "Oh Daddy" was a treat, but I would have loved to hear "Over My Head" again live. Chris sounded superb on all songs! However, Chris 3 times during the night thanked Philadelphia. 3 times and no one corrected her. Sorry Chris, I may have ground up in Philly, but you were across the river in Southern New Jersey!!!. If the band does come back for November 29th at Philly's CoreStates Center (not confirmed!), then I hope you will thank New Jersey at that time. I'm there for number 10!
Stevie, well what can I say? She really looks and sounds absolutely great and I hope this tour, which seems to be adding dates left and right, does not take a toll on her. Every song was wonderful, especially "Silver Springs" which is what I was waiting for and have been waiting for the last 20 years. I own a few original copies of the song and when I meet Stevie back in '81 I asked her why the band did not perform the song in concert and she responded that they tried it in Kansas City once and it did not go over very well. I can't understand that after hearing it on The Dance and, of course, last night LIVE. Stevie really did a great job with it. To this day I wonder why the band, or maybe just Lindsey, made the decision to put "I Don't Want To Know" on the Rumours album instead of "Silver Spring" -- maybe at the time it was simply Stevie's words. I love "I Don't Want To Know," but "Silve Springs" is certainly a special song and I believe would have made #1 on the charts if it was placed on Rumours. I understand that Stevie was upset about that. Well, I'm right there with you sister! By the way, "Sister Of The Moon" would have been a real treat to hear.
Stevie was talking to Lindsey a lot, especially right before Landslide and right towards the end of the song. It seems she had a problem with something. At the end of "Silver Springs," Lindsey was standing behind Stevie on stage and at the end of the song, Stevie completely turned her back to the audience and sang directly to Lindsey..."never get away...from the sound of her voice". They hugged and kissed once more at the end of "Landslide" and Lindsey again kissed her hand at the end of the evening. Lindsey let Stevie have the stage on "Stand Back", he was a bit playful with Christine. Stevie got down on this song, of course, she rocked the house! I have to be honest that the audience stood up more when Stevie's songs came up then anyone else. I hope Lindsey can deal with it this time out, she really does deserve her success. She made it on her own with solo projects. Stevie was great on "Sweet Girl" and "Gypsy".
Lindsey, well I always thought you were the best guitar player ever! You do some mean picking. I have enjoyed your solo projects, especially "Out Of The Cradle" and I wish he got more play time from that album. Some great songs there and I had hoped he would do one, but I love the new versions of "Big Love" and "Go Insane". "Second Hand News" Rocked! Lindsey sang 9 songs.
After 30 years, to Mick and John, you're the best! Still hard-working rock-n-rollers. THANK YOU!
The group songs of "The Chain" AND "Farmer's Daughter" were awesome. The best beginning and the best end to "An Evening with Fleetwood Mac."
To diehard fans and future ticket holders -- ENJOY THE SHOW!
---
Bristow, VA, September 27, Nissan Pavilian
from Tammi Taylor Yiakoumatos
Since everyone here who has written a concert review has basically commented on what everyone wore and the set lists, I'm going to comment on the audience and the rapport the band had with this sold out audience....
First, someone lamented in an earlier review about the lack of "Stevie clones" dressed like her in flowing black. There were many women, young and old alike, present at this show dressed like Stevie. It was somewhat amazing to see (kind of like Halloween and I don't mean that disrespectfully, either, since I love the way Stevie dresses and it is flattering to her, IMO).
The audience was packed with people like myself, (I guess you would call us YUPPIEs, me being a 35 year old poet and writer (and formerly working for a rock promoter for many years so I know concerts!), and 32 year old hubby being a business executive). But sitting right next to us was a young family of 5 (there were *many* young kids there, teens, in their 20s, and folks in their 40s, 50s and older, too. I was amazed at the age diversity, as I had assumed since the band's "heyday" was in the 70s that it would be all people in their 30s and 40s). They had brought their three young children, who were bopping around with huge smiles on their faces and shining eyes, even at the late hour. And, in front of us, was a Hells Angel biker and his "chick", dressed in his colors, and their biker friends. Every socioeconomic, age, and cultural group and subgroup was represented -- and all were singing their hearts out with the band and loving every minute of it.
The women went nuts over Stevie - - what woman out there cannot relate to her, or her lyrics. She is one of the finest poets in music, past or present. Silver Springs and Landslide, as well as Go Your Own Way, were the most applauded songs. Silver Springs and Go Your Own Way were sung so loudly (and in a most heartfelt manner, Imust say) that the audience almost drowned out the band completely as they sung along.
I must say that the majority of the audience must be feeling like I do -- as a person who was attending the show with my life's soulmate, someone who has been through the wringer in relationships -- I was feeling hopeful that the intense chemistry between Stevie and Lindsey was still there, as evidenced on the Dance MTV special. I wasn't disappointed, for during Landslide the emotion shone through and at the end, a very lengthy hug and kiss caused the people around me to say that they wished these two soulmates (Lindsey and Stevie) would somehow find their way back together. I couldn't help but agree ... (and I read on USENET that one of the rags, Star, says it is true that these two are back together. Can anyone confirm? I pray for their happiness if it is so!)
The Boston Phoenix reviewer excerpted on NicksFix said that no one in the band at Great Woods seemed to be enjoying themselves -- well, they must have been having an "off" day because at Nissan Pavilion, Christine was all smiles as was everyone else. They seemed to be having a great time up there and there was a lot of banter with the audience (none of which I could hear because the sound system was horrid). Stevie seemed shy and somewhat overwhelmed by all the cheering. Lindsey kicked butt (as did Stevie) ... but then, so did Christine, Mick and last but definitely *not* least, John. John is so low-key, but his bass is essential to the band, and I hope people don't forget that.
My husband, Andreas, is *not* a Mac fan; he bought me tickets as a surprise (knowing I'd be ecstatic, which I was, having not been to a concert in 10 years). This man, who I know so well, who *hates* "top 40" stuff and only gets into classical and Iggy Pop-kind of music, was singing and dancing up a storm with me, through the whole show (even when he didn't know the words). I thought he would barely tolerate the show and snooze through it -- WRONG! He *loved* it and it was a real bonding experience for both of us. I could see everyone around us felt the same way -- the bikers in front of us had binoculars and were glued to the binoculars all through the show and they were dancing too!
The band played for a really long time -- the longest show I've been to outside of a Bruce Springsteen show (I'd be there working his shows until after 2 am because he'd play 4 hour shows) that I can remember. It was a real treat because they played almost every Rumours song, plus the new songs from The Dance, Tusk, and a couple other songs from their other albums. Lindsey (who looks great -- I was drooling, even though I like his hair longer and prefer the beard) did a fantastic version of Go Insane and another of his songs off his solo albums and Stevie did Gypsy, Stand Back and I think one more of her solo songs ... sorry I can't remember the set list, but it's pretty much the same as what everyone else has written.
At any rate, this show was one of the best concerts I have ever been to. I will always remember it and it was made more special by the fact that I am older and wiser and can *really* *really* relate to the lyrics of many of the songs. I am sure a lot of people will agree with me there! And a lot of people were asking if President Clinton and the First Lady attended the show, being Mac fans -- no, they were in Little Rock this past weekend. The fact that I was with the person I really love, my soulmate, and seeing this band that I have loved for so many years, was just the best time I've had in recent memory. So, Fleetwood Mac, if you ever are surfing the 'web, I just want to say, "thank you". Thanks for the music and thanks for your appreciation of those of us who love you as fellow human beings and as people who bring beautiful music to our ears and souls....
For those people who have tickets to their shows -- you are going to love it! If you haven't gotten tickets, I recommend (as the only choice, mind you) buying from a scalper just to see these guys play. Lindsey's guitar inspires awe ... he is one of the best, and I've worked with so many artists, I feel I have the right to my opinion on that one (I know many people think Eric Clapton and Eddie VanHalen are "the" guitar players in the world --- NOT after you see Lindsey, especially on this tour).
---
from Doug
Review of our Bittersweet Night:

Well, what can I say? Spending the evening with the Mac was incredible, as always. Once we all finally got there that is. The Nissan Pavillion will surely be getting alot of very bad publicity over this one. Half of the concert goers missed a lot of the show due to incredibly poor planning on Nisssans part.... they over sold the pavillion and lawn causing traffic to be backed up 3 hrs to get in. There are only 2 country roads in and out of the place and all the traffic lights in the neighboring town were out. We talked to many many people, including limo driven and bus laods that never got there till the last song of the encore. SO SO SO sad.

We missed the first couple of songs...it was heartbreaking to hear Stevie wail out the Gold Dust scream from the parking lot...but...

When we got there we were ushered immediatly down to our seats...second row orchestra center....and got a big notice from the mac! Here we all come rushing in and trying to find our seats and Stevies is just kinda staring at us while she sang... let me tell ya ...its greAt to be close enough to see every pore on the band!

I haven't heard them in such good voice since the early days. Incredible talent going on there.

They all seemed to have a great time interacting with each other... lots of smiles and gestures and whispers communicating private jokes going on. I got Stevies attention after Sweet girl..gave one of the ol "yeahhhh Stevies" and a big smile came across her face and she looked over at us and said thank you.

Not that Funny was actually pretty fun with the interaction between Lindsay and Mick. Lindsay doing his laying on the floor sleeping bit...then Mick asking if he was awake yet and lindsay rising on his knees...locking his legs in an uside down India style thing, then getting on his knees and crawling across the stage like this with his guitar....

And Silver Springs...Whoa...Stevie sounded better than the single... her voice seems to be getting higher again...at the beginning, before she started, her back was to the audience, and she was facing Mick. Mick had his drum sticks pointed at her and his crazed face on and she was goofing back at him with her hands and arms outstretched back to him. waving them kinda claw like...during the middle of the song she turned back to him and her Mike fell backwards and landed in her arms as she was turning and she was all tangled in the streamers, but never missed a note...and at the end when she sings the last part, Lindsay was directly behind her and she turned to him and sang " you can be my silver spring..." directly into his face.... there is definitly still chemistry there folks.

Rhainnon was great... Not as powerful as the old days but still a great performance.... Stevie did get off a couple rounds of old style wail chants towards the end ...very reminicent of the 70's versions...

The one change that I saw from the published song set was that Go Your Own Way was not an encore song but the last song before the encores.

At the end ...I believe that it was TUSK...there was a cool moment... You know the matisse painting of the Dance? where they are gathered in a circle dancing? well.. Stevie, John, Christie and Lindsay formed a circle back by the drums and started dancing in a circle in and arournd each other then they surrounded Mick on the drums and did the same for a minute... it was like the were recreating the painting...very spiritual....

Oh a final last memory of the night...Stevie several times started to walk off the stage to her right to either leave or change...then turned around and came back and told the audience how very special this all was to her...very heartfelt.... then at the last encore where they do there famous bow.... they were lining up to bow and Stevie bowed down and when she got back up she realized that the order of the band was screwed up and that she was holding Christines hand and she lost it in spontanious laughter... very cute...shes so beautiful when she smiles and she smiled all night long.

They ALL seemed to be all smiles and having a great time!!!!!

You're all in for one hell of a show!!!!! (oh, final note: what is the deal with the very small hinduesque red jewel in the center of Stevies forehead!!! Yeah, it was there.. sorta different...hmmm.)
---
from Dorothy
The Dance Continues - Reviews of Philadelphia and Virginia
Sept. 26 and 27
It was my good fortune to be at both Fleetwood Mac concerts this past weekend and it was magical. We had fifth row seats in Philly and as Christine said, when introducing "Everywhere", "It's great to be back on the road together again." Stevie, of course, said, "Everyone thank you for coming." She continues looking intensely at Lindsey during "Dreams" key lyrics - "Say...Women... they will come and they will go." Much to my amazement the people in front of me starting sitting during "Dreams". What was that all about?!?
Since this was my third concert, I tried to pay more attention to the lighting and to what the band members might say in speaking to the fans.
Putting aside that it is one of several favorites of mine, "Gold Dust Woman" continues to impress with its trademark Stevie scream from the rawest part of her emotions. The searing guitar of "I'm So Afraid" moves me every time.
In addressing the reconvening Lindsey said, "One thing led to another." The brilliant red lights accompanying "Bleed To Love Her" were so effective. I'll say it again. I hope this song is the next release. A tender moment came at the end of "Gypsy". Stevie said, "We don't say a lot but we are so glad you're here" and there were tears in her eyes.
Again Lindsey spoke about "...responding to the need to grow." and then came "Big Love". A real highlight for me is this poem Lindsey recites before "Go Insane". As the words are becoming clearer, I'm beginning to think that he wrote this. If anyone knows the origin, please let me know. Stevie introducing "Landslide", "This is for you - we're doing it because of you." During that clapping pause at the end of the song, Lindsey acknowledged Stevie by pointing to her. There seemed to be lots of dancing during "You Make Loving Fun" and "Second Hand News".
During "Stand Back" Stevie was turning around at one point when she sort of lost her place in the song. It was barely noticeable. But I did have the impression that Lindsey's talking to Christine during the song didn't help. After the song Stevie said, "Thank you - my heart" It was sweet. By contrast the next night in VA the band was more respectful during "Stand Back". Just before the music for the song started, Stevie passed by John who high-fived her. Stevie then did a flawless impassioned version of this staple from her solo career. The lights for "Stand Back" are dramatic and really enhance the moment. In general the lighting effects are superb.
Besides Mick's incredible drum solo, from "Not That Funny" I have this image of "...somebody outside the door..."
"Rhiannon" seems to be building in intensity. Is that possible? "Don't leaveeee me."
"Silver Springs" gets a huge audience response.
At its conclusion Stevie said, "We thank you - all that ENERGY." Lindsey spoke about being thrilled about how the project has come together and thanks for being a part of it. At the opening to "Go Your Own Way" Christine actually walked to the side of the stage near her and gave a two thumbs up sign. It's clear the band members are very pleased. Quote Christine, "We're having a swinging time and really enjoying ourselves."
After "Songbird" Stevie and Lindsey walked back onstage holding hands with Lindsey kissing Stevie's hand. A special moment came for me when Christine, Lindsey and Stevie sort of hugged in a circle. A flashing thought at that point for me was what brilliant music the three of them have created with their unparalleled harmonies. It gave me chills.
This is just my opinion but the band seemed looser the next night at the Nissan Pavilion. Stevie was more energized. Since I had a similar impression of the second concert at the Boston shows, I'm wondering if its a function of two shows in a row. Although logically, unless you're really pacing yourself, you'd be less animated the second night. Another impression, at least from my seat, was that the VA crowd was really louder and really into it. Case in point at the conclusion of the concert before the lights came up, the cheering, chair banging and general desire for the band to return for another encore was deafening. When a spotlight came on in the middle of the stage, I couldn't contain my excitement at the thought that they might return to the stage. But then the lights came up. This poem Lindsey says before "Go Insane" continues to haunt me. "This leaving is a way of staying...this rage for all to see caught fire and burned all around me..." Lindsey continues to speak about making the positive choice which seems so appropriate. Stevie was all smiles much of the evening. After "Go Your Own Way", she said, "This is so special and I'm glad you're sharing it with us. After "Don't Stop" she addressed the audience, "You're very special. I just want you to know that." In a light moment Christine used the generic 'guys' and quickly said, "Guys and gals obviously, thank you." All in all it was a most memorable weekend with perfect weather and unforgettable concerts leaving beautiful images burned in my memory.
---
East Rutherford, NJ, Continental Airlines Arena, September 30
from Virginia
The effect of seeing Fleetwood Mac, my long time favorites, was strong enough to compliment the codeine haze I was under to try to offset the pain from an abscessed tooth. That's dedication, true, but it helped get through the evening with great joy.
The Band definitely loosened up as the evening went along. I won't repeat the song list, but everything was as expected, except for Mick Fleetwood's drum-dance section, which was really cool. His joy was obvious.
There has been a complaint listed in other fan reviews that Lindsey had not received his due in audience attention. That was not true at all at Continental Arena; his applause and ovations were an extremely close second to Stevie. The sound system was inclined to sound muffled at times; it was not the CD/video clear we are used to.
Stevie - very beautiful, sounded great, gives all lady long-hairs great encouragement to give the Bronx cheer to the so-called experts who say women past 30 shouldn't have long hair. I am only 14 months older than Stevie, and anyone a lot younger should realize that as one ages, one's voice drops. Stevie's obviously has; her voice lessons are helping her keep some of her 'top' range, but it is not totally dependable - she omitted a high note in 'Gypsy', and the arrangement for 'Stand Back' is quite different from the original, and I know it has to be to allow for her dropped voice. (If you want further proof of age dropping one's voice, listen to Barry Gibb of the BeeGees live. His falsetto comes very hard now, especially the top notes, and I think he is 51.) The chemistry between Lindsey and Stevie is definitely there - you just can't act all the feeling that poured out to us in the audience when they were together in 'Landslide' and 'Silver Spring'. I hope they are able to get back together again, in a way that is close but comfortable for them.
The age range of the audience amazed me. There were a lot of people in my and the Macs age range, then a lot in the 30's range. What was amazing was the number in the range of 18-25. There were three girls in front of me who had to be, I hope, 21 (beer drinking); They were up on their feet frequently, dancing away, especially during 'Tusk' and 'Don't Stop'. These kids are going crazy over 20-year-old music! It's just great to see.
Christine looks fabulous; in spite of too much audience noise during 'Songbird', I was still able to cry during it; that song never fails to start the waterworks.
I had never had the chance to see Fleetwood Mac live before; this first experience was just great and never to be forgotten. I never would have thought that at age 50, I would have the chance to see them live. Even if they decide to continue, soak up this experience now. This is a reunion tour, never to be repeated with the same feeling.
---
Columbus OH, Polaris Amphitheatre, October 1

from Lisa
Well, it is almost noon and I just woke up.Lol I have no voice! Knowing that they have left or are preparing to leave my city is killing me. It always does..... it just breaks my heart:(

I saw no one from the list, but it was very crowded. Our men took my seats in Section E row S and me and my friend were in row G. There was really no bad seats in the ampitheater. I saw no one dressed up either.

The band was late coming on...some man told everyone it was cool to go get something to eat, because the band had gotten "tied up" in New York city traffic. Then the crikets started and my hair stood on end, in the dark the band took there places on stage and the opening thumps of "The Chain" started and the whole place went wild. We were loud! I am so proud of my city for being so receptive of the band and every bit as fanatical as I am!

The song set is no different than the others and it was almost a "mirror" of "The Dance" but none the less, the crowd got it's money's worth! Stevie looked beautiful. Her hair looked like honey dripping down her back! Lindsey has won me over for life! Forever will I be a fan of his now, no matter what! My husband who is not a big fan was SO impressed by this man! I don't know how he does it without really taking a break. I thought on the first song his voice was alot deeper, but he must have just needed to warm up, because he rocked my entire world for 2 1/2 hours. I am really sorry to go on about him, but his passion for life comes straight through those guitar strings and rip's through my soul and then there is this piece of me that understands his reasoning, as to why he ever left FM, in the first place. Like Stevie having so much material where she writes so much, he definately needed an outlet too, to accomadate his craft. Christine is very thin and beautiful and elegant! This was my second time for seeing the other members of the band, because I went to a "Behind The Mask" show. Her voice was in perfect form, her outifts appropriate and classy! Her songs made the audience stand and dance and sing and sway! She felt this too, because she thanked everyone for being generous! John McVie wore a blue bandana, jeans and a vest and looked great while he played! Mick is wild! A very underated, talented, percussionist! The Polaris has made major news recently because of the "noise." I thought last night, while Mick was center stage playing his body, that all the neighbors must be thinking that some type of 'war-dance' was going on...and you know....it was! Well, here are some highlights from each song as best as I can remember, so now I will enchant you!

The band thanked us, said goodnight and left! Stevie and Lindsey walked off together very close and holding hands. Many fans started to leave at this point (it was down in the 30's by this point) but the band was encored back out for a riviting version of "Don't Stop." By the way, LB and SN came out together and Stevie gave him a kissy-poo and Mick one too:) They left again, and fans started scrambling and once again we encored Chris back out and she performed her trademark Songbird. Then they all returned for Farmers Daughter which brought the evening to closure. It was a great dose of good ole rock and rock, folks!
---
Cincinnati, OH, The Crown, October 3
from Craig Phillips
I felt like I was 15 again when the usher took my girlfriend and me to our seats: 13th row... I was thrilled. (Sadly, however, a giant of man soon sat in the chair right in front of mine. Oh well.) The band took stage at about 8:40 and the crowd went nuts!! (The Fleetwood Mac concert "christened" the newly renovated (and renamed) Crown Coliseum. Apparently, in the concert's seating configuration, it was a near sell-out-- over 15,000 people!) The set-list remained the same as the concerts preceding this one. Thankfully, "Second Hand News" replaced "Eyes of the World."
What can I say? They played a wonderful show-- straight forward, not stooping to gimmickry, just tight music and "good vibes" from beginning to end. This being the eighth or ninth show on the tour, you'd think that they'd have scrapped the canned speeches from the MTV special. They haven't. (Luckily, Lindsey didn't say "isn't that weird?!" during the whole 'organic reconvening' speech before "Bleed to Love Her.") Here are my comments:
"Oh Daddy" -- what a surprise! I would never have guessed that this would be in the set! By far this was my favorite moment of the concert. You'd never guess that this woman (Christine McVie) had been singing rock for 30 years-- she sounds wonderful.
"Go Insane" -- I can understand the reason for its omission from The Dance, but I'm not happy about it. Not only is Lindsey Buckingham a brilliant guitarist (with the weirdest technique, incidentally-- I'm sure my fellow guitarists will agree) but a captivating performer. He turned 50 the night of the Cincinnati concert, by the way.
"Sweet Girl" -- the more I hear this song, the more I appreciate it. Stevie Nicks could have "sold out" to the hoopla of the Fleetwood Mac reunion by contributing a big production/ "stadium rocker" a la "I Can't Wait" or "Stand Back," but instead she chose this touching and unpretentious country song. I love the lyric and the harmonies which surround "the ocean is your blanket."
"My Little Demon" -- I love this song. During the concert, however, something about it wasn't quite right. I can't decide if it was given a non-committal performance, or received a non-committal response. Oh well-- I'll just listen to The Dance for my demon fix.
"Stand Back" -- I don't want to offend anyone with this comment, but I found this song to be WAY out of place. Don't get me wrong, the song was a powerful crowd-pleaser, the lighting effect was great, and they performed it well... but the sound of "Stand Back" is very UN-Fleetwood Mac... especially to THIS line-up of Fleetwood Mac. It's the property of Stevie as a solo artist. I would rather have heard "Sisters of the Moon" or "Seven Wonders." Does anyone know why "Sara" has been omitted from this tour?!
"Not That Funny" -- I don't mind this one, but it's not my favorite. I'd prefer hearing "What Makes You Think You're the One" or "That's Enough for Me." Mick's solo, while entertaining, was too long for my taste.
"Over My Head" -- ~sigh~ They dropped this one. Why? I'd LOVE to hear them pull out the arrangement they used for the Tusk tour (on Fleetwood Mac Live)-- the guitar lick that Lindsey uses to begin that version is super!
"Gypsy" -- I love this song, but I feel that it doesn't translate very well to the concert stage. The original is a studio masterpiece-- it's impossible to recreate it in a live setting. (Isn't that why they don't do "Hold Me?") I do, however, love the three-part harmony added to the bridge "And if I was a child..."
"Farmer's Daughter" -- what a cool way to end the concert.
The concert was definitely worth the money-- I enjoyed it immensely. I remember thinking as I was leaving-- I doubt I'll ever see this band play live again. Think of the reunion from their perspective-- a commemorative album debuting at number 1, sold out shows around the country, musical and personal closure...
what a triumphant way to throw in the towel.
"...and a memory is all that is left for you now."
---
Aurburn Hills MI, The Palace, October 4
from Grace
My first comment for all of yesterday was WOW!!!! And then the only problem I had with our show was the audience was pretty lame....you could tell that Mary Sue and I were the only ones really excited about the prospect of first row seats...we were the ONLY ones up and dancing during the Chain... We also ended up having an ugly run in with the older couple behind us...me boo hooing cuz I was buffaloed into sitting down through four or five songs...the guy tugged my hat and then got security and complained that he had his ticket and didn't expect to look at our backs through the show....The security guy explained that we were allowed to stand if we wanted and he could too, but he blew a fit and pretty much ruined my attitude until I heard Stand Back....yes I sat through gypsy trying to keep from crying all the make up off my face....bummer...but I got over it! It took Stand Back to get some of the crowd on it's feet and Lindsey with It's Not That Funny to keep them there! I was utterly bummed with the crowd...we kept looking back and there were only a few little clutches of people up here and there. We also had 8 seats in row two behind us that no one ever came to. What a waste. I could have had more people I knew with me....but the security guard said I couldn't go get people for the empties...heaven forbid some one come in two hours late...they never did.
The set list has been about the same(...although I hadda go to the little girls room and wouldn't swear that Lindsey did Go Insane...boo hoo, cuz I love that song...), and the show quality beat the Dance, by long shot. Stevie was great vocally all the way through! They all were, but they were definitely looking happy but pooped at the end. Watching them at the last bow, I almost felt sorry that they had to go deal with backstage pass holders. After all of that, I think my mind would have been set on a hot shower and a few hours of crash and burn!
The show was absolutely magnificent! Bolstered only by the fact and magic that my best buddy and I were at the ticket office about 15 minutes before they closed it asking the sweet blone teenager who had looked for bounce back tickets for us around noon to try again. She comes up with section AA as best available and doesn't know what it is. So she says to stay put and holds the tickets and goes to ask the ticketing manager where this is, because it isn't on any of the floor maps she has. About two minutes later she comes back with a smile the size of Montana and asks very meekly, "Would front row be okay?" OHMIGOD!!! Of course, you pull those tickets NOW!!!!! We're trying real hard not to go absolutely nuts on the spot and get thrown out. I'm shaking like a leaf and Mary Sue is just repeating "no way" over and over. I became this fountain of tears...unbelievable... The neat thing was these seats cost less than the 25th row seats I had...NO SERVICE CHARGE.
Wow...with that and an hour to wait before they let anyone in to the venue we went back out to the car and popped our champagne....which means EVERYONE take a celebratory bottle BEFORE you go! It can turn the tide of events...take non-alcholic if you don't drink just tilt those tides with the bubbly waiting for you! We had unreal luck! So 45 minutes were spent toasting the teenage wonder woman, screaming "we got front row!", peeling and reapplying make-up and assembling and putting my top hat straight! It was like winning the lottery!
We ended up two seats left of Stevie's mike stand! She was incredible. I was totally given over to this person we chatter about. She is utterly compelling!
Prior to the show...we had to chatter with the bouncer for our area and check the stage out....
I also was compelled to give something away and ate the extra cost of the original seats...I was reminded of Susan and her dad when I looked across the stage rear before the show, and here is a gal dressed to the Stevie nines and obviously her mom...Well...Mary Sue and I look at each other and take the tickets back to these two sweet folks and give them to them. The girl was tickled. I apologized they were so far back, but that at least she'd be able to be on the floor...I felt great letting someone who was a FAN get around to the other side of the stage. Gorgeous velvet outfit with a great black and white feather boa. We didn't see them after the show, but I hope they had a great time, without having to look at the BACK of Micks drum set.
The mike stand was dressed up with chiffon ribbon. It's looked like scarves to me in all the video I'd seen, but close up it's just long pieces of 1/2" chiffon ribbon. Same stuff we can all go collect at Walmart for under a buck for 10 yards! This of course sends Mary Sue and I into spasms about seeing Stevie running through the enormous Walmart over near the Silverdome looking for the craft section cuz the crew has shredded her mike stand gear....we know really that some assistant would have to have gone, but the thought was a stitch!
Black and Glow in the dark tambourines....definitely NOT dampened. The black one had the same ribbon as the mike stand, and the glow in the dark one had the same type ribbon, but in white and gold. Christine had a round black one with a wider ribbon on the same material.
And the clothes....Margi Kent outdid herself. Stevie had on a satin bustier with skinny straps on the outer edges, the kind that run up over the edge of your shoulder instead of a standard by the neck spaghetti strap. The material was patterned...Its sort of varying lines through the satin, and I can't for the life of me think what the material is called....anyway...she had her audio pack in a velvet pocket on the bottom of the bustier. The skirt was the three tiered one that everyone has been talking about, but the "lace" layer is a black cut velvet with what looked to be a lace pattern over the multi-colored sparkle on black material with the chiffon kercheif points in the bottom. The sleeves are chiffon, and with the bustier straps, I couldn't really figure out how these were attached. These were full arm drapes, not the drapes hanging from the cuff area like we saw on the Dance video, they appeared to be made up as a single width loop and floated by themselves where they were supposed to be. She didn't play with them as much as she did with the drapes on the other dress. She wore the cream colored platforms, either a real soft suede or velvet...looked more like suede though. (And I don't know how she walks in those things!!! She has a good inch and a half platform with a 4 inch heel base. I know how much I hate to walk around for twenty minutes in those things, let alone two hours plus).
The shawls and coats were the high lite of her wardrobe, and it was sorta neat watching her move stage right over to the blacked out area and watch the wardrobe assistant pull shawls, robes, etc. and help the next one on... Since we were fairly far left you could see the wings fairly well. Not all changes were done on that side but a couple were.
I do have to say one thing...even though it looks beautiful with the lights on it from a distance...that gold dust woman shawl is pretty ugly. Its more of a dark mustard color than gold and it's the material that you think of old ladies covering their rollers with. It's tassled out at the bottom with matching colored tassles. There are all sorts of rhine stone patterns on it. Big mostly circular ones.... But Stevie sang so great that I'll forgive her for the up close icky shawl. She let rip and yelled this at Lindsey. I was surprised! You all had been saying she was singing Silver Spring to Lindsey. And landslide was a definite, but I wasn't looking for interaction here, so it was a treat. He also appeared to be a little surprised...had that little, "what is this?" sorta look for a second there. We didn't get the full spins, but the vocal was great...damn, this song had BETTER be on that Best Buys CD.
After this...I lost my count of the sequence of songs...so I'll just give my thoughts on the coats...
Next neat overcoat was the red one everyone's been talking about. The material is again a cut velvet, but it's not really red. The pattern is a repetitive modern sort of shape, it doesn't really look like anything, and the velvet is two colors that repeat with the pattern, wine and an auburn, when the light hits it it shows sort of a blue red and orange red. Very neat. I'd definitely take one! She wore this through Landslide and Gypsy...
Landslide was dedicated to US in the audience...very sweet, because without us they wouldn't have been there or some such... Note for note perfection. No "Thank yous", and Lindsey didn't watch her as much as in previous performances...the hug and kiss on the cheek were there, but I didn't pick up the electricity between them that others have commented on. Gypsy was done well, and Stevie sang wonderfully, but I really don't like the bare arrangement. I love all the heavy layering on the Mirage album. And this was basically a bargain basement version with very little harmony vocals - just She was just a wish. Even from the girls.
For Stand Back she wore the red coat with a black shawl shot through with gold thread over it. I want to say it had gold and black tassles, but I really don't know, either that or fringe...I was too into the song. Looked like an extremely warm operation to me...I was overheated in a velvet pull over and not under stage lights. This was THE moment of the show for me! Stevie came undone. She sang closer to the album version of Stand Back than I've ever heard live, and they put the "La la la la la" back in! Has this been in all the shows? I'm surprised no one has commented on it! We've had discussion here that everyone missed this out of the live version. She did miss "Do not walk away my friend..." and we caught it and did the little finger shake at her (you know the you goofed one that you get when you were a kid!) and she grinned at us... Lindsey & Christine didn't do any vocals on this. The girls were great and you could tell Sharon was doing the "Stand Back" minus her audio, she was playing with the box and fussing with her ear piece during the beginning of the song and NOT looking happy. I miss the shawl with the big gold filled circles on it! Does this mean that our "Stand Back" cape may be at the emporium? Might be the time to call!
Rhiannon was done in another long cut velvet coat. This one had brown circle shaped flowers cut. Reminded me of the Mums you see all over this time of year. I believe this one had the long cuffs. Very nice again...another thing I wouldn't mind hanging in the closet... Flared at the bottom. Rhiannon was out of this world. We got the ending with the "dreamer you can't leave her" ending, and if the girls hadn't started with All the same, I think we would have had something close to the seventies rendition of this song. She was lost in it. Oh taken to the sky girl, dreamer you can't leave her... And, although I don't remember exactly what she said... it wasn't the standard "don't leave me" at the end. Someone help!
I don't recall where the next coat change came on...but the last coat of the evening was the tux jacket with the tails...but no hat! I wanted to pass mine on up to her...woulda matched, but she probably wouldn't have taken it, and I woulda had to leave without seeing everything! No chance!
Silver springs was good, but you could tell that the band was getting a little tired. Stevie actually sang this to us rather than to Lindsey. There was also no silent feed back from Lindsey on the "Was I just a fool?" from the other shows. He did say something to her either during this song or Landslide, that made her smile a bit, looked like she was going to laugh but didn't. Very nice rendition, and I get to like this more and more!
The usual encores, and the usual audience mayhem at the end....and I went home happy, and tired! And DETERMINED to go back again on Nov. 21.
---
from Shel
Fellow Enchanted Ones,
I must warn you this is a long letter! The show was absoutly amazing!!!! I have to make it to see them again. They flubbed up on some songs but it was cute. Silver Springs they started to sing the wrong verse and Stevie saved it by going on ..Never Get Away..... Never Get Away... Stand Back also She goofed the second verse twice. It made the songs have their own personal touch. They seemed more special that way. Maybe I'm crazy. They were some idiots there though. For instance, my friend and I were in full Stevie attire (complete with top hat and tamborine) and one lady who was standing next to us asked if we were dressed up for Halloween. We told her we were dressed like Stevie Nicks and she said "Who Is Stevie Nicks??? " Well I just about died!!! The people next to us had a habit of getting up for a beer everytime Stevie would sing a song. I didn't get the see all of Landslide cuz four drunks were trying to get by without falling. I still had a wonderful time. Nothing can compare!!!!!

Well everyone this is the set list for the Detriot show:

The Chain
Dreams
Everywhere
Gold Dust Woman (incredible note...and go home......)
So Afraid
Temporary One
Bleed to Love Her (with same speech as video about getting together again)
Gypsy (with the LA's instead of the OH's)
Big Love
Poem by Lindsay (does anyone have a copy of that???)
Go Insane
Landslide !!!
Say You Love Me
Sweet Girl
You Make Loving Fun
My Little Demon
Stand Back (awsome light show although she didn't wear the cape :( )
Oh Daddy
Not That Funny
Rhiannon !!!!!!!!!!!
Second Hand News
Silver Springs !!!!!
Tusk
Go You Own Way ( Stevie sings the "shaking up" line)
Don't Stop
Songbird
Farmer's Daughter

Thanks for bearing with me!!
---
Noblesville, IN, Deer Creek Music Center, October 5
from Jason
Greetings, all fellow Wild Hearts!!
Having just spent one of the most spiritual and amazing evenings of my life, I feel compelled to write and share with you my impression of tonight's THE DANCE REUNION TOUR show at Deer Creek Music Center, Indianapolis, IN. In a word -- WOW. Is the Mac EVER back!! From the show's opener (THE CHAIN, naturally), the set was intense, emotional, and thoroughly incredible. Stevie was in top voice and, as always, an incredible presence. GOLD DUST WOMAN showed any doubters that she is still the undisputed Queen of Rock. Lindsey was particularly adept this evening, showcasing his mastery with the fantastic GO INSANE. From the opening poem, which Lindsey recited with passion and fire, the performance was truly the stuff of legends. Stevie dedicated LANDSLIDE to the crowd, saying "You give us all the reason we need to do this song again." She and Lindsey shared the first of numerous hugs following the song's finish, and the crowd went wild. Christine proved her mettle with a captivating rendition of OH DADDY --- all the hairs on my arms were at full attention as she cried "I can't walk away from you, baby, if I tried..." Mick took center stage with his vest drum and percussion kit during a rollicking NOT THAT FUNNY. The crowd showed their enthusiasm throughout his stage traipsing, and he rewarded them warmly. Amazing stuff. SILVER SPRINGS brought a tear to my eye as Stevie and Lindsey sang directly at one another, the bond between them appearing even stronger and more durable than I had imagined. STAND BACK brought an inhuman scream from the crowd, and Stevie absorbed the energy being thrust at her, giving a seasoned and polished performance. Without question, the love these people have for their music AND their fans made the show one of the most enjoyable experiences of my life. Christine's SONGBIRD soothed the crowd in lullaby-like fashion, and the closing cut, THE FARMER'S DAUGHTER was executed with brilliance and tenderness. Three cheers for the return of the best band in the land!!
Time casts a spell on you, and you won't forget Fleetwood Mac. Ever.
---
from Molly
Hi Everyone!
I had such a wonderful time. The concert was so awesome -- everything I expected and more!! I would go to a concert at Deer Creek anytime -- it was great, and my lawn seats were wonderful. There was a pillar in the way of my seeing Christine and John, but I had a great view of Stevie, Lindsey, and Mick -- all but facial expressions, and I could look up at the huge screens to check facial expressions. And I could see Lindsey's hands live, without the screen -- amazing to watch him pick away. I'd love to touch his hands and feel those calluses! So, to any of you skeptical about lawn seats, mine were great! And I thought the sound operators did a great job!

Everyone looked great -- loved Mick's suit, and Christine is just gorgeous -- I hope I age that well. Lindsey and Stevie were beautiful as ever. There were a lot of thank yous from Stevie to the audience, but on the whole, little audience interaction. The crowd was great -- very young crowd, lots of people never sat at all. The lawn was the place to be! There wasn't a lot of handholding and stuff between songs, but Lindsey/Stevie stuff during songs was great!

I am totally exhausted, so this will be a very quick list of fave moments for me, and then a few disappointments (very few). I will write more later, when I have more energy.

Favorite Moments:

Landslide -- When Stevie came out for Landslide, she gave Lindsey three "i'm not worthy" bows. It was so cute!! I don't think this showed up on the screen, though. And they had a wonderful post Landslide hug -- lasted a long time, and she touched his arm for a while during the song and barely made it back to her mike. He did NOT do the under the chin thing, and I was so glad he didn't, because it is canned now.

Silver Springs -- This was INTENSE. The bass and drums seemed heavier towards the end, which gave the ending a more frenetic, frantic pace. I am listening to the MTV recording and I don't hear much bass and drums at all at the end, but they were loud and distinct at the concert, and I LOVED it! I was worried after reading the Detroit review that Stevie would sing to the audience again -- nope, she was VERY much singing to Lindsey. She put her heart and soul into that performance tonight -- it was so intense -- sent shivers up and down my spine. I couldn't tell if he sang "I'll never get away" though. At the end, they stood REALLY close together for the "You could be my Silver Spring" -- they were standing so close -- it was so neat. I really don't think this was a canned performance -- Stevie sure seems intense, like she really means it. I thought Silver Springs was intense on the MTV video -- it was so much more intense tonight. Stevie and Lindsey did everything I could have wanted. She was INTENSE!!

Go Your Own Way -- This is an AMAZING song, and I loved Stevie's piping in on "shacking up, packing up." They seemed to be having a lot of fun with the song. She walked out with something in her hand and sat it on the drum stand at the beginning of the song -- I hoped it was the top hat, but alas, no. Anyway, this was an AMAZING performance of Go Your Own Way.

Big Love -- AMAZING. He got so much applause that he almost didn't get the chance to recite his Go Insane poem. I think Big Love, Silver Springs, and Go Your Own Way got the biggest applause of the night His guitar picking is amazing in this song -- I would love to touch the beautiful and brilliant Lindsey's hands!

The Chain -- I simply worship this song. Their harmonies were great.

Not that Funny -- John and Lindsey were both up next to Mick, and it was neat to see the three men together. Mick's playfulness during the guitar solo was cool, though I never could tell what he was saying.

Don't Stop -- Lindsey was looking at Stevie a lot during this song -- "yesterday's gone," he nodded to her. In fact, I think he looked at her as much as she looked at him tonight. They seemed to be having a lot of genuine fun.

Rhiannon -- Her voice was in fine form, and she let it rip for just a bit at the end. I would have loved to have seen her perform Rhiannon in the 70s. I really gained a new appreciation for Chris's skills on the keyboard -- her keyboards and John's bass are crucial to Rhiannon.

I'm so Afraid/Go Insane -- Love Lindsey's guitars, and I loved Stevie's harmonies on I'm So Afraid.

Gypsy -- at one point, she doesn't sing "Love", and the audience fills right in for her -- there were that many people singing. She changed "Her memory is all that is left of her now" to "Her memory is all that I have of her now."

I also really liked Songbird, Farmer's Daughter, and Say You Love Me. Oh Daddy and You Make Loving Fun (never a fave of mine) were OK. Most of the new stuff was good (though Temporary One was greeted with the least enthusiasm), but most of my memories come from the older stuff.

Oh yeah, on Songbird, Mick came out at the end and held up his hand over Chris's head in a cute way. And I noticed on Rhiannon that she had a big cup with a straw on her keyboard. I have a new appreciation for Chris's keyboards after tonight!

OK, for a few disappointments:

Stand Back just wasn't what it could have been. Stevie did great, but the rest of the Mac just didn't do a very good job with the music. They seemed too slow for the song. Something just didn't work for me -- if they couldn't replicate the studio version, they should have just tried to add their own Mac flavor, or else done Sara or Sisters of the Moon.

Gold Dust Woman -- as a whole, this was great, but during her scream, something happened to the sound, so I am not sure if she screamed and the sound people messed up, or if she didn't scream.

Lindsey's cycles speech -- I rolled my eyes. This was just the same! At least Chris changed her Say You Love Me intro, to "This is our chance to let you see John and Mick upclose." And he gave the same Little Demon speech. Grrr....

And I never got to see anyone from Enchanted!

All in all, it was a wonderful concert. Sorry to babble on and on. I am sure I will have more to say later, though!
---
Minneapolis MN Target Center, October 8
from James
We left at 8am for the 5 hr. roadtrip to Minneapolis, the first of our 2 show run which would include Fargo the following night (see 10/09 reviews). We jammed to an old bootleg of a Rumours show from Philadelphia, PA April '77, along with a tape of "The Dance", on the way up to get in the mood. Beautiful weather made the day that much more magical. After listening to both of the tapes we agreed that to say the band is "better" now than they were back in '77 would be a major understatement. Their genuine love for each other and being on good terms really shows in their music. Stevie is a real singer now and her maturity shines in her vocal ability. Although her range is lower she retains all her power and really kicks it in the ass when she wants too.
OK, on with the show. We finally made it downtown about 7:10pm. After sitting for about a half an hour to travel the equivalent of 3 city blocks, and stressing the parking situation in the middle of downtown Minneapolis with 18,500 other Fleetheads, low and behold a parking spot opens up right before us right across the street from the Target Center! Our gaurdian angels were looking out for us. Got our tickets from our waiting friend and we were in and checking out shirts by 7:20pm. YEAH! T-shirt selection was great but we were a bit bummed to see no tour programs or posters available. We tried snagging a promo poster for the Best Buy CD's but some overactive security guard took offense to it so we decided not to push it and went for our seats.
We had great seats about 30 rows back on the main floor, a bit off to Lindseys' side. There were few teens at this show, mostly a 30+ crowd. A few fans were noticed to have the black dresses and boots look going showing off their Stevie influences.
At about 8:05pm the lights dimmed to the sounds of crickets chirping; What a great way to set the mood. As the familiar silhouettes of the 5 members appeared on stage in the dimness the crowd went nuts. The thunderous pounding of Micks' bass drum began The Chain and when the harmonies kicked and the lights went up it was perfect. Everyone looked great, a little older but great. John lost his familiar baseball cap for a cool red bandana that makes him look hip. Everyone looked the same as they did in The Dance. Stevie said, "Welcome everybody" at songs end. Then the band kicked into a great, studio-like version of Dreams.
The band ran through the standard set this night, as I think they will for the rest of the tour. A good solid set in my opinion although I'd love to hear them change the sets around a bit from time to time. They proceeded with Everywhere after Christine's' "Hello Minneapolis". The band seemed to enjoy themselves, smiling at one another during the harmonies on this one. I think this would be a good spot to change things up once in awhile with songs like World Turning, Seven Wonders, or Sara. I suppose they have their reasons.
Gold Dust Woman was incredible. Stevie, draped in a gold shawl, captivated the sold out crowd with her intensity. Her "shadow, she's a dragon" part in the end gave me goose bumps. She really let loose on this one. If you have yet to go to your show(s), be sure and watch Stevie at the end of this song. Her presence is overpowering. As the final drumbeats fade the spotlight silhouettes her as she has her back to the audience, fanning her arms down like the wings of a dove. Wow! The bands' dynamics on this song were fantastic.
Now, another case of "what's up with that". As Mick and Lindsey start into I'm So Afraid the whole floor crowd starts sitting down. As we're trying to "stand our ground", literally, some jerk behind us tells us to give people a break and sit down too. Who sits down at a rock n' roll concert? Especially a Fleetwood Mac, rock n' roll concert! Once Lindsey started cooking on his solo I had to stand back up, as did others around me, so we were cool for awhile. The "up & down" thing continued all night, especially whenever the band played anything new, a real show of disrespect in my opinion. Both Temporary One and Bleed To Love Her sounded good although Lindsey's vocals were a little strained on the later.
Gypsy finally brought the deadbeats to their feet once more. A great version of this song although we can't figure out why Stevie doesn't hit the high part of "enough to love" right before "she is dancing away" in the 2nd verse. She hit the same note in other parts of the song and held it just as long. When the song ended Stevie looked to the audience with a big smile and said, "You're all a bunch of old Gypsies".
Big Love was Lindseys' showpiece. His new version has done wonders for what I used to think was a mediocre song. His poem preceding Go Insane was wild and led me to think he was referring to his reevaluation of the decision he made to leave the band back in '87 but that's my opinion, as whacked out as it may sound. Lindseys' guitar playing, on these two songs especially, left this player with his jaw on the floor.
Stevie came back out to join Lindsey for Landslide. She began the song by saying, "I would like to dedicate this song to Matthew and to all of you guys here because you give us a reason to do this song at all". It was cool to see Buckingham/Nicks, just the two of them, after all these years, up there doing it and getting along better than ever personally. It was definitely a high point in the show. The audience was very supportive and "into it" here. Right after the last "snow covered hills", Stevie said "Not bad for two kids from California". Not bad at all!
The semi-acoustic version of Say You Love Me was up next and kept the floor audience on their feet. Shame on the soundman for having Lindseys' banjo so low in the beginning though. It seemed that the vocals too, were especially low in the beginnings of songs and when members tried to say things between songs it was tough to hear. Sweet Girl was next and is another Stevie showcase. This song sounds more like her solo stuff than a Fleetwood song but it works well and Lindsey sounds great on the vocals with her. She didn't let us down on vocal intensity here either. I've read elsewhere that she is holding back but not on this one.
After a quick step back in time with another flawless You Make Lovin' Fun. Lindsey unleashed his My Little Demon on us. I think this is one of his solo tunes too because it seemed a bit out of place with the rest of the set but I have to admit that it grew on me hearing it played live. It's a nice upbeat change of pace to the standard Fleetwood fare. With no loss of momentum the band cranked into Stevies' Stand Back. It was the Fleetwood Mac version (no guitar solo) but her vocals were powerful and you could tell she was into it along with the crowd. The light show was especially cool during this one. For something different Lindsey and John switched spots on stage and then switched back after the song was over.
Oh Daddy was a great tune to bring back and Christine sounded "perfect" on this. It was a nice way to mellow things out a bit after the fast pace they just set with the other tunes. We didn't get too laid back though because Mick was about to go crazy for 10 minutes with Not That Funny. This is Micks' chance to shine and cut loose. After a short solo behind his kit he stepped out with his drum vest and began prancing around the stage. Beating his vest pads for the audience with shouts of "Don't know what it is" and "Can't get enough of it" programmed into his vest pads. What a NUT! This was the most original drum solo I'd ever seen. The conga player was rippin' it up right along with Mick throughout. At the end of the Micks' routine Lindsey came out and dueled it out with his guitar and Micks' rhythms until they climaxed back into Not That Funny flawlessly. Great work on this one! I wasn't a big fan of this song either but live it works.
The poor sound seemed to rear it's ugly head once again at the beginning of Rhiannon with Stevie being a little flat on her vocal part. I don't think she could hear Christine's piano part because it was so low. Once the music kicked in things got better and she found her pitch again. The ending section was ON. Christine and John held down a mean groove for Stevie to get down into with her "Take me like the wind child" part. She was letting loose with some of that '77 style intensity that she had on this one. Second Hand News sounded fabulous with Stevie singing strongly on the backups and the chorus. Another studio sounding version, much better choice than Eyes of the World. Lindsey let out a big scream after it was over saying, "Yeah, we like it!" as the audience cheered loudly.
Silver Springs suffered from poor sound and some off key vocals. A bit of a let down as this is probably our favorite "new" song, even though the original was written way back when. The floor crowd finally stood up for an entire new song. Surprise, surprise! Afterwards Lindsey said "We would like to tell you all that we are really quite thrilled with the way this project has turned out" and "We would like to thank all of you for being a part of that, Thank you all very much".
Mick began pounding out the tribal rhythms of Tusk next. The piped in brass band at the end sounded just like the CD, big and powerful. I was wondering if they'd pull it off without an actual brass band. I was glad to hear they had someone playing the part, on the keyboard I assume. Go You Own Way came next and sounded tight. The "Packin' Up, Shackin' Up" part had Stevie joining in on some strong backups. The first rounds of goodnights came next and they went as follows. Lindsey "Minneapolis, good night and thank you so much", Christine "Thank you Minneapolis you've been fantastic, thank you", Stevie "Thank you so much everyone for sharing these concerts with us. Take care of yourselves".
The band returned to a loud roar from the audience. Christine stepped up to the mic and said "Thank you very much, you guys are louder than we are". Don't Stop would be the first encore, just as the CD. Chris played a great bluesy piano solo and Lindsey did some great lead work. The band used the brass band section in the end, just as on the CD. The new live version really jams compared to the LP version. The band left the stage for a second time with "Once again, thank you so much everyone" from Christine.
Moments later Christine returned for Songbird, took her place behind the baby grand piano and said "Minneapolis you have been wonderful, You've made us feel so welcome. Thank you so much. I'd like to sing this for everyone here tonight. Have a great winter, a great Christmas, a great life." The ending found Chris herself with tears in her eyes as Mick, complete with top hat, came out to give her a big hug. After one more "Good Night" from Mick and Christine and the stagehands began scurrying about setting up Micks little stand up drum kit for the finale, Farmer's Daughter.
The band returned one last time to find everyone on their feet for the mellow, relatively unknown song. It was cool to have all 5 members up front for the last song. Nice relaxed ending to 2 1/2 hours of musical magic. Lindsey actually played a Fender Jaguar on this one for all you guitarists out there. Stevie said her final words "We keep you in our hearts everyone, Take care of yourselves, Bye, Bye." and Mick closed out the evening "From Fleetwood Mac thanks for making this such a fantastic evening for us. God Bless and remember be happy and be kind, we love you" blowing kisses to the audience.
All in all, very enjoyable. Despite some minor sound problems and a floor full of lazy, yet enthusiastic, fans the band seemed to be having a genuinely good time. The positive chemistry between all members was really a joy to witness. Nice even pace to the show. No dead space at all between songs. I don't think the vibe of this particular "reunion" tour will ever be repeated, no matter what the future holds for these five people. We were primed and "thinkin' about tomorrow" at The Fargodome.
---
Fargo ND, Fargodome, October 9
from James
We arrived at about 7:30pm and got settled into our seats. We were on the floor again but back by the soundboard, farther away from the stage than we were last night in Minneapolis. We were hoping for the chance to make our advance towards the front of our section at least. Luckily our seats were right on the edge of our row making our advances easier.
Even before the show started the crowd seemed a lot more "into it" than the previous night. I don't think people in Fargo get too many bands through town so when they do they go all out. We were thinking that the band should be in a good mood that night knowing that they got to leave the cold for the West Coast after that gig.
A little after 8:00pm the lights dimmed and the crickets began chirping once more. The crowd of 11,400 people was ecstatic as the band walked out onto the dimly lit stage. As soon as the bass drum started for The Chain everyone began clapping along with it, totally cool. The band was tight and seemed relaxed. "Welcome. Thank you for coming" were the first words of the evening from Stevie at songs end.
Dreams was exquisite as usual. Stevie seemed so comfortable singing this song. There were several guys heard yelling for Stevie with adulation after this one. She responded with a smile and "Thank you very much". Christine's first words of the evening to the crowd were "Good evening Fargo" followed by two stiff kicks of Mick's bass drum and, "Great to be here, North Dakota".
Everywhere sounded flawless. The sound system was proving to sound much better tonight and the whole place was standing up and getting' into it. The vocals were clear and up front from the beginning of each song. Christine looked elegant as usual while standing at the front of the stage. She sounded just as good, like I said, flawless.
Stevie quickly scooted to Lindsey's side of the stage after Everywhere. There she was seen being draped in her gold shawl, preparing for one of the most intense points of the whole evening, Gold Dust Woman. Her "shadow, she's a dragon" part never ceases to give me goose bumps and tonight was no exception. With a warm smile Stevie came to the front of the stage and said, "Thank you so much I appreciate it".
Stevie and Christine had both had the spotlight for a couple of tunes. Now it was Lindsey's turn. His voice and guitar playing were powerful on I'm So Afraid. Stevie had her back to the audience looking at Mick for much of the song. When her vocal parts would come she would lean her head back and sing in to the mic sideways. It was unique. Everything sounded so good. The crowd went nuts during Lindsey's solo in the end. Actually the crowd showed equal appreciation for everything that was played tonight and the band seemed to feel it. Lindsey was doing walking around waving his hands and clutching his heart routine in appreciation for the overwhelming response. Many smiles and Good Vibes!
Christine yelled "Lindsey Buckingham" before introducing the first of two new songs from The Dance, Temporary One. The band was looking at each other a lot during this one and played with an exaggerated up beat feel. Very tight.
Lindsey went on to explain how he asked Mick to work on Bleed to Love Her And how this led to "the reconvening of Fleetwood Mac" and proceeded into the song. This sounded absolutely fantastic. There was a lot of looks and singing to each other between Stevie and Lindsey on the second verse of this one. Lindsey's was again in much better shape tonight for the high parts in the end although it was evident he was still struggling a bit. The crowd had been up on its feet the entire show. Showing their appreciation for songs both old and new. The way it should be!
Gypsy sounded airy and light. Stevie's voice flowed and was very powerful in the middle "and if I was a child" part. Still no high part on the last "Love" part though. She IS hitting this note all over the rest of the song though so I know she could do it if she wanted to. Lindsey's solo shined on this as well. Stevie used the same "You're all a bunch of old Gypsies" line that she did in Minneapolis last night after this song.
Big Love was next and sounded like a studio take. Man, Lindsey is such a natural talent. His voice was near perfect and he was putting every ounce of his soul into it tonight. He built the end up to a frenzy. This was probably the best version I've heard him do. I've only heard 3 other versions from this tour though. The soundman treated him right. After an intense recital of his poem he let into an truly emotional version of Go Insane without another word. I hope they are recording these shows for posterity if nothing else.
By this time, we had advanced up to about 10 or 15 rows from the stage. We were lovin' it. Stevie came out as Lindsey was changing guitars. The two spoke in front of the drums for a moment before Stevie came to the mic and said, "We would like to dedicate this song to you because you are the reason that we get to do it again, so". The sound was there for this one too. Stevie voice and Lindsey's guitar sounded magical. Lindsey was all smiles while looking up at Stevie while she sang, and likewise for Stevie as Lindsey played. Unfortunately during the "I'm getting' older too" part we got asked to move back by security. 10th row was beautiful while it lasted though. Anyway, the remainder of the song was flawless.
Now the roadies commenced to bringing out Mick's little stand up set while the rest of the members returned to the stage for the semi-acoustic version of Say You Love Me. In my opinion Lindsey's banjo part makes this song. The band performed another flawless version. Everyone was in strong voice and could be heard well.
Sweet Girl was another Stevie highpoint. This song sounds like something from Other Side of The Mirror. She sang the song with conviction as she spoke of "many of the cities I've never seen at all", possibly referring to Fargo. I kind of hope the band does take a hiatus after this tour so Stevie can do another solo project along with Lindsey.
Christine pulled out another "perfect" performance of You Make Lovin' Fun. The band sounded especially tight on this too with Lindsey working his guitar licks in and out of the verses. Lindsey actually yelled "Christine McVie" just like she yells his name after I'm So Afraid.
My Little Demon was an audience pleaser at this show. All the younger people were especially into this one with it's alternative sound. Lindsey did his normal rap about being "a different person now than he was ten years ago. Stand Back followed which kept the momentum going. Stevie and the backup singers sounded great but the band doesn't have the heaviness of Stevie's band and it sounds a little soft. Again no guitar solo in this version. Stevie motioned for the backup singers to keep singing during the part where it normally would be. Still a crowd pleaser though.
Christine offered up another emotional version of Oh Daddy. Her voice sounded just as good if not better than the original recording. It was a nice break from the fast pace that had been set from the last few songs. Stevie exited the stage following this song.
Not That Funny was Mick's song. His big eyes and grin intact he set off with Lindsey on a rollicking musical portion of the song while Lindsey belted out the lyrics with intensity. Midway through they dropped it down and John got to do a few little bass runs. Mick and Lindsey jammed quietly and eventually faded out and walked off stage leaving Mick and the conga player pounding out the rhythms. After a few fills on the kit Mick jumped up and ran down to the front of the stage. Yelling to the audience through his headset microphone and beating on his drum pad vest. The audience was enthralled and was clapping with beat and yelling back at Mick making it a call and response type thing. What a crowd! Lindsey came out after about 5 minutes and started playing his guitar in response to Mick's drum vest "calls". This led into a frenzied ending musical portion of Not That Funny. Mick introduced the backup band members and John McVie after the song. They had two singers, two guitarists and one percussionist in addition to the five original members.
As Christine began the piano piece Stevie strolled back into the spotlight for Rhiannon. It is such a different version than that on Rumours. Christine actually took the high part that Stevie originally sang on the second verse. Don't get me wrong, Stevie is as powerful as ever it is just amazing to see how she has adapted her voice to continue to do these songs over time. She hit some great high notes on the "try hard, dreamer" parts in the end. Similar to the ones she hit in the seventies. Continuing with another old tune Second Hand News was next. Another especially upbeat tune that was full of energy and found everyone sounding fresh. Stevie hit some great high notes on the "lay me down in the tall grass" part.
Next up was Silver Springs. When Christine went to count it off the audience could be heard counting it out with her, one, two, three, four. It was wild. Stevie's vocals were near perfect; she really hit her notes here, especially in the end. Lindsey's solo was nice and subtle. Everyone's harmonies were right on. We had goosebumps on this one.
Lindsey explains again how time limits them and says "We are all very thrilled with the way this project has unfolded, and we would like to thank all of you for being a part of that. Thank you very much. Thank you". Then it's Tusk. The drums in the beginning sounded like they were straight out of Africa. Brass band samples filled in the end section nicely so it sounded just like The Dance. Lindsey's primal screams in the end were intense.
Mick kicked right into Go Your Own Way following Tusk. Lindsey and Mick did a great build up into the beginning. As was the case with the rest of the evening, Lindsey was putting his all into this one and pulled it out fabulously. The band left the stage saying goodnight to everyone after a huge Hollywood ending on this song.
Returning to the stage the band was all smiles and seemed to be having the time of their lives, which I'm sure they are. The crowd was non-stop crazy. Chris began the countdown for Don't Stop and they offered up a standard upbeat performance. The brass band samples were present here as in Tusk making the song sound like it does on The Dance. Christine played a cool, bluesy piano solo and they jammed the end. Christine said, "Once again Fargo, Thank you" as they left the stage a second time.
Christine appeared very soon after at her baby grand piano and said, "Want to hear one more song? I understand a lot of people here tonight have driven a long way, I'd like to sing this song tonight with our love and thanks, it's for you" as she started into Songbird. The audience was nice and quiet while Chris would sing her lines but the erupt as soon as she'd get done. Mick came out in his top hat to give Chris a hug at the very end. As they both walked off the stagehands brought out Mick's stand up set to more applause from the alert crowd.
Farmer's Daughter was heavenly as usual. People were actually clapping along with the beat just as they had in the beginning of The Chain. What a cool way to end the show. The band offered up their final comments as follows. Stevie, "Thank you so much Fargo" and Mick, "Thanks from Fleetwood Mac for making this such a fantastic evening for us. From us to you, be happy, God Bless, and smile. We love you".
Fargo was by far the better of the two shows we saw. In Minneapolis they were humans who made a few mistakes and in Fargo they were stars who could do no wrong. No matter what this band will remain timeless. We are honored to have had the chance to have seen them at all, let alone two nights in a row.
Tacoma Wash. Tacoma Dome, October 11
from Sandy
Hi John! And all you Nicks Fix Fans!!
It is 12:20 p.s.t. the concert ended no less than 2 hours ago. Stevie came on stage holding Lindsey's hand when they all came on stage to sing the Chain. She looked so pretty. We had row 20 tickets. Not bad. She had on a black skirt that had 3 or 4 layers. One of the layers was glittery..but not as shiny as those bracelets! She had those on the entire evening.
Dreams - she sounded so good. She pointed to Lindsey at the end of the song where she sings "..you'll know ". That was so cool.
On "Bleed to Love Her" she lyp sinced "...she takes my breath away". She stood over by Christine when Lindsey was giving his little speech at the beginning of the song. She is so darn sweet! The crowd always stood when she sang.
Gypsy - she has a new twist that goes "You say hey! You see your gypsy.." And she did "and a memory is all that is left for you now" instead of (left of her now) Way cool! At the end of the song she said something like the world? is full of gypsies..thank you". Then she was completely off the stage for Big Love and Go Insane.
Landslide - this was really neat..she said "I want to dedicate this to Uncle because he lives in Tacoma and because I love him". Oh it was so sweet. Lindsey got really close to her at the end of the song and she was completely facing him singing, with her back to the crowd. At the end Lindsey took off his guitar and gave her a looonnnggg hug!
Sweet Girl - instead of starting out "AND he says what do you.." she simply sang "What do you..". she was singing to Lindsey the part where it's all about "protection". At the end of Sweet Girl she said "thank you".
You Make Lovin'Fun - Stevie was facing Mick and she danced from one side of his drum set to the other facing him. It was so cute. At the end of the song Mick or Lindsey said "Christine McVie" and Stevie shook her tambourine for her. Very sweet.
My Little Demon - our Stevie girl was twirling around!
Standback!!!! Stevie rocked! She wore the famous Standback shawl. She sang so awesome! She was really getting into it. The crowd loved it! There was one part in the song "..more than I could do.." she pointed her finger across the audience..EVERYONE went wild! Stevie played the morocca's during Oh Daddy..never seen that before...totally awesome. Then Stevie left the stage for "Not that Funny"..at the end of Micks drum/vest solo he went to speak in Stevie's microphone and said "This mic is so low..Stevie..oh my God..chuckle chuckle".
Rhiannon - she wore a black dress/boustierre? type shirt with spaghetti like strings with a brown crush velvet, lacy pattern overcoat. It was so pretty. In the beginning when she says "..and he says Rhiannon" the crowd said "Stay". That was so fun! She twirled and smiled. She didn't sing the "I know" parts tho. No one did. But she did really jam at the end "..try hard, you can't leave her.." FABULOUS! Chris said "Stevie Nicks" after Rhiannon. Everyone was already on their feet!
2nd Hand News - Stevie sang the bawm bawm bawm part w/Lindsey. Treat!
Silver Spring - She had on the black dress/brown overcoat like thing that was open in the front. Brown suede boots. She talked to the blonde back up singer before the song. The second "I'll follow you down.." she sang to Lindsey. He pointed his guitar at her. High Drama! At the end of the song..her back was to the audience and she sang not two feet from Lindsey facing him. Wow.
Stevie sang more in Tusk also..more than the Dance video. When Lindsey, Chris and John were jamming during Tusk, Stevie stayed on the other side of Micks drum set. She was watching them and playing her tambourine.
Stevie went to the right of the stage before Go Your Own Way and a 'wardrobe lady' took off the brown coat from Stevie and put on a Tux w/tails like jacket. She sang the "packin' up...shackin' up.." part. When they sang "I'de give you my world.." Lindsey and Stevie were looking at eachother. Stevie would face Mick during Lindsey's guitar solo's. She smiled at the audience when she was singing "another lonely day". On the other G.Y.O.W. guitar solo she stood by John and was jammin' her tambourine w/him. she did her little march. It was so neat! She waved to the audience after the song and accepted a bouquet of roses. Mick came up beside her and took her hand when they left the stage. Then she came back holding hands with Lindsey till they were at Lindsey's guitar mark. She still had on the black tux jacket for Don't Stop. Stevie was shaking her finger on the part "Don't you look back..". She had her glow in the dark tambourine. At the end .. Stevie said " From the bottom of our hearts, thank you. Thank you for sharing the concerts with us because it's just for us..you know?" That was really cute. Stevie looked really great! After Farmers Daughter, this is funny, Stevie was getting ready to walk off the stage..she was waving to everyone..then Mick or someone motioned for her to come back and take a bow..she was gigglin' like "oops" and put her hands to her like "I cant believe I did that". That made the entire band smile. Thank you Stevie! I can't wait for the next show! October 17!! Irvine Meadows! Get those Nicks Fix passess on.
---
from Marv
Dear John and all you Stevie/Mac fans,
Here is a review / story of the time I had at the show last Saturday night at the Tacoma Dome. In a word "FABULOUS"!!! As John (JK) already knows, and a few of you as well, the highlight of the evening was when I got to meet Mick after the show! I'll get to that soon enough...

My seat was in the 4th row, just right of Stevie's microphone, directly in front of Lindsey. Yes, I paid a pretty price but it was worth every penny! I have never been this close to the stage for a concert ever, and let me tell you, it was superb!! (You're not gonna believe this, the guy and his wife sitting next to me had complimentary tickets and weren't even big Mac fans, he was some big mucky-muck for the Mariners baseball team newspaper, Shazbot!!) He sat or went for a smoke half the time, however, his wife made up for his lack of enthusiasm.

THE CROWD WAS VERY ENTHUSIASTIC and you could tell the band appreciated the warm welcome we gave them! I made a huge banner (9ft long x 2 1/2 ft tall)


welcoming the band to Tacoma. I took this to the pre-concert party that KZOK FM, a local Seattle radio station, put on at the Sheraton hotel. On the banner in Huge letters was the word FIREFLIES, We believe in the Five!!! and Long Distance Winners!! (click photo for a blow-up). The DJ, Steve Slayton, asked "What's the signifigance of Fireflies?" I was thunderstruck, obviously one of those fair weather FM fans! I went on to explain what the song was about and which album it was on. He replied, "Oh no one bought that album, she couldn't sing at all." (refering to Stevie's voice on Landslide). It was all I could do not to make a MAJOR SCENE! LOL! Anyhow, the bar crowd was older and a little subdued, but they did give me plenty of compliments on the banner.
I met MOONGIRL, RHIANNONV1 and their friends at the pre-party and had a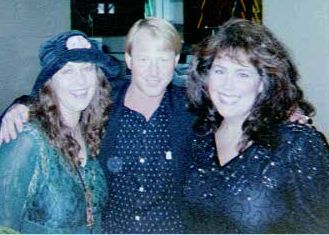 great time talking and taking pictures. I have attatched some pictures to this e-mail.
Back to the events...at approximately 6 pm I took the shuttle over to the Dome. I had pre-arranged, (and I suggest all of you who plan on taking them to do so also), with the Event Coordinator for the T Dome to put up my banner. I met him and he was great! We found a spot right up front near the handicaped seating, on Lindsey's side of the stage. Later I found out that the band noticed it and was pointing at it! Kew-el !!
I met a lot of NicksFix people, Sandy (from Sandy's adventures), Kelly Irons, Sara Jane7, and saw several others I didn't know. We all talked before the show and got to know each other a little.
The band opened with The Chain, as was expected. I won't go into the entire set-list as it was the same as at past shows. Stevie rocked on Stand Back. I stood the entire show, and sang along with every song, including the new ones, this was a great night! The crowd gave the band a lot of applause all through-out the night. At the end of the show, before Farmers Daughter, Christine McVie said, "We can do this all night!", refering to the wild amount of applause we were giving the band. Lindsey's guitar playing was flawless. It was very clear that the band has made Lindsey's role larger than in tours past. He enjoyed all the appreciation that the full-house heaped upon him, at times appearing embarrased. Lindsey did take a break while Mick jammed on his vest, I remember this from past shows, and was looking forward to it, Mick had a blast, really enjoying the interaction with the crowd.
Here is the really fun part~after the show was over security instructed the backstage pass holders to take a seat in the stands up near the stage. I had allready taken down my banner and had it with me folded up. I walked right up the stairs into the seating area where they were seated, using the folded up banner and the air of "I know what I'm doing". LOL!! They had us separated into two groups. VIP pass holders in one group, and the rest in another. I sat with the lower priority types (radio contest winners, etc..).
The VIP pass holders, (all seemed well connected, older ages) were the first to be ushered into the waiting area where the band was doing the post-concert meet 'n greet. They put us in another room and we waited, and waited, the whole time I kept thinking, someone's gonna ask me for my pass!! Eeek! Soon it became apparent that the band was not coming to meet our group. Sure enough, this guy comes in and says "I've got some bad news......". We were instructed to leave as they had to clear the building. We exited through doors that lead us into the secure parking area!!!! I was with two other fans that had backstage passes, as we exited we could see three or four tour busses with no one inside. We kept walking and came upon a Black Stretch Limo. Then out of nowhere comes Lindsey!!!!! He got into the limo as we shouted out his name. We were standing about eight feet from the limo while this happened. I said to the others with me "Let's unfold the banner!!!" So, we unfold the banner and start waving at the blacked-out windows of the limo. All of a sudden the rear window comes rolling down, brrrrrrrrrr (electric window sound effect)!!
It's Mick!!!!!! He was smiling and waved to us. We immediately walked over to the limo and thanked the band for getting back together to do this album and tour. Mick thanked us and smiled. The only thing I could think of was to ask for his autograph. I asked him if he minded signing my banner, and he obliged without hesitation!!! Security noticed by this time that others had seen the limo and its occupants. They told us all to stand back, and that the band had to leave. Timing is everything!!!!!!! YAHOO!!!!!
We went back to the Sheraton and had a bite to eat, relishing the great night we had just enjoyed. I got home approximately 2:00 am., had to be at work the next afternoon. I could hardly sleep cuz the adrenaline was still pumping through me!! I had a blast telling my co-workers about the show the next couple of days!!!!
I can't wait for the solo album from Stevie and the following tour!!!!!!!! She looked absolutely stunning and sounded terrific!! I loved her smile as she sang to us!!! The only way this show could have been better was if Stevie had sang Fireflies !!! So, Stevie, if you read this, please consider adding it!! There are a lot of long-time fans that really love this song!!!! PLEASE!!!! NicksKicks will be hoping to hear it in Los Angeles!!! LOL!!! Have a good time at the show if you haven't atended yet!!
Hope you enjoyed reading this & I appologize for how long it took to get this out. Fleetwood Mac, you guys are the Long Distance Winners!!!!!! Thankyou, Thankyou, Thankyou!!!! We believe in the Five!!!!!!
---
Mountain View CA, Shoreline, October 14
from The Mac Man
"Hi all my fellow Mac fans. I have just returned from the Oct 14 show at Shoreline Amphiteatre in Mountain View, CA. Mountain View is about 40 miles south of San Francisco and 20 miles north of San Jose. The 'Bay Area' and Silicon Valley was really waiting for the Mac's homecoming. We all know that Rumors was produced in this area (Sasaulito) and Lindsey and Stevie lived only 5 miles from the stadium in Atherton, CA when in high school. The set was as previously described by other reviews. No changes. I luckily had 8th row seats and really had a different experience. Around me were sitting many family members of Stevie, Lindsey (many friends and family, including his mother, brother since Lindsey spent 23 years of his life in this area. Also around me were many executives from Microsoft, Intel, Apple, and Netscape. It was really nice talking and meeting these very loyal Mac followers. Unfortunately, only I had a Nicks Fix pass but I am sure some executives will review our beloved site after talking to me. Thanks John.
Here's my list of good and bad:
Good:
1. Overall, the concert was great. Good flow of music and good selection of tunes. All band members seemed happy to be together and playing really as a group not individuals.
2. Stevie looked great, in shape, and for the first time since Ive been a fan (over 15 years) really was in control and happy. This is the real Stevie:no more substance problems, and very calm. She smiled every minute and at one time came to the microphone to say 'I really am happy tonight'. Stevie also said many times that San Jose was were this band and her career started. She mentioned that she will always love this area. This made all the fans really happy.
3. The band seemed relaxed throughout, in control. Even Lindsey was in control except for his jam sessions. John and Christine were great. Mick was Mick.
4. The concert was sold out. There were no seats anywhere.
5. The Big Buy CD offer looks good.
6. Stevie and Lindsey smiled at each other throughout. They came out together holding hands and did a long hug after Landslide. They seem closer and happier than before.
7. Stevie wore the usual gossamer outfits and shawls. Her voice was strong and well trained.
8. Dreams and Everybody were well liked by the Bay Area.
The BAD:
1. The concert started late (830 due to traffic???)
2. The stage was really bland. Nothing except the instruments. I expected more for the magnitude of the concert.
3. All lines between the songs were just like those in the Dance video. I thought they would at least say more and not what we heard on the video. The lines only got personal when Stevie and Lindsey talked about how much they loved this area since they grew up here and met here. Stevie and Lindsey were the happiest. In many ways the Dance video is really is reflective of the concert for those of you who can't make any shows.
4. The tickets bothered some people. When they went on sale about a month ago many people in front of the line got the second section and were upset by this. Somehow, the day of the show all these lower reserved seats went on sale and those who knew this called and got seats in rows 5-10. That's how I got mine. Apparently, the promoters held seats back (scalper involvement?????). But, I was lucky.
5. We all awoke on the day of the show with a scare. We learned from NicksFIX that the Vancouver show was cancelled. We heard that Lindsey had laryngitis and some other members had the flu. We were very on edge all day. Then later in the morning, when we saw the trucks for the show arrive at Shoreline, we new we were ok. What a relief...
Overall, the songs are great. The beat is there, and the love is there. The songs were just like my other cyber friends have described. I do recommend all fans to go out and see the Mac. It will be a memorable night. The band has grown over the years and their music shows it. The Mac is back.........
---
Mountain View CA, Shoreline, October 15
from Garsk
Hey Everyone,
I just got back from S.F. and thought I'd share it with you. Well where shall I start?,how about how beautiful the city was,and how hot it was,at least in the high eighties!!!! And how crystal clear and beautiful everyone is. The city was at its peak ,and yes I have heavy thoughts of moving back .
Well after a day of rest I was ready to hit the show.My friend Steve and I drove the distance to shoreline and believe me it is a distance,after a massive trafic jam and parking lot jam we barely had time to make the 1st song.By this time I had to down a few OK more than a few before I got to my seats. Well the lites came down and the the sound of crickets come out and then the Mac!!!! and wow did they look so great.And they sounded sooooooooo good.The sound was absolutely phenomenal!!!
I was completely blown away.I wont bore you with a set list,but I will tell you that by the time "Silver Springs" I was in tears. Its was a full moon and Buckingham and Nicks home town need i say more????? It was a very special show indeed.
Well after the show I worked my way backstage to see my friend Sharon who was nice enough to leave me some passes. After formal introductions to some of the band and entourage we figured the trafic had cleared,so Sharon,Steve and I piled into the car and headed for the city,ending up at the Ritz Carlton where everyone was staying at..more formal intoductions..and of course party time...
Most of the band was there, it was very mellow and nice to just hang out and enjoy the company of friends over looking the city...This was by all means a very special evening for me...It could'nt have been a more perfect night....Thanks Sharon...you rock..you look and sound beautiful... Looking forward to a few more shows..
Peace and Love
Garsk.........
---
Irvine CA, Irvine Meadows Amphitheatre, October 17
from Michele Pipoly
My friend Jennie and I who have been major Stevie fans for many years decided that we had to see them in concert. So I found us a pair of tickets and off we were. Unfortunatly these tickets were up in the terrace (although we both had binoculars). Sitting there waiting, I looked up and noticed that the moon was full and rising from the mountains behind the stage. When the lights went down everyone went wild. Let me say that there is nothing in the world like that moment when the band enters the stage and the first notes of the Chain start. For this show I'll just point out the highlights since I have a better recollection of the Bowl show.
The Chain- Band was in total unison. Stevie did a fabulous leg kick and looked smashing in black w/ tan platforms and rhinestone bracelets.
Gold Dust Woman- Pure Magic. Her voice was so there.
I'm So Afraid- Lindsey is a musical genius. His guitar work on that song is very passionate.
Go Insane- I love the pre song poem and would love to know exactly what he said. Standing ovation.
Gypsy- Stevie smiled during the whole song. I think almost everyone stood for this one. I know I was dancing.
Landslide- This song made us cry. You could feel it as well as hear the words.
Stand Back- I dug on the lights. Everyone was standing up and dancing. Stevie is the Queen of Rock and Roll.
Second Hand News- What a great suprise. I really love the way this sounds live.
Tusk- a little disapointing without the Trojans marching band but it still sounded great
---
Irvine CA, Irvine Meadows Amphitheatre, October 19
from George
Hey you guys,
I just had the experience of my life last night. I'm not going to give you a rundown of what they played and in what order. What I want to share is the feelings. First off, the seats that I had were just super. I was afraid that I might have been at an extremely severe angle to the stage, but it turned out to make it all that much better. The view of the stage was actually fantastic. I could see my Stevie doing her dance and everything :-) It was very cool, there was a guy in front of me who couldn't stay in his seat. Him and his girlfriend were up a boppin through the whole concert. This fueled the energy in this part of the amphitheatre. I sat next to my aunt who is almost as big a fan of Stevie as I am. She was great we stood and danced for most of the concert. This crowd was kind of slow to get into the emotion of the concert, but when Stevie did Gold Dust Woman the place just started to rock! Personally, this concert was a dream come true for me. I've wanted to see them live for so long that I never imagined that I'd actually get a chance to ever see it come true. When they hit the stage I was overcome by the emotion of the moment and just started screaming at the top of my lungs. This just goes to prove that all things are possible and that some good things are just meant to be. If I can use a word of Stevie's, sometimes its just "Destiny" that takes over and makes things turn out the way they should have been. I think all of you know how much I love Stevie and how much it meant to me to see her this time out. It was everything that I wished it would be and much more. She was absolutely beautiful and she was the obvious crowd favorite. She seemed a bit calm through Dreams like maybe she was getting a little burned out. Then, came Gold Dust Woman and Stevie held nothing back. She was wailing like it was '77 all over again. The energy of old was back with a vengence. I think that the show meant alot to them. When they did Landslide Stevie dedicated it to Don Heley, who was there last night, and to the audience. When Stevie said that Henley was there my heart skipped a beat thinking that she might want to do Sara. Alas, no Sara. During Landslide Stevie was right there with Lindsey and I have to think that they still have the embers smoldering because it was just very personal. Before he started to play Stevie gave him a hug, not like the video, a different kind of hug like they were just sharing the moment. It was just very touching to me. Also, Silver Springs was a very emotional rendition with Lindsey looking like he was going to break down under Stevie's barrage of screams. This was for real folks. Rhiannon was the capper for me from Stevie. It wasn't quite like the Stevie of old, but it was damm close. She didn't hold anything back and you could feel the power in her voice at the end when it was time for the whole "all the same" ending deal. I had goose pimples and the place was absolutely rocking for this one. THANK YOU STEVIE! Lindsey said that his brother Jeff was there and I think that fed his emotion for the performance. Forgive me if I got his brother's name wrong but I'm almost positive that he said Jeff. Lindsey said that his brother was directly responsible for him starting to play the guitar. Let me tell you, Lindsey had it going on last night too. I've been to metal concerts galore and I've never heard anybody rock the way that Lindsey rocked last night. It was FABULOUS. He tore it up on everything he played and the crowd responded to his performance with awe and ample cheering and standing ovations. I have renewed respect for Lindsey's talent. I don't think it can be matched. The other thing that really struck me was the number of people in the audience who were 40 or 50 years old. I love seeing people this age getting out and rocking. You're never to old to Rock N Roll. It was just an incredible experience that I am glad I can remember now for the rest of my life. All the trouble that I had getting my tickets now seems like just a minor hassle. I'm glad that I didn't give up on seeing them just because I couldn't get tickets to the first 2 shows out here. Another thing is that on Wednesday 2 days before the first show many of the orchestra seats were released so you had a great chance to get fantastic seats even on the day of the show. In fact, I could have gotten 4 seats in a row in the orchestra section even on the day of the concert. If I had been able to find someone who wanted my other 2 pair I would have done it too. So, don't give up hope guys. You too Dark Angel, it just may be Destiny for you too.
I'll leave it at that. A beautiful performance by 5 of the most talented people I have ever had the honour of hearing live. I can only say THANK YOU to them for the experience of a lifetime.
"so long
better leave your land
many thanks
it was mighty grand
I do
hope to see you again
Farmer's Daughter" Brian Wilson
What a great ending. I hope to see them again.
---
Phoenix AZ, Desert Sky Pavillion, October 22
from Clayre in Tucson
Fleetwood Mac in Phoenix, LA, & Las Vegas!!!!!
I went to all these concerts, and I was BLOWN AWAY!!!
Fleetwood Mac is Incredibly Awesome!!!!
The Phoenix show at the Desert Sky Pavilion and the LA show at the Hollywood Bowl were both outside venues. The weather was super---Lots of stars & the waning half-moon was out late! The Las Vegas show in the MGM Grand Arena was really excellent! The crowds were all into the music--Fleetwood Mac ROCKED!!! Everyone in those towns was talking about the FM shows & how they were all sold out!
The sets were the same at these three shows; I thought the it was all real tight!
In Phoenix, Stevie really played up to her hometown crowd; she talked about how "this desert was a special place." In LA, Lindsey took a cell phone call at the end of the last encore from someone in the front row!!! (It looked kind of funny; like how could he hear????) In Las Vegas, Lindsey's guitar string busted half-way through "Big Love", so he got another guitar & sang the song again!!!! (A treat for the audience!) To me, the KARMA of the band seemed real upbeat & happy; they are enjoying being so famous AGAIN for their GREAT MUSIC!!!! And, the crowds are so diverse!!!
I wore my NICKSFIX t-shirt & pass, but I didn't catch up with anyone else that had them!!! I got lots of compliments on my T-SHIRT!!!! Everyone that I talked to at the concerts, in the streets, and in the airports, thought that the FLEETWOOD MAC concerts were the COOLEST!!!!
LIVE LONGER & PROSPER FLEETWOOD MAC & STEVIE NICKS!!!!!!!
---
Los Angelas, Hollywood Bowl, October 24
from Michele Pipoly
Well this time I had noone to accompany me but I was unstoppable in my quest to see them play again. So the morning of the show I called every ticket agency in the book. I was down to the last call and had struck out, but that guy gave me a number of someone else who might be able to help me get one ticket. Well for $400 ( yes it was worth it) He messengered my 4th row ticket to me. I then preceeded to put on my long black dress, sparkly tights, burgandy platforms, black shawl, and of coarse my silver rings and one rhinestone bracelet. I jumped on the freeway and made it to the Bowl by 6:30.
When I walked in the entrance to the lower portion of the Bowl I asked one of the attendants to show me to my seat. Boy was I surprised when he took me all the way down to the stage, behind the big stone barrier and showed me my seat. I had an aisle seat directly behind Linsey's mike. Being that there was noone up there yet I decided to walk around for awhile. When I came back in the band's back up drum man walked right past me. Finally I sat in my seat and waited.
I was extremely nervous being alone, but the couple in front of me were really friendly and sweet. Later on a couple close to my age(22) came and sat next to me. They were also big fans and stood up with me through most of the concert. As more people filed in I looked ahead to the front row and saw Paul Stanley from Kiss. Joey Lawrence and his family also showed up and sat in the 2nd row directly in front of me.
Then they walked out on stage together and started up with the Chain. I almost had a heart attack when it finally sunk in how close I was. I could see the little diamond on Stevie's forehead and the grey hairs on Lindsey's chest. They are both looking spectacular for having both just turned fifty. In fact I'd say up close the entire band looked good. I really enjoyed getting a very close look at all of Stevie's clothes, especially the long red cape and the GDW shawl.
My favorite songs of the concert were Gypsy, Stand Back, Go Insane, Landslide, Second Hand News, Silver Springs, Sweet Girl and Farmer's Daughter. Also I really had fun seeing Not So Funny upclose. Especially when Mick was in the middle of his drum solo Lindsey was laying on the floor stomping his foot. I have to say I was a little upset with the lack of enthusiasm and respect the crowd showed for the new songs. I sensed that the band really has gotten past most of drama and B.S. and really do like each other and enjoy what they have together collectively.
The crowd was having lots of fun and were throwing around beach balls. During the beginning of Silver Springs everyone was sitting down and I looked up and saw a ball coming my way so I just jumped up high and sent it into orbit. When I looked at the stage I was embarrassed to realize that Lindsey had watched the whole thing and was now following the ball's path with his eyes. The ball came unbelievebly, right back to me and I hit it again and quickly sat down to enjoy the rest of the song. The other funny part of the concert, for me, was at the end of the show one of the girls who was with Paul Stanley and had been drooling and flirting heavily with Lindsey all night handed him her cellular phone. He grabbed it and started talking to whoever it was while he laughed about how silly it was. Then Stevie who had seemed somewhat irritated with his interactions with the female half of the auduence, walked over as he handed back the phone. When they were leaving Stevie and Mick were standing at the edge of the stage in front of me so I moved up next to Joey Lawrence and tried to shake their hands but unfortunatly I didn't get there fast enough.
All and all, I was extremely happy with the show and pray that this is not their last tour together. I do look forward to both Stevie and Lindsey's solo albums and hope the tour.
---
Fan reviews for shows from Oct 25 and later
---
---