---
July 25, 1998: MGM Grand - Las Vegas, NV

---
from Daniela Molien - San Jose, Ca
My Stevie Nicks adventure started Friday night before the Las Vegas concert. I could not stand being home and knowing that she is playing in Las Vegas. I had already bought my tickets for the Shoreline and Concord concerts. So I went to the phone and made all the necessary arrangement to fly to Las Vegas to see her show. A very spare of the moment thing for me to do. I left San Jose at 4:30 pm arriving in Las Vegas at 5:40. I took the shuttle straight to the MGM hotel. I could not wait another moment knowing Stevie was somewhere in the hotel. It was great to see Stevie's picture in the lobby display. I could feel my stomach getting exited with anticipation of seeing Stevie in just a few hours. I walked over to the will call area and picked up my tickets. They were not bad seats but much too far to really experience a Stevie Nicks' concert. I stopped to eat dinner but I could not eat a thing. Time was going by so slow. I reviewed all of the souvenirs that were available. At Shoreline I will purchase one of everything to add to my collection.

The lights went down... I was just moments away from Stevie making her way on to the stage. Her brother Chris came out to give the definition of the word "ENCHANTED". I was so excited that the time had come to hear Stevie sing all of my favorite songs. When Stevie entered and walked up the walkway to the stage I knew this was going to be a great concert that I would remember. Stevie walked out with roses for someone in the front row. How lucky for that person to receive flowers from Stevie. Stevie started by letting us know she would be talking to us through out the concert. It was great to have Stevie interacting with us before the songs. Stevie appeared to really enjoy being able to tell us what she was going to do and about the different songs. I was able to see a new side to Stevie and I hope she continues to reach out to us during future concerts.

During Stand Back Stevie was really getting into the song and feeling the music. Carlos and Stevie were giving everything they had into the song. At the end of Stand Back Stevie gave Carlos a high five and you could just feel the electricity coming from both of them.

Before Landslide (My all time favorite song) Stevie asked Frank to select someone from the audience and she would dedicate Landslide to them. I tried screaming out my name but I was too far for them to really hear me. Oh well... I just sat back and listen to her sing my song. That song and my past goes hand in hand.

The band started the introduction for Edge of Seventeen and my heart skipped a beat. This song is so very powerful that it draws you into it and does not let you go until the last beat. What an awesome experience to see Stevie at the end of Edge of Seventeen reaching out and trying to touch everyone one that was near the stage. For the entire song I was on my feet trying to Savoy every moment of the song and dancing like a fool.

To end this great concert on Has Anyone Ever Written Anything for You was poetry in motion.

I walked out of the concert not being able to talk ( being hoarse from screaming) and totally exhausted from having a great time. As I waited for my 6:45 am flight back to San Jose I keep saying myself .... next Sat and Sun will again be a night I will always remember. What a great time and Stevie has again out done herself.

I can not wait until Stevie's concerts at Shoreline and at Concord. I will be seating next to the stage for both of the concerts. I know that my experience will be a million times better being able to see Stevie up close.
---
from Amy a.k.a. Juliet
This was my third and last concert of the Enchanted tour…and I have to say this one was the best! The sound in the MGM arena was so sharp and clear, and Stevie and the band put on a rockin' performance. They all looked so happy to be there….and Stevie just seemed right at home on stage (as she did for the whole tour..which I think made this tour so special). "Stand Back," "Gold and Braid" and "Whole Lotta Trouble" totally rocked!!! (especially Stand Back….Carlos and Don really seem to enjoy playing this song). I was able to rush the stage during Lenny and Land's drum solo, and I got right in front of Stevie's microphone….seeing her perform from that close was just breath-taking. I think that was the highlight of my night. Stevie's voice is so good and her stage clothes are gorgeous…so detailed!! "Rose Garden" seems to be a favorite with the fans…and I just love "Sleeping Angel," and I'm so glad they decided to include it in the set list! (I think Stevie purposely sings the first line as "Take me sleeping angel.." instead of "Take me if you need me.." I think it's so the audience knows what song it is.)

Before the show, we (John & I) met a lot of fans from online..Victoria, Melanie, Jodi, Dawn, Sue, Lauren, Alex….That was so cool…..I really enjoyed meeting everyone!!

Again I was very lucky to get to go backstage! This time was so cool! I did not meet Stevie (just saw her walk by us twice..that made my night though); she was busy doing the MTV FANatic interview. I talked to Elena (the fan who won) afterward, and she was very excited..and I'm really happy for her…she's super nice and deserving of winning. We met Pamm (the Best Buy Roadie reporter); I recognized her face from online, so I approached her and asked if she was Pamm. Stevie's band is so nice!! Special thanks to Brett and Carlos for being so nice to us…and Carlos, thanks for answering all of my questions! Carlos commented on how the band was very happy because Stevie was sending out positive energy and happy herself. I met Sharon and got her autograph. Everyone backstage was really really nice and accommodating to us. I was so happy to have this opportunity again. (and of course..thank you, John!) This was one of the best nights in my life, and I'll never forget it!

Oh..David Spade was in the front row! I didn't even know that until after the concert.
---
from Ali
First of all I just have to say that I have never been so excited or happy before in my life than I was at Stevie's concert. She totally rocked and did an awesome show. All the songs were wonderful. She was so talkative and seemed so happy. I'm really glad that she decided to talk to the audience and talk about the songs. She said at one point I'm sorry you had to sit through those since they aren't very familiar ( or something like that) after she did the acoustic set. All I have to say to that is it totally rocked. One of my favorite parts of the whole concert. She should NEVER have to apologize for something like that! My favorite of the whole night was probably Edge of Seventeen. That song totally rocked. Another favorite was Has Anyone Ever Written Anything for you. That song is so beautiful. I could just hear it ring through the whole place esp when she sang "Do it for the world" It took my breath away!. Before the concert I waited by the tour buses and was lucky enough to see all the band members and even Sara, Stevies little terrier. She is so cute. Afterwards we waited and saw her leave in her limo! It was an exciting night that I will never forget. Thank you Stevie for making my day and many more days to come! Rock on Gold Dust Woman!
---
from Adrienne
Stevie was so awesome!!!!! She is truly an angel. Her songs were great, her dresses were great, her band was great. The only thing that sucked was the crowd. I felt so bad because the people there were so boring. They actually got mad at my friend and I for dancing. They made me upset for awhile, but I wasn't going to let them ruin my whole night. So my friend and I continued to dance and they eventually left us alone. Then the best part of the concert came when Edge of 17 started and we rushed up to the front of the stage. I never thought in a million years that I would get to hold Stevie's hands, but I did! It was the greatest thing in the world!!!! Her hands are really soft too :) I had a really great time, and I can't wait till I get the chance to see her again! :)
---
from Melincinci
This is the second show of the Enchanted Tour I have seen and she rocked BOTH of them.The first one was Cincinnati,Ohio June 3rd.I loved it so much I flew out to Vegas for the weekend.She ROCKED the Grand Garden!!!Boz was cool,after he finished the fans started stomping the metal rafters (for Stevie)so Boz came back out and sang one more song.It was SOOO.. Cold in the arena.I;m glad I brought my shawl.Christopher came out and did the same intro for her.When he said"Ladies and gentelmen Miss Stevie Nicks"the crowd(including myself went NUTS!! She did the same set list.Everyone Loved It!!! Outside The Rain was Wonderful!! As was Gold Dust Woman,she was really into it as was the crowd.She called off Sharron and Mindy for "Ohh,Pale Shadow of a Woman"she was really into it.She Kicked and spun around alot .What a voice,is all I can say.Rhiannon,and Landslide were beautiful,the crowd was as loud as her.We called her out for 2 encores:"Has Anyone Ever Written Anything For You,and Tom Petty's "I Need To Know"The entire night was perfect!!!Thank You Stevie for once again Enchanting us and I look forward to the next Tour.Gives me an excuse to go on vacation.WE LOVE YOU!!Give us some more Crystal Queen.From Melincinci (Hello,Lindsey)ROCK ON!!!!!!!!
---
from Larry G.
Just returned home after my Vegas/Laughlin vacation, the highlight being Stevie's MGM concert. They did a nice job with the beautiful Large billboards outside. I got a copy of Show-biz magazine from my hotel room with a beautiful pix of Stevie on the front! Also lots of nice comments and airplay on the local radio stations the day of the show. Boz opened the show and was really hot, the crowd was singing along and he really seemed surprised and humbled, with his Lido encore. The crowd was pumped and ready for Stevie!! I've been to two other Stevie concerts, but I have never seen a crowd so excited before. We all went nuts when she did Stand back. She really seemed to be having a great time on stage, lots of references to being in Las Vegas. She said, "of all the places you could be, you chose to be here..." ......."Las Vegas the city of dreams"......It was a great show!!, and I have never seen her so happy, and I wouldn't have wanted to be anywhere else!
---
from Golddust73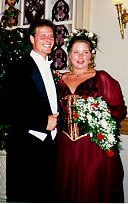 Well my first show of this tour was going to be the Vegas show on the 25th.............Which was also my wedding day!!!!!!!!! (we did plan it) Our invitations were on very cool merlin paper and was titled "Our Enchanted Evening" where Stevie's show was mentioned as the reception site............... My dress was custom made and very Stevie, burgundy chiffon and burgundy velvet, my hair was amazing with the most beautiful flower wreath to accent it............... We were married at the Excalibur Canterbury Chapel at 7:30pm and ran over to catch our Enchanting Miss Stevie............Boz Scaggs was a real treat, he really got the crowd going and ready for her majesty...............She looked and sounded amazing as she always does.............Her opening song was just incredible. "Outside the Rain" is one I have been really wanting to see her do, then she mixed in "Dreams" which also was awesome.............Her dress was absolutely beautiful............and I must say she was wearing her burgundy boots and I too was wearing mine!!!!!!!! I did carry my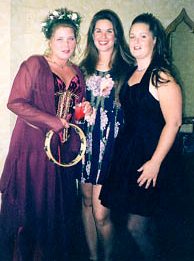 tambourine around all night just in case I was lucky enough to meet her again and get her to sign it, but didn't happen this time :( next time...........The show just proceeded to be unreal she stuns me everytime!!!!!!! She got teary eyed when she sang "Has anyone ever written anything for you" she had to turn around and fan her face as to not start to cry, it was very touching to see....... I know that song means a lot to her............She rocked the venue........but unfortunately the crowd was very uptight as in the fact that they all wanted to sit and I and my new husband and man of honor really wanted to dance, my friend actually got hit a few times in the head.............mean people sometimes...........So thank you to all of the other fans who gave us congrats and realized we had just got married, it really was an Enchanted evening for the both of us and the whole wedding party...............Thank you Stevie

if anyone thinks they might of seen us please write so we can share stories!!! Golddust73@aol.com
---
---