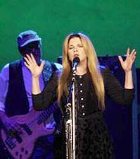 Say You Will FAN REVIEWS
6/8/03 St. Pete Times Forum Tampa, FL

Newest reviews posted at the top.

---
Pattie
I came up from South Florida with a new friend named Joy. I just had seen the Sunrise show the night previous. I flew down to FL from Rhode Island. I go to the will call window to get my third row seat. I pass through security again with my camera. My friend Joy and I go look for our connection and we finally find him and he tells us that he will be out with our passes. We sit together and he comes around with them but tells us that the band won't be sticking around after the show. Well, we can go back there and see what is going on anyway. . The next thing you know the crickets start and the band comes out. I was right in front of Stevie again. I did manage to get a few photos not as much as I would have liked to because I was nervous about security. Their security was to busy making sure that people stayed in their assigned seats then to worry about anything else. Well, then it happened the highlight of my night. I was the only one in my area standing, singing and dancing. Well, I was looking at Stevie and I was singing and kind of dancing along and I look over at Lindsey. He is looking right at me!! I was a little shocked and embarrassed but this was not the first time he had done this to me. I kind of gave a small stunned smile and the next thing I know he gave me a huge smile with kind of a wink. Well, my heart just melted. I was like Lindsey Buckingham is flirting with me. Ok another surprise happened when during the "go home" part of GDW Stevie put her hands on her thighs and did this hip gyration move. I was in shock!! My eyes must have popped out of my head!! I don't remember her doing that at the other shows. I guess her hip was doing OK that night!! Another shocker was during Tusk. As usual I did my gyrations to this song. I am sorry it just happens when I hear this song and I have no control over it. I think that I saw Stevie look over at me and she was just smiling (she might have been laughing at me) I did not dare look over at Lindsey this time. Well, the shocking part of it all was the "Tusking" that Lindsey does to John and then Stevie. Well, he did it to John and while he was doing it Ms. Nicks made her way down very quickly to the other side of the stage. She was in no mood for the "Tusking" that night. Lindsey soon followed down to her end and Stevie shook her head and seemed to say NO. She was walking away and Lindsey followed her on his KNEES!! It was a wild scene. Stevie just marched back over to her side with this kind of no nonsense kind of look on her face. The previous night in Sunrise Stevie was very receptive of the "Tusking". That was the odd part. During Landslide Stevie wasn't as friendly toward Lindsey as the previous night either. Such a drastic change in her attitude in only one night, who knows what really goes on. Well, the show was terrific and at the end Joy and I waited near the side stage. We got backstage and about 30 of us were all in this one room together. There were no cheese and crackers just some bread and milk or something really strange, Joy remembers seeing some odd fruit. Well, that was the highlight of our backstage experience. We were told the band was not seeing any one that night. We left feeling crushed but we know in our hearts that we will meet them someday soon and it will be so wonderful. This just was not the right time.
---
Marcus Dimeo
I convinced a friend of mine to go because Stevie with or without Fleetwood is to special to enjoy alone. I have been lucky enough to see Stevie two times prior, Wild Heart Tour Charlotte, NC 1983 and the Enchanted Tour Tampa, FL 1998. Fleetwood Mac I have seen twice before Charlotte NC 1990 and the AWESOME reunion tour Tampa 1997. Now the point, STEVIE YOU SOUNDED THE BEST I HAVE EVER HEARD YOU!!!! I was so moved by the show I still have excitement about. Such talent and energy, words are difficult to describe it. My friend was so moved by the show as well, her and I plan on coming to see you at another venue in another state. I still would love to hear Sara, Storms, and Angel one day. Beautiful Child was a treat. And the finale of the show was so beautiful every one sitting around me and my friend could only comment and listen with awe. Rock on Gold Dust Woman!
---
Scott Smith
I am 16 years old and a huge Stevie/Fleetwood Mac fan. My family and I drove down to see the band live in Tamp. I have been to six concerts- I saw Stevie solo twice, Guns N' Roses, Ozzfest twice and Bruce Springsteen but I have to say Fleetwood Mac was the best show I have ever been besides maybe the Enchanted Tour. Stevie was excellent of course I thought it took her a few songs to really get going. Mick and Lindsey added a lot to the show. John was his self hiding in the back ground adding his signature bass. They got the crowd going with their solos. Every song was great from The Chain to Good Bye Baby. I would have liked to here Running Through the Garden or Destiny Rules. Stevie brought the house down with Stand Back proving once again she is the undisputed Queen of Rock and Roll. Lindsey's Come and I'm so Afraid were good too. It is too bad Christen did not join them this time but Brett Tuggle is just as good. Her absence left more room for Stevie and Lindsey to shine. They proved that they are not just a bunch of oldies but rock legends. Thank you Stevie Nicks and Fleetwood Mac for an incredible evening!!
---
Amanda
The show was amazing. Better than I ever could have imagined. I only wish I could see it again. I have been waiting for this concert for over a year now. It exceeded all of my expectations. Stevie was amazing. Every time I hear her voice live or on a recording it sounds exactly the same, amazing as always. I love that about her. The crowd was a big mixture of different generations, all loving the same music. I want to go again. Come back to Tampa….please
---
Jeremy
I've been a Mac fan for 23 years now...I have seen many of their shows... I do have to say, they did sound very tight and professional on this tour. I talked to a few people, and we all agree that Stevie seemed like she was sick, or maybe angry at the show. I have never seen Stevie as distant as she seemed tonight...maybe it was all in my head??? For a lot of the songs, she seemed to be playing the role, and kinda going thru the motions. I don't think it was like this the whole tour, from what others are saying. I wonder what was wrong? Naturally, "Beautiful Child" brought tears to my eyes. On certain songs Stevie really came alive. "Gold Dust" had its usual enchantment...she did the scream fabulously. I have read people's reviews saying "Silver Springs" was different...but I didn't hear anything different but added percussion. It did sound great though. At the end, Lindsey got on his knees and started playfully following Stevie around the stage. Stevie didn't seem too intereted...so perhaps the Buckingham Nicks drama continues on the new tour!? All in all, I can't wait to see The Mac and Stevie perform again. In my opinion though, it was just a weird night.
---
Sue
Utterly fantastic! Two days after this incredible event, I have the Mac playing constantly and I just can't get enough. I'd seen Stevie solo, but never all of them together. Landslide brought tears to my eyes, especially when the ENTIRE audience was singing right along with her as one. I do agree with James about the 'chill' in the air. It was during Tusk. I'd read somewhere that during this song at a previous concert, they were both very playful with each other and showed how much fun they were having! Ooops...! I'm an "old-timer" and have seen my share of some heavy hitters, Stones, The Who, Crosby Stills Nash and Young etc etc. and by far this was the BEST (Sorry Mr Jagger) Fleetwood Mac kicks butt!
---
Brenda DiSorbo
Just returned from the FM show at the St. Pete Times Forum in Tampa, FL. The show was incredible! I was at the Ft. Lauderdale show the night before but there was a lot more energy at this show! Stevie was shining like a diamond and she sounded great! She smiled a lot more at this show! She really rocked during GDW and Stand Back! Lindsey played wildly on his guitar and the audience was loving it! During one of his songs, he went down on his knees and let members of the audience touch his guitar! He really enjoys performing! Didn't see too much from John, other than the time Lindsey was playing around on stage. Mick is another story! He is a wild man! He loves his job and shows it! His percussion solo left everyone in awe! This was during World Turning! By this time, the entire arena was standing and everyone was dancing! INCREDIBLE!!!!!!!
---
Yolanda and Pamala
Technically, this wasn't the first time my mom and I went to see fleetwood mac together, the fist time we saw them was back during the Rumors tour when she was a couple of months pregnant with me. So, it was an extra special night when we saw them in Tampa because it was the real first time seeing them together. I'm 25 and I can honestly say that I have been a fan of Fleetwood Mac's since the day before I was born. The whole night was absolutley amazing! My mom and I had great seats. We had first level seats and very close on Stevie's side ! She seemed a little tired but gave a great performance, everytime she sang I had to fight back the tears of joy. She looked right at me for a moment! Lyndsey had soooo much energy and was really into the audience. One of my favorite moments was when Mick preformed his drum solo for World Turning, he looked like something from another time, like a magician! John proved the he was still the best bassist in the world. There is so much more I would like to share but I'll just say I'll never forget that night and you just need to go and experience it yourself it's beyond worth it!!
---
Matthew Walsh
The stage went dark about 8:15 and the roar of the crowd overtook the arena, as far as the Tampa Bay area of Florida was concerned it was time. Fleetwood Mac took the stage and at 8:20 the drum beat started...Mick was definetely was going to prove that being 60 did not mean dead. "Never Break The Chain....." and boy did they mean those lyrics. Stevie and Lindsey singing together with help of the 2 backup singers, sounded so sweet and great. Even with a missing link, The opening track shook the house, everyone screaming and dancing Fleetwood Mac was cetainly alive and made the fans fall in love with them all over again. And the best part was, this was the beginning. Stevie with her black dress and Lindsey's white shirt, has anyone ever seen him perform differently? They looked the classic roles of their years, Stevie's "Dreams" floating through the auditorium. Lindsey's new intro and take on the Mirage classic "Eyes Of The World" rang through with the fans singing along. Moving onto a few of their new tracks, the fans seemed to become unsure of the power of the Mac...Many of the fans sitting in their seats and glaring at the monitors or at the stage. Lindsey's harder edgier bits took off with piercing loudness however contained greatness. The acoustic section brought the fans back into the realm as several times Stevie's vocals were washed over with that of the fans, she smiled and raised her hands to encourage the singing as she simply had to have loved that. Her die-hard fans, of course completely dressed up with the infamous top hat and shawl were all over and of course I lost count. The band was truly a wonder and as I screamed and cheered and danced I couldnt help but cry every now and again as I was overcome with the joy and greatness that these muscians revealed to us again. The bongo drum intro for Stand Back was amazing and while I appeared to be the only one dancing before the main beat began, once the fans knew what it was, the Mac attacked and the fans jumped to the feet to dance and holler. It took about 2 hours to get the fans really into it...but they did it. A miraculous experience that I pray will not be the last...I hope so much is to come from this amazing group with nothing but beauty to bestow upon us.
---
Charlotte Morgan
In a word . . . enjoyable. Last night (06-08-2003) my daughter and I saw Fleetwood Mac in Tampa. I must say, that they are older, but so much wiser. They sounded great. This was my first Fleetwood Mac concert and I had fourth row seats and the view was amazing. I have seen Stevie four times, but never with the Mac. Lindsey had so much energy and I could not believe how humble he presented himself. At first, Stevie seemed a little tired, but then she came life. Mic . . . well, he was good ole Mic. He stole the show with his drum solo and John was just quiet and having a good time. In closing, I would like to thank Fleetwood Mac for all the music they have given us. This group have touched so many lives I really don't believe they can fathom the emotions that they bring to their fans hearts and souls. If you are a Mac fan you have got to go to this concert, this group really loves their fans and their music and they all prove that life at fifty something . . . is still great.
---
Richard
Okay - first let me say - I've been a Fleetwood Mac/Stevie fan since 1975. Seen them many many times. This show was fantastic! Everything from the energy from Lindsey to Stevie's voice was well worth the price! I won't go into all the songs as the set list was the same as the past ones. The stand out song for me was "Beautiful Child".....long overdue to be heard in concert! My only question was if something had happened between Lindsey and Stevie last night? I've been reading for weeks of how great the chemistry was between them, I didn't really see that last night. In fact when Lindsay put his arm around Stevie and kissed her on the head at the end of Landslide -she just walked away from him. Then later on during one of the songs he actually got down on his knees to her and she just walked away from him. I hope everything is okay there?
---
Erica
I one have one thing to say about this concert...INCREDIBLE. Stevie was as beautiful as ever and Lindsey was amazing on the guitar. When Stevie started to do Dreams I actually bowed down to her even though I was far away. I waited 5 years to see Fleetwood Mac concert and at 21 I finally go to. I will never forget it.
---
James
Wow...The show was more than amazing...It's hard to imagine Fleetwood Mac can still sound so awesome after all these years...Stevie rocked on GDW and Stand Back like i've never seen her do before....Lindsey was the show stopper for me though, his guitar magic was brilliant...I could have sat there and listened to him play that guitar for hours...amazing stuff...I did however notice a cold distance between him and Stevie...mostly noticable after landslide...so perhaps the drama continues...who knows...but the Mac are surely rock royality...and if this show comes to a city near you..you must see it...it's purely heaven...
---
Daeg
I am 15 years old now, and have been a lifelong fan of Fleetwood Mac and Stevie Nicks. However, until tonight, I had never had the chance to see them live. Until tonight, that is- June 8, 2003, I went to the Fleetwood Mac concert at the St. Pete Times Forum. The concert opened up with 'The Chain'. Stevie's vocals have gotten a little higher over the years, but it has only made her voice prettier. Lindsey was amazing! I had not heard 'Peacekeeper' before the show, but I was duly impressed by the song~ Buying the album is at the top of my priority list now. When it came time to play 'Rhiannon', Stevie preformed it in the finest version I know- an extended version, not ending with the lines "Dreams unwind, loves' a state of mind..." She was so beautiful! A few songs, like 'Second Hand News' and 'Beautiful Child' I knew better than my mother. ::laughs:: (Don't hold that against her though- she is the one who got me the tickets!!) 'Beautiful Child' has to be one of my favorite songs from any Fleetwood Mac or Stevie Nicks solo works. If I could, I would have frozen the moments Stevie sang the song forever. 'Stand Back' and 'Gold Dust Woman' astounded me once again~ Such energy... I was breathless. After 'Go Your Own Way' and 'Don't Stop', I was well exhausted from standing and cheering~ My platform boots were about to give out on me... ah, I hope to see Stevie Nicks in concert again. "The light and her face were the same... Her hair shone... streams of blonde and gold..." (S. Nicks, 'Maker of Birds/Three Birds of Rhiannon')
---
more reviews coming......
Back to The Nicks Fix Main Page
© Copyright 1995-2003 The Nicks Fix, All Rights Reserved, Unauthorized duplication is forbidden