Say You Will FAN REVIEWS
9/23/03 PBS Taping Boston, MA

Newest reviews posted at the top.

---
Steve Heckelman
I was one of the lucky fan club winners to win 2 seats the invitation 1,000 guest to the special taping of Fleetwood Mac's concert in Boston at The Fleet Center. When I found out that I won on Friday Sept. 19th I gave my good friend John who lives in Boston a call and asked if he would love to go with me and he said yes. So I am coming from Connecticut and its not that far of a ride about a little over 2 hour drive which is not bad but we did have a really rainy day it just down poured. I met john and off we went to wait in line at the Fleet Center we were very excited about being there and wondering like everyone else where are we going to sit..In the meantime while waiting to get seated we hear the band start to do sound check or rehearse a little before they start so my friend john went over by one of the entrances that had a black curtain over them so he sneaked a peek and saw Stevie there on stage with rollers in hair..Singing so when came back then I went and took a peek too..just like i think everyone else was doing the same thing and we were all so excited..This was like a dream come true for me to be part of a taped event especially that of Fleetwood Mac... So we finally get seated on the righ hand side of stage were we can see the dressing rooms under the stage and it was the side were we could see the band come out before the hit the stage...It was awesome so about half way thru the show my friend John says lets go to the front of stage so we did it was during Gold Dust Woman that we went to the front of stage and i found a spot on Lindseys side up front of the stage near the lighting it was so cool to be up close and personal with the band and my friend john went his way he worked his way over to Stevie's side of the stage and had his camera which he got some great shots...The show was incredible high energy performance and I couldnt believe I was up front it so awesome... After one of the songs Lindsey came over I had my hand out and called out to him and he came over and shook my hand I was on cloud nine and to even top it off after Stevie sang Goodbye Baby she walked around waiving her fingers to everyone and she shook a few peoples hands and I had my hand out and I made Eye contact with Stevie She had a big smile on her face and I had a big smile on my face when I called her and came over to me grabed my hand and I told her that I loved her and she said Thanks with a big smile and she did another wave with her fingers I was on cloud nine and still on cloud nine from that show looking forward to pbs broadcast and dvd next year ... I was the last person Stevie shook hands with before they left the stage it was incredible... Thank you Fleetwood Mac Fan for picking me as one of the lucky winners to this incredible contest...It was truely a special night to be part of and to be able to meet and shake hands with Stevie and Lindsey was incredible dream that came true..Truely a memorable night and precious moment of my life that I will always cherish...Thank You Fleetwood Mac...I love you.
---
Dorothy
It has been a couple of weeks now since the magic of the PBS taping of both Boston concerts. I was fortunate enough to get an invitation to the private taping just by calling the fan club. It was a truly phenomenal experience. A huge highlight for me was to hear Stevie dedicate Landslide to Lindsey for the first time. Not only that, but to hear Stevie say that Lindsey not only taught her to use a pick, but that he inspired the song and it is about him. WOW! As Stevie said a special night deserves a special dedication. She has such a sense of the dramatic and of what will be remembered through the ages, much like the way she sang Silver Springs at Lindsey during the Dance MTV taping. The band has never sounded better. Lindsey's guitar was blistering and he interacted so generously with the fans. There were less than 1000 fans at the first show but Lindsey said we sounded like a full arena and he thanked us as did Stevie several times. Now for the highlight of the second Boston concert. I was lucky to have a front row seat which put me at the stage right in front of Lindsey. I made eye contact and thanked him during the concert .Now for the best part, during Go Your Own Way when he lets fans play his guitar, Lindsey motioned to me to play. I took this amazing opportunity to play his guitar and to tell him I love the album, the tour, him, thank you, thank you. He just had one of those sheepish grins on his face. I was so excited and I feel so blessed. What a memorable two nights and right in my hometown! I can't wait for the concert to be aired in the Spring of 2004. Thank you again Mick, John, Lindsey and Stevie
---
Susan Childs
I'll be the first to admit that up until recently, I wasn't all that impressed with the Fleetwood Mac Fan Club...never really got much of anything in return for my membership money. But my opinion of the Club has been fully redeemed! They offered tickets during a contest for members which would allow us to participate in a PBS taping of a Fleetwood Mac concert in Boston on September 23, 2003. The Club was also very accomodating to East Coast fans who didn't win tickets but still wanted to be a part of the show. For this wonderful opportunity given to a really nice number of true fans, I want to shout a big "Thank you!" to the Fan Club. This is the sort of experience for which many of us fans initially joined the Club in the hopes of achieving.

When my friend Kath won a pair of tickets and asked me to be her guest, I was so excited! I was even more excited when I found out that Jan, Jill & MaryEllen would be driving up from our Philly/NJ/DE region as well. Don from Rhode Island would be meeting us there, and various other online friends like Jim, Susan W. and Sue W. would be at the Fleet Center too. And the beautiful blonde twins Laura and Robin from NYC would be meeting us there.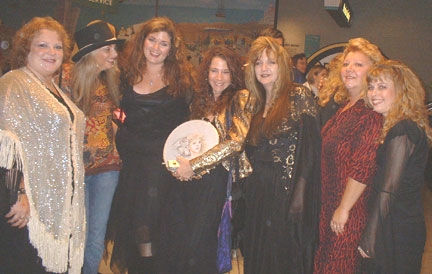 Kath and I met up with the girls at our hotel and we got all glammed up in our finest Stevie-inspired clothing and boots, all of us sprayed with lots of glitter. I had on my most sparkly cream colored Margi Kent and Kath shimmered in a gold jacket that had once belonged to Stevie. Via cellphone, we heard from Susan W. who was already in line at the Fleet Center. She told us not many people were dressed up, so we were still hopeful that our appearance might help us get placed up front. The Fan Club had already told us that there would be no assigned seating, we would be placed at the discretion of the PBS producers.
Once arrived, we went inside to wait in the line which was forming on the outskirts of the arena. We quickly found Susan W. looking fab in her black Rhiannon outfit, and Sue W. sporting her trademark top hat and scarf. They told us that a PBS person had already come through the line and had marked several people's hands with a black Sharpie. We assumed this meant something good, and when that PBS employee came back through - we got marked on the hand. I was so excited! Don soon arrived with his brother and joined the line. We met a very sweet young girl who had travelled in from California for the impromptu concert....Coral, if you're reading this, hello!!! She looked terrific in her black Stevie outfit.
It was wonderful to be surrounded by so many Fan Club members, many really devoted fans....this was the bulk of the small audience (which looked to be less than 1000 people). Almost everyone was so friendly and really cool, except for the grouchy lady in front of me who practically whacked me with her umbrella because she was annoyed that I stepped out of the line to get a beverage. But again, there was no assigned seating and it didn't matter where you stood in the line because the PBS people were in charge of putting you where they wanted you.
We could hear the soundcheck, and when Stevie's voice was coming through the speakers....well our curiosity got the best of us! We all took turns peeking behind the curtains to see Stevie onstage in casual clothes, with big Velcro rollers in her hair. They did "The Chain", "Dreams" and "Say You Will." The security guards got wise to us though and made us go back to the line.
Finally it was time to go inside and at this point, all the fans with marked hands were indeed ushered in first. But then the PBS people seemed unsure where to place everyone. There were perhaps three rows of chairs in front of the stage and the rest of the floor was open. First they put us in the elevated level right by Stevie's side of the stage.....then they moved us to the next section over, which put us somewhat behind Stevie. At this point, we were not too happy but the PBS people were saying that we would definitely be seen on camera in this spot.
During some of the seating confusion, we noticed the twins had become separated from us and they were down on the floor, standing in front of the stage. They were with a PBS producer and were pointing up at us, the producer nodded and waved us down! So Kath, MaryEllen, Jan, Jill, Jim, Susan, Sue and I moved down to the floor. Thanks again, Laura and Robin!!! When the PBS producer saw us all dressed up, he said that we definitely needed to be right up front...and suddenly I found myself in the front row, standing directly in front of Stevie's microphone stand. At this point, I am almost speechless with excitement.
The PBS producer asked those of us up front if we could please dance and sing, look like we're having a terrific time for the sake of the cameras....believe me, that was an unnecessary request! We were all so wound up at this point that there was no doubt the house would be rockin'. Suddenly the lights dim and there is the band walking onstage! It's been customary during this tour for the front row to be allowed to approach the stage as soon as the concert begins and so we looked at each other and just moved on up. I find myself about six feet away from Stevie, standing between two other girls who were against the stage and my friends are all around me. During more than 25 years as a fan, I have of course been to the stage during Stevie's solo tour encores and have had some great seats but I never imagined I'd get to watch an entire Fleetwood Mac concert in such an up-close & personal manner.
I had not seen the band since their Philly stop in May, and was extremely impressed. They seemed tighter and even more in sync with each other. Stevie was in tremendous voice, so was Lindsey. Many of the special effects and other things used onstage were not present for this taping; those things would be pickeddous voice, so was Lindsey. Many of the special effects and other things used onstage were not present for this taping; those things would be picked up in the wider shots to be filmed the next night in front of a full audience.
When Stevie made her first costume change, removing the little button-front sweater top, we could all see the familiar gold crescent moon necklace around her neck. I say familiar because that was onthe little button-front sweater top, we could all see the familiar gold crescent moon necklace around her neck. I say familiar because that was once a trademark piece of jewelry that Stevie wore frequently in the late 70's and early 80's. But none of us have seen her wear it since about 1983, and for some reason this just tickled me to no end. During a quiet moment, I said "Stevie, I like your moon necklace!" and she smiled at me.
It was interesting to see all the cameras moving about the stage and overhead....also interesting to see the band acting as if the house was full. Stevie was often looking out over our heads, and during a break in the taping, Lindsey told us that he was amazed at how this small group of fans was doing such a good job of making enough noise to sound like a big audience. The PBS producer had warned us to never look straight at the camera but it wasn't difficult to ignore them, we were all so caught up in the music. Being so close to Stevie was just mesmerizing, I kept my eyes on her as much as possible so not to miss a moment.
Specific moments that stood out during the concert include Stevie's affectionate dedication of "Landslide" to Lindsey (the song was followed by one of the most tender embraces between the two of them that I have ever seen).....a passionate "Rhiannon" that pulled that somewhat road-weary song back to a level commanding the respect that it deserves.....the playful "boxing" between Lindsey and Stevie during "Tusk" which was followed by yet another sweet embrace.....Lindsey's amazing onstage energy, he outdid himself.....Stevie sporting camel colored suede platforms during "Gypsy" (she pointed to them and told us "For this song only!") and a beautiful new duster-style jacket (it was long, creamy colored and entirely covered in sparkles) for the same song.....and a particularly energetic "Stand Back" that had us all worked up into a frenzy (another song which had grown a bit road-weary but has been given new life on this tour).
We were told that this PBS special ought to be airing sometime early in the new year and that a DVD release of it was also in the works. I can't believe that yet again I have been blessed with an opportunity to be a part of a television show with Stevie, after doing "Fan Club" with VH-1 and also being seen on the VH-1 "Rock Across America" program during the Trouble In Shangri-La tour. Longtime collectors of Stevie and Mac, in particular, can certainly appreciate how thrilling it is to become a part of video history such as this.
Thanks again to the Fleetwood Mac Fan Club for really giving us an experience to treasure and remember always. Thank you also to Fleetwood Mac for the "Say You Will" album and tour.....2003 has been an enchanted year, for sure!
---
Betsy Malenfant
First of all, thank you to the Fleetwood Mac Fan Club for giving me two free tickets to the PBS taping....I really appreciate it. I felt so honored to be a part of an 800 person show.....I was up front and "strummed" Lindsey's guitar......talk about a dream come true! I have had so much fun teasing my friends since the show saying, "OH! By the way! Did I happen to tell you that I played with Lindsey Buckingham on his guitar?!!" :) I had my Stevie tambourine with me that I bought years ago from Wynnco, Inc. It was the tambourine that was used for the cover of "The Other Side of the Mirror Album." I had hoped to get it signed while standing next to the stage...no luck with that. Maybe some day... The band was absolutely top form....and Stevie's voice was absolutely beautiful. I was so touched by many of the songs...I cried through Goodbye Baby.... The first night was amazing to be so close to the stage, and with all of the biggest fans of Fleetwood Mac! The second night was a blast to dance and sing and have a great time with my husband and dear friends! Thank you Fleetwood Mac!
---
Coral Anderson
First I just want to say thank you to the Fleetwood Mac fan club for giving away so many tickets to this EXTRAORDINARY event. When I found out I won tickets I was ecstatic!!! I have entered every contest and I was so shocked to finally win one. My only problem was figuring out how to get to Boston from Southern CA on such short notice....and trying to find someone to go with(being that I am only 21 yrs. old and I have never been to Boston before I did not really want to go alone) but after asking everyone from my really good stevie nicks concert buddy~Kelly~ to my family and friends (and their friends) I could not find anyone who could come...So I ended up buying a plane ticket and off I went alone. For me, this was an opportunity that I just could not pass up under any circumstance. So anyway, the whole night of the concert was incredible and the fans WOW...what awesome people. I met some wonderful friends!!! I cannot get over how cool of an experience it was to be in this huge arena with only 1,000 people...all die hard fans!!! The energy was unreal!!! The producer was really cool too...he told me it was O.K. to bring in my bright pink sign that said I LOVE U...STEVIE.........and he basically said that I could sit anywhere. The set list was the same as it has been~ this was my 6th time seeing them on this tour and I think they put the most into this show as far as the sound of their voices, their energy and the chemistry between Lindsey and Stevie. If you were not there you will see what I mean when it airs. I am sure they had to put on one of their best shows because it was for t.v.....and I just feel so grateful that I could be there for this once in a lifetime experience. The highlights for me were hearing Beautiful Child (my favorite song), when Stevie came to the side of the stage and I held up my sign and she smiled and waved, at the end of Lindsey's chase w/ Stevie they held eachother and hugged for a really long time and during Say Good-bye when it got dead silent in the arena and all you could hear was the beautiful sound of Stevie and Lindsey's voices coming together in a very quiet intenseness. All in all the whole evening was unbelievable. I can't wait until it airs on PBS!!!!!!!!! Oh yeah it was also neat being able to experience the behind the scenes of a live t.v. taping~ they were doing sound checks live while we were waiting in line, Stevie was getting changed on the side of the stage, they took a few breaks during the show and Lindsey said he thought all of us sounded as loud as a whole arena full of people and he wished that we could go with them to all the shows!!!! OK I am done now...I just can't get over how great that night was and it will forever be in my memory and my heart~
---
Jamie K.
Could I first just send a BIG THANK YOU to the Fleetwood Mac Fan Club for my two tickets to this show. I love winning stuff and this sent me on a high that I have yet to come down from. My friend April and I had to drive through a fierce four hours of sheets of rain and then of course through the spaghetti streets of construction in Boston but hey, whatever. While we stood for four more hours waiting, talking, laughing and sharing tears with other fans, I admitted that I would have dug through a mountain with a spoon if that's what it would have taken. The best part of that wait was meeting other earlybirds. You guys were awesome (I'll be sending the pictures this weekend). Only we share that thing that is so hard to describe about being a fan. Ron from Monterey said it all. Stevie and Fleetwood Mac music are part of the fabric of our personal journies, for all these wonderful years of ups and downs! Of the few people waiting since about 3 pm, we were from Philly, Harrisburg, York, Maine, Connecticut, Indiana, Buffalo, Syracuse, and Boston, among others. A big cheer for Colleen the FleetCenter stage girl who hung out for awhile too and told us about the awesome set up and had a little seminar on what a true fan is about! Lucky winning fans bought train tickets, plane tickets, drove non-stop, took days off, took cabs, left families, spent way too much money and well, just had to... all for Stevie, Lindsey, Mick and John. So what happens when you invite 800 of the most loyal, die hard, will-go-to-any-length Fleetwood Mac FANS to a history making concert recorded for public television, thirty five years after the band first hit the stage? NON-STOP, ROARING ADULATION!! Every second of the three hour show on September 23rd in Boston was a kinetic flow of the most powerfully loving energy I ever felt at one place, at one time. If you were there, you know. If you weren't, don't miss it when it's aired. Hopefully the editing will catch the back and forth sparks between the band and the fans as well as do justice to the musical genius of this incarnation: Mick, John, Stevie and Lindsey. At first everyone seemed to be concerned about this show being recorded but we were all told to just do what we do at concerts and enjoy. The band seemed a bit on "act it up" but I think they felt us from the first beat of The Chain. They seemed to really get into it and just get more intense with the crowd song after song. Not one person was sitting. Not one person came to politely tap their feet. Fleetwood Mac FANS ROCK, big time! It's a good thing they recorded the next night because we weren't all staying on the sides and there may need to be some cutting and pasting to avoid seeing those empty seats! We had to get down there, the end. Thank you to Stevie and Lindsey for continuing that magical thing you do! Your sharing every emotion with each other and us and on camera was so raw and incredible. It seemed you both were using every bit of your energy and power in your beings and it just washed over all of us. Did you feel us sending ours back at ya? How could you not? Stevie, you were kickin' in those boots again! And somehow during I'm So Afraid Lindsey, your guitar became an extension of yourself in some surreal moment in time. I will never forget those few minutes. Those people LOVED wiping the sweat off your face. WHEW, it was hot there beneath you, and LOUD! During Standback I think Stevie you transported back to about 1989 or so. Whatever those voice lessons are about, it's working! Stevie YOU WERE ON FIRE with that one...CLASSIC. CLASSY. And so beautiful...loved the moon and stars around your neck! I was mesmerized and swept up in the motions of dancers around me...it was like no other dance I ever had! Numbing! WOW, you must love these songs, your babies! I am so happy to have been a part of such a wonderful outpouring of gratitude and love by people like me, who really get it. Every second of that three hours was just as ROCKIN for each and every one of the lucky people that were part of it. THANK YOU FLEETWOOD MAC...OUR LIVES HAVE BEEN TOUCHED FOREVER, AGAIN!!!! And I remain, THEE Eternal Fan. Have fun abroad!!
---
Ron Emery
I was one of the lucky ones to win two tickets to the taping of the Boston PBS special. I found out I won about 2:00 in the morning Saturday before the show. That gave me only a few days to figure out how the heck I was going to get to Boston from Central California! As it all turned out I made it there with out too much trouble and was it worth it! The fan club was most of the audience and the rest was made up of folks from Boston University and other sources. They used us for the filming of the close-up shots that they made that night of the band. It was interesting to see how they created the illusion that this giant auditorium was filled with people. The Fleet center is large and here we were all placed right in front or next to the stage. Cameras were everywhere you looked. All the normal props from the tour were not used. Even in this large venue having a small audience of such dedicated fans we were LOUD! Everyone was very respectful of the songs that had soft moments and I heard parts of the songs that I was unable to hear the last two times on the tour. The fans were also respectful of one another and I easily was positioned in front of Lindsey next to the stage. We stood through the entire show. It was great to not have that sense that you were bothering some not-such-a- fan type sitting behind you. The people, what can I say...awesome! We have been emailing one another since the show and I feel so lucky to have been able to share this night with all them. The show itself had the same song list with the difference being that they would take breaks between songs and go off stage, I am assuming for touch ups to make up and to dry off. It didn't bother the fans, they looked at it as a way of making the magic last longer and everyone screamed just like each break was another encore. Stand outs: Rhiannon, this was an incredible performance of the song. I have seen it about 32 times in person and have to say this ranked in the top 3. Stand Back: The fans always eat this one up and this night was no exception. Plenty of room to rock out that night! The band said some cool things to us like, "you guys are great, sounds like this place is full" and "we should take you with us for all our shows" If only it could happen. Thanks to the Fleetwood Mac fan club for this opportunity. This indeed was one of those once in a lifetime experiences.
---
Anne M.
TUESDAY 23 BOSTON MASS.THANK-YOU EVERYONE AT THE FAN CLUB FOR ALL YOUR HARD WORK (KELLY MCENROE).WHAT A SPECIAL EVENT TO BE A PART OF,AND THANK-YOU TO ALL MEMEBERS OF FLEETWOOD MAC.THE SHOW WAS UNBELIEVABLE.I WAS JUST SO GREATFUL TO BE THERE I DIDN'T CARE WHERE THEY SAT ME.STEVIE WAS AT HERE BEST THROUGH OUT THE SHOW.LINDNSEY WELL AS ALWAYS HE ROCK THE HOUSE.
---
Patti
Well...... after traveling from 3am that morning from Philly to Boston, it was well worth the time.... It was truly a "Fan's Night" What a privilege to be part of the taping for PBS My friend (Pat ) and I met the most INCREDIBLE fans while waiting in line. Jamie, you are the best... Thanks for the pictures of us waiting to get in.. Ron, thanks for all of the great info about Stevie's music. You sure have the knowledge.. (after 32 concerts you deserved 2 free tickets) We were even lucky enough to be standing with a crew member from the Fleet Center.She gave us the inside scoop of the set. ( Thanks Colleen) Once again the MAC MACHINE delivered. Thanks for the memories!!!!!!!!
---
Curtis Blessing
Wow! Amazing! Spectacular! My friend Anthony and I traveled 10+ hours from West Virginia to Boston for this special event. Boy, was it worth it. After standing in line for hours with fabulous die-hard fans, we were the first to enter the venue. We did not get front row (eventually, we snuck down to the front), but we were in the first row off on John's side of the stage....great seats! During the songs he didn't play on, he would come down RIGHT IN FRONT OF US and smoke his cigs and chat "a little", because you know how quiet John is:) Also, Stevie ventured over to change shawls and such. The bad was in tip-top form. Lindsey's energy was off the wall. John's bass work was breathtaking. The crowd was so small you could hear Stevie's tambourine crispt and clear, and Mick was Mick.....They did the usual set list, but added bits and pieces here and there that I haven't heard at other SYW concerts. My memorable moments were:

-hearing the sound check

-the Rhiannon ending...she KILLED it!

-the Say You Will "Lasso"

-Stevie's white boots/white glittery shawl on Gypsy

-Lindsey pretty much playing in the crowd..he was almost totally off the stage

-Stevie dedicating Landslide to Lindsey

-What's The World Coming To?: We just danced and danced to this song. It's great live!

-Lindsey's guitar coming unplugged during Tusk...He just spun the plug around his head, threw down his guitar and started boxing with Stevie. At the end of the song, they just stood on stage and hugged...

-Stand Back twirls...she never stopped...haven't seen her spin like that in a long while

-shaking the band's hands at the end

I could go on and on because it was a concert of a lifetime. I can't wait until it comes out on TV and hopefully DVD/CD.
---
Back to The Nicks Fix Main Page
© Copyright 1995-2003 The Nicks Fix, All Rights Reserved, Unauthorized duplication is forbidden