---
"Say You Will" Contest

---
The contest has ended. Thanks to everyone who entered. The five winners are listed below:
Shannon Rachal
Jenica Whitehouse
Dustin
Laurie Smith
Brian Townley
Welcome to the Nicks Fix Fleetwood Mac "Say You Will" contest.
Answer the ten questions below correctly by May 3, 2003 for a chance to win the Fleetwood Mac "Say You Will" Record Flat (shown at the bottom of this page). Five winners will be chosen randomly from the list of correct entries. Each winner will have a record flat mailed to them at the end of the contest.
Entries must be received by midnight May 3rd. Visitors who are 13 and under must have an adult submit the answers for them.
Good Luck!
---
1.Which television show was the first to premier a sampling of the new music from "Say You Will" and what song did they premier?

answer: Third Watch" premiered "Peacekeeper" during it's show, although "Say You Will" made an appearance before that during ads for "That 70's Show". Either answer will be acceptable for this contest.
---
2. Fleetwood Mac was recently a musical guest for two consecutive nights on the Tonight Show with Jay Leno. In order, what two songs did they perform and what was the theme of the audience on the second night?

answer: First night: "Peacekeeper" Second night: "Say You Will" The theme for the audience was US Troops or Military servicemen
---
3. What television show recently included part of the song, "Thrown Down"?

answer: Friends
---
4. What year did Stevie Nicks and Lindsey Buckingham join Fleetwood Mac?

answer: 1974 (New Year's Eve)
---
5. Who is the original founder of Fleetwood Mac?

answer: Peter Green
---
6. Parts of the song Tusk were recorded at a stadium with a marching band. Name the marching band and the stadium where it was recorded.

answer: USC Marching band, Dodger Stadium
---
7. A version of the song "Crystal" from the 1975 album "Fleetwood Mac, Fleetwood Mac" originally appeared on what album prior to that?

answer: Buckingham/Nicks
---
8. The following lyrics are from which Fleetwood Mac song?

You fell in love when I was only ten
The years disappeared
Much has gone by since then

song title: Beautiful Child
---
9. The name "Fleetwood Mac" was formed by using parts of the names of which two band members?

answer: Mick Fleetwood & John McVie
---
10. What is the name of Fleetwood Mac's best selling album?

answer: Rumours
---
---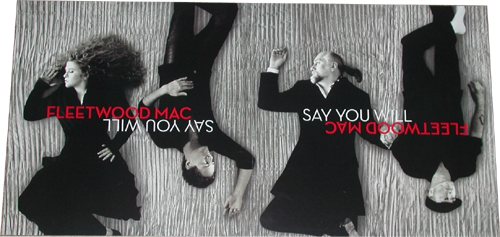 front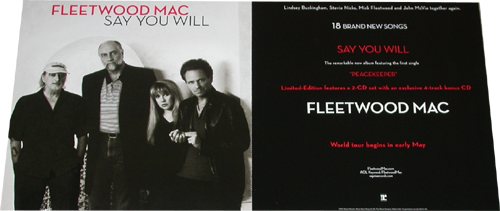 back
The new album, Say You Will, is in stores now!
More giveaways coming soon!
---
---