---
The Sacramento Bee
July 8, 2003
---
Fleetwood Mac: It won't stop rockin'
By Chris Macias -- Bee Pop Music Writer - (Published July 8, 2003)
Fleetwood Mac is a master of the REALLY BIG FINISH.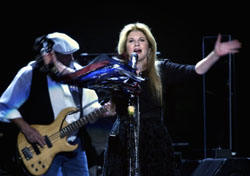 As the band kicked in to the final choruses of "Don't Stop" and "Tusk" on Sunday night at Arco Arena, Lindsey Buckingham slapped his guitar like he was playing a frenzied bongo solo. Meanwhile, Mick Fleetwood did his darndest to smack his drums into oblivion as the rest of the group -- singer Stevie Nicks, bassist John McVie and a six-piece backing crew -- stomped toward any number of finales.
And just when it seemed like Fleetwood Mac was close to reaching its own finish line, the group came charging back. The band's roster shifted a few times after Buckingham left the group in 1987, yet the "classic Mac" lineup reunited for 1997's "The Dance" tour (though singer-pianist Christine McVie is now out of the fold). Still, Fleetwood Mac hadn't recorded an album of new material since 1990's "Behind the Mask." A career coda came with the April release of "Say You Will," which captures a re-energized, eclectic spirit for Fleetwood Mac.
The "Say You Will" tour is the exclamation point that Fleetwood Mac is back, and back in a big way. In terms of sound, there were two drummers on drum sets and three electric guitarists cranking through a supersized version of "Eyes of the World." Also, Fleetwood donned a vest with electronic percussion triggers that transformed his body into a 6-foot-6-inch drum pad, and the resulting effect caused one mighty collective stomp-around among the near-capacity crowd.
Maybe all of this added adrenaline has something to do with Christine McVie being out of the fold. McVie's honey-toned vocals and piano playing on such tunes as "Songbird" and "You Make Loving Fun," coupled with Nicks' soothing singing, helped to temper the band's testosterone flow. Now Fleetwood Mac is mostly a boys' network, and this version of the group loved to rock with a capital "R," even if it's big-band sound verged on overbearing at times.
Still, there was just enough of a feminine touch to keep Fleetwood Mac balanced. You could practically see the palm trees swaying in a Pacific Ocean breeze as Nicks sang "Dreams" and "Gypsy," two of Fleetwood Mac's signature soft-rock songs. Backed by Buckingham's acoustic guitar, Nicks' graceful version of the ballad "Landslide" just might have produced some misty eyes in the arena.
Nicks, she of the flowing shawls and dervish dances, was bewitching on the songs in which she sang lead (e.g., "Rhiannon," "Gold Dust Woman," "Beautiful Child"). She took some of her most notable vocals down an octave (the choruses in "Dreams" and "Rhiannon"), but her singing was overall solid and, as always, seemingly smoked in sage.
Buckingham, however, forged Fleetwood Mac's edge. While Nicks was more like a "go with the flow" kind of gal, Buckingham was the face of intensity in such rage-a-thons as "Tusk" and "Go Your Own Way."
A good chunk of Buckingham's sting came from his guitar playing. It's an unorthodox style of finger-picked electric guitar where insistent rhythms and melodies are woven into one cutting sound. With a healthy dose of string bends and a touch of pomposity, Buckingham's guitar emerged as one of the night's key voices. In fact, Buckingham was blazing so hard that he lifted the heavy-handed and somewhat lackluster new song, "Come," into a guitar-solo finale that inspired a standing ovation.
Fleetwood was equally juiced, knocking a mean drum break in "Tusk" and locking into a persistent 16th-note pattern that shadowed Buckingham in "Second Hand News." Meanwhile, McVie kept a gentlemanly warm thump on his bass that maintained a consistent low end throughout the 150-minute set.
Overall, much of Fleetwood Mac's latest material held up well, including the new album's sunny title track. Still, when Buckingham announced, "Now we're going to play a couple songs from our new album," he may as well have announced a 10-minute intermission, given all the folks who jetted for the concession stands.
Still, this was a minor lull in a concert that should have come with earplugs -- pretty good for a bunch of classic rockers on the rebound.
---
---