---
Reading Eagle
Sept 8, 2001
---
Radiant Nicks in fine voice
As the first headliner to take the Sovereign Center stage, rock singer Stevie Nicks shows she still has what it takes. By Jeff Kauffman
Eagle/Times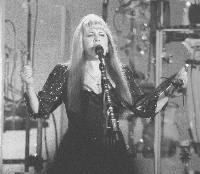 Stevie Nicks' aptly named "Trouble in Shangra-La Tour" started July 6. The trouble started July 24.
That was the first of 12 tour dates Nicks canceled or postponed due to a respiratory infection that cursed the white witch for more than a month and threatened to stall the debut of the Sovereign Center as a concert venue.
But doctors pronounced Nicks fit to perform in time for her Sept. 4 show, and four days later she was the second act to play the new civic center.
Future trivia question: "Who was the first singer to perform at the Sovereign Center?"
Answer: Singer/songwriter Jeff Gaines.
Although Bob Schneider was scheduled to open Nicks' shows this month, Harrisburg native Gaines, who was on her tour in July, was first up Saturday night with a solo acoustic set during which he accompanied himself on guitar.
Standing in front of a plain black curtain that hid Nicks' setup, Gaines won the audience with a heartfelt performance and between-numbers stories of his youthful travels to the Pagoda. With more variety in his songwriting and in his strum patterns and a rhythm section to back him, Gaines could move from opening act to headliner. He has got the talent. He needs direction.
Presently, the curtain dropped to reveal a stage set straight from a Maxfield Parrish painting with bookend pillars, climbing vines and a center arch. When the lights mixed electric blue with lacquered orange, a Parrish signature was all that was needed to make the allusion a reality.
By then the band was churning the first bars of "Edge of 17," and when the lead guitar was revealed to be Waddy Wachtel much sought-after L.A. session player and traveling music director to the stars it was apparent the audience was in for a good night no matter in what condition Nicks' condition had left her voice.
The seven-piece band segued to "Stop Draggin' My Heart Around," and Nicks walked onto the stage, wearing shawl No. 1 a black sequined affair.
With her first verse, Nicks proved the doctors right. She was indeed fit with a voice as clear and strong as that heard on the pre-Fleetwood Mac "Buckingham Nicks" album, recorded before many in the audience were born.
In fact, Nicks' arrangements could have been mistaken for her album performances. She rarely strayed from the studio version of a given song, and when the band wandered, it was Wachtel taking the scenic route while the rest stuck to the highway.
Nicks was unusually chatty between numbers, telling the stories behind the music many of which involved ex-lover and bandmate, Lindsay Buckingham (she's over him), and the inspiration he provided.
Shawl change. Beige with streamers.
Her set list included the hits ("Gold Dust Woman," "Stand Back," "Rhiannon"), the misses ("Planets of the Universe") and surprises ("Too Far From Texas").
As she warmed to the audience she began to move, doing a graceful Deadhead dance during instrumental breaks and for all the world resembling a young Joe Cocker at his spastic best when emotion contorted her vocals. Meanwhile her two backup singers, Sharon Celani and Mindy Stein, had the fetching moves of the women in the early Robert Palmer videos. And bassist Al Ortiz couldn't stop smiling.
Two or three shawl changes later, during a Grateful Dead twirl, Nicks dropped a plain black number, with streamers, and a shawl roadie a shawl roadie! rushed onto the stage to restore it to its rightful shoulders.
Nicks, unembarrassed at going shawlless for a few seconds, never missed a beat.
---
---