---
Quad-City Times
June 23, 2003
---
A review of the June 22 Fleetwood Mac concert at The Mark of the Quad Cities in Moline, IL.
Fleetwood Mac thrills crowd at The Mark
By David Burke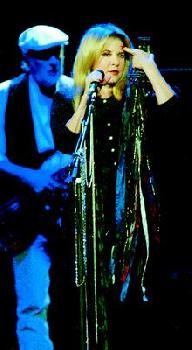 Billed as the 10th anniversary concert of The Mark of the Quad-Cities, Fleetwood Mac made one of the venue's most inauspicious entrances Sunday night.
But even in silhouette, the lanky, fist-pumping shadow of Mick Fleetwood — followed by the flouncing outline of Stevie Nicks and the darkened image of Lindsey Buckingham — got the crowd of 8,500 to its feet. .
The only audience members who might have been disappointed in Sunday's show were those expecting a greatest hits concert. Sure, songs such as "Rhiannon," "Gypsy," "Tusk" and "Go Your Own Way" were there, but surely some audience members missed the absent Christine McVie (who is sitting out the tour) and her contributions, including "Say You Love Me," "Little Lies" and "Over My Head." .
Instead came a slew of album cuts, including at least four from the April release "Say You Will," as well as cuts from the albums "Tusk," "Rumours" and 1975's self-titled album. .
But whether the songs were hits or not, loud applause still showed endorsement of the legendary group. .
It was still fun to watch video screens showing Fleetwood (who turns 61 on Tuesday), with his darting eyes and a mischievous grin, like he was a teenager sitting behind a drum kit for the first time; or to see the spark of a flirtation left between former flames Nicks and Buckingham, including her tender hug from behind at the end of one of his solos. .
Video screens flanked the stage, but it was several visual effects that added to the unique aspect of the concert. A horseshoe-shaped screen, resembling a skateboard ramp, went from lighting and visual effects early on to video later in the show. And for Buckingham's cutthroat acoustic rendition of "Big Love" and Nicks' tender "Landslide" (recently remade by the Dixie Chicks), what looked like a floor-to-ceiling lace curtain accentuated the video projection. .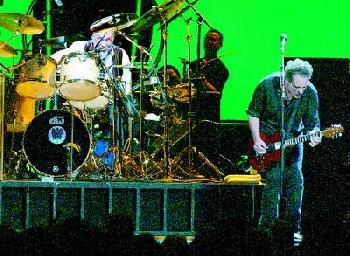 Buckingham's "Big Love" was one of several solos where the guitarist went wild, flailing his arms madly to the delight of the crowd, keeping in tune with a finely aged delivery. Nicks' elfin voice still is tender on the band's ballads. Fleetwood doesn't miss a beat on the drum, and did a duet late in the show with the band's backup drummer, one of a four-piece band with two singers that kept in the background. .
Also in the background was the band's bassist John McVie, who barely stepped out from alongside Fleetwood's drum set, but kept a steady presence throughout. .
The concert hit a new ticket price high of $126.50, pocket change higher than The Eagles' show last year. But despite some noticeable empty seats in the mid-price range, it appeared the fans Sunday night got their money's worth.
---
---