---
Indianapolis Star
June 25, 2003
---
The following is a review of the June 24th Fleetwood Mac concert in Indianapolis, IN at the Conseco Fieldhouse
Fleetwood Mac still bewitches fans
By David Lindquist
david.lindquist@indystar.com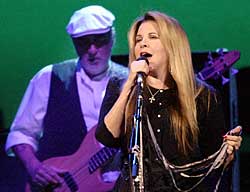 If you remember the goose-bumps moment when Sonny Bono and Cher reunited on the old David Letterman show, you have a good idea of the thrill Stevie Nicks and Lindsey Buckingham are giving audiences every night of the current Fleetwood Mac tour.
The show played to an estimated crowd of 10,000 Tuesday night at Conseco Fieldhouse, where the ex-hottest ex-couple in rock seemed to be on especially friendly terms.
Nicks and Buckingham held hands as they walked onstage, and she rested her head on his shoulder as he played the guitar solo of "Landslide."
They sang to each other during "Say Goodbye," a tune from current album "Say You Will." If given a chance at radio, this sophisticated kiss-off might provide a commercial rally for the band.
The enchanting old flames -- joined by drummer Mick Fleetwood and bass player John McVie but not retired keyboard player-vocalist Christine McVie -- didn't push their new material at the expense of the crowd's enjoyment.
The performance featured several selections from "Rumours," the unstoppable chart-topper from 1977, and other hits ranging from 1975 to 1987.
The comfortable groove of the title track from "Say You Will" suggests the sparkling past of Fleetwood Mac but also leaves the impression that it's a better song than what producer Buckingham captured in the studio.
Nicks confirmed this inkling with a lively rendition in concert. Although the 55-year-old diva dodged a high note here and there, she was generous and grateful throughout -- in other words, everything her devoted fans were looking for.
Birthday boy Fleetwood (61 on Tuesday, according to many published sources, but just 56 according to himself and witness Buckingham) rushed the pace of "Rhiannon," but Nicks rescued the classic at its bridge.
All it took was a twirling-cape dance and some spot-on singing.
Buckingham's shining moment proved to be "Big Love," which he performed alone with an acoustic guitar. In addition to a fine musical performance, the production scored visual points by projecting the singer's image onto a freshly dropped vertical scrim.
It was if a Times Square billboard had come to life.
Buckingham and Fleetwood put some giddy-up into the pop-rock hit parade with hyper-rockabilly chestnut "Eyes of the World." Buckingham needlessly negated this point, though, when he thrashed out the ill-fitting and unhinged "Come" from "Say You Will."
The mystique of Fleetwood Mac depends on making things sound and look easy.
On the bright side, nothing else seemed as natural as the affection shared by star-crossed Nicks and Buckingham.
---
---