---
Ft. Lauderdale Sun-Sentinel
June 9, 2003
---
Review of the June 7th Fleetwood Mac concert in Ft. Lauderdale, FL at the Office Depot Center.
Say what you will, Fleetwood Mac can still drum up quite a show
By Lawrence A. Johnson
Music Writer
Fleetwood Mac's current tour, as with many 1970s supergroups, provoked the usual skepticism about aging rock icons keeping the bank accounts high by cashing in on the faded glory of decades past.
Yet the band's show Saturday night at the Office Depot Center in Sunrise offered a lot more than empty nostalgia. At the midpoint of a 32-date reunion tour to promote their new album, Fleetwood Mac's high-energy performance showed little sign of musical middle-age spread. To paraphrase a Stevie Nicks' lyric, time has made them bolder, but the music hasn't gotten older.
With Christine McVie, provider of the band's most buoyant (if formulaic) hits, opting out of the new album and tour, center stage was left to Nicks and Lindsey Buckingham. The former lovers proved more than able to take up the slack. Say You Will is the band's best studio effort since its late '70s heyday, with guitarist Buckingham's edgy dominance making for a darker, tougher style.
Saturday's straight two-hour set offered an ample sampling from the new album, as well as enough Nicks and Buckingham hits from the bursting back catalog to satisfy their fans.
The remaining quartet of Nicks, Buckingham, bass John McVie and drummer Mick Fleetwood were supported by two backup singers, a pair of percussionists, two guitarists and a keyboard player, ballast enough to provide a big, aggressive sound for the band's straight ahead stadium rockers.
Nicks looked nearly as timeless as her songs, and showed surprising vocal strength with that waiflike voice with the frayed mash-whiskey rasp. The relentless hook on the new album's title track will likely serve up another hit single. Nicks' set resurrected Silver Spring, possibly the best song never to make it on to a hit album (Rumours), making one overlook her mangling the opening lines of Rhiannon.
She managed an ironic smile on an intimate Landslide, changing the words to "Yes, I'm growing older, too."
The same song brought a sweet, not-too-calculated moment with Nicks standing behind Buckingham during his solo, her hands placed affectionately on his shoulders.
Playing with Mephistophelean glee, Fleetwood's propulsive drumming and McVie's rock-solid bass provided forceful rhythmic backbone. Only Fleetwood's shameless center-stage hamming on the encore of World Turning seemed cheap after the honest music-making that preceded it.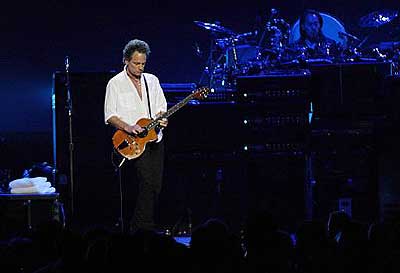 Buckingham provided most of the youthful vitality Saturday night. If many of his songs seem like mere epigrammatic bursts of anger and jealousy, Say You Will offers some of his best creative work in years, as demonstrated by bristling volatile performances of What's the World Coming To and the anti-militarist single Peacekeeper.
His underrated guitar work embraces a pointillist lyricism as surely as slashing power rock. Stalking the stage, double-palming his instrument. Buckingham tore the roof off with solos on Tusk and Go Your Own Way, the latter played from the first row. His manic energy ratcheted up the adrenaline and volume all night, including hard back-slamming of McVie and grabbing a startled Nicks around the neck from behind.
---
---