---
Stevie at KBCO Radio
April 24, 2001
---
Paul O'Brian was lucky enough to win a visit with Stevie at KBCO Radio in Boulder, Colorado on April 24th. Below is his story of this experience.
THE SECOND TIME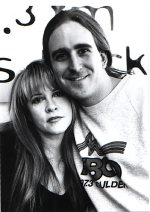 Call me lucky. Way back in 1989, I got a job as a summer intern working for a radio station in Colorado called KBCO. It was a trendsetting station back then, pioneering the format now known as "Adult Album Alternative", and working there was such a thrill that I did it for 5 years, even long after I knew that a career in radio wasn't for me. The capstone of that experience was the day I got to meet one of my heroes, my favorite musical artist of all time, Stevie Nicks.
Fast-forward to 2001. One Wednesday in April I was standing in line for a KBCO event, a Shawn Colvin concert at this tiny little venue in downtown Denver, when I saw into my friend Ginger, who currently does the 10-3 airshift at the station. Ginger was my boss during the intern days, and we had a really good working relationship that has grown into friendship over the years. We talked for a few minutes, and she confided that just maybe, there was a possibility that Stevie Nicks might visit the station's "Studio C", a tiny studio where musicians come to record intimate, spontaneous versions of their songs, and to take part in a brief interview as well. I was naturally thrilled to hear this, and wondered if there was any possibility that I could attend, but Ginger assured me there wasn't -- they would do the session at the Denver corporate headquarters, a building that requires a security badge just to get in the door. Still, I wanted to make sure I didn't miss the event when it aired, so Ginger told me to call her on Monday for the details.
Come Monday, Ginger called me. Yes, Stevie was coming to Studio C the next day -- Tuesday, April 24. Not only that, they were doing the session at the Boulder studios, which meant that I actually had a possibility of attending. The chances were slim, she warned me, because the record company folks were said to be clamping down tightly on the whole thing. She said she'd do her best to get me in, though. Also, they'd be giving away a couple of passes to callers on the morning show. I thanked her profusely for her advocacy, and went home that night totally OK with the fact that I'd most likely be listening to the session on the radio. After all, I'd already been lucky enough to meet Stevie once, and was at peace with whatever might happen.
Now that doesn't mean that I wasn't prepared on Tuesday morning. On the contrary, I had the cell phone ready with the station's number on autodial, and turned the radio on as soon as I woke up. I drove to work on needles and pins (yeah, I had Stevie on the brain a lot), listening for that all-important moment. When I pulled into the parking lot, they still hadn't given away the passes, but were teasing it like crazy -- "In just a few moments I'll give you the chance to win passes to that very special Studio C session with Stevie Nicks!" I put the Walkman on, kept the phone at the ready, and walked from my car towards my office. As the song they were playing (Phish's "Heavy Things") was winding down, I just had this *feeling*. I ran the rest of the way to my office, and sure enough, as soon as I got in the door, Bret Saunders (the KBCO morning DJ) came on and said that the time had come: they were giving away the passes. And to make sure that a true fan won, they would do it by reading some lyrics and giving a pass to the first caller to correctly identify the song. The lyrics he read were these:
And then there would be someone who would enter into her presence
That she could sense for miles
She dreamed of her wanton luxury
And she laughed, and she cried, and she tried to taunt him
And he hated to be separated from that picture... no

No problem -- the Nicks Fix's "Name That Song" feature had been helping me prepare for this challenge for years. I scrawled "Rooms on Fire" on the first piece of paper I saw, just so that I wouldn't blank out if I actually got through, and I stabbed the speed-dial button on my office phone that I had programmed with the KBCO studio line. Busy. I hit it again. Busy. Over and over, a dozen times at least. Then -- a ring! Bret answered the phone, "Hi, KBCO!"

"Have you got a winner yet?" I asked, trying hard to keep my voice steady.

"No, we sure don't," said Bret.

"That is Rooms on Fire!" I said exultantly.

Bret told me I was right, and I whooped with joy. "Bret, you've made me a happy man!" I said.

"I can tell!" he replied. "In fact, I'm a little frightened. I'm not sure I want to make you that happy."

"Oh, don't worry," I laughed. "I'm at a safe distance from you."

He got my name, and confirmed that I'd be seeing Stevie in Studio C that day. "I'm just thrilled," I told him. "Thrilled to pieces." And I was. He told me that a producer would call me back with the details. As KBCO came out of a song, Bret played back the people who had gotten through before me -- there were about four of them, but luckily for me none of them knew the answer -- in fact, only one of them had a guess that was even the name of a real Stevie song: Gypsy. Two others guessed "Crystal Ball" and "Age of 17", and the poor fourth woman seemed to have no idea a contest was happening at all:
Bret: Hi KBCO -- do you know the name of that Stevie Nicks song?
Woman: Oh! [long pause] Um, no.
Bret: Sorry.
Then he played my winning call -- I wish I'd had the presence of mind to tape the whole thing, but as it was I only caught the tail end. I had to share my happiness with my co-workers, so I went around the office telling my story, but I didn't take too long, since I didn't want to miss that phone call! I returned to my desk, left a quick message on the answering machine for my wife Laura (who was on a hike with a friend that morning) and tried to focus on work. Lotsa luck! I worked for a minute or two, then my phone started ringing. It wasn't the producer, but instead people who knew me and my Stevie fandom, and had heard my crazy whooping on the radio. One of these was my best male friend Robby, another big Stevie fan who I've known since our high school days. Robby made me a "Stevie Nicks A-Z" set of tapes for my 18th birthday, and I returned the favor a few years later with an updated version. Music has always been a cornerstone of our friendship. He congratulated me and asked me to tell him all about it after it was over, which I promised I would.

About an hour later I got the call from Ron, the KBCO producer, who told me that the session would happen sometime during the 1:00 hour, and to be there by 1:00 sharp in case she showed up right on time. He also said I could bring a guest! Suddenly I realized that Laura was hiking, and that I had our mutual cell phone for the day -- there was no way I could contact her! I left another phone message at home, telling her that she could be my guest if she wanted to, but she had to call me as soon as she got home. Then I called Robby, and asked him if there's a possibility he'd want to go if I couldn't get a hold of Laura. He laughed at me -- how could I possibly doubt he'd want to go? The only problem was the childcare -- Robby's a stay-at-home Dad, and he'd need to find a way to take care of his two girls while he was off doing the Stevie thing. He called his wife, who graciously and generously agreed to take the afternoon off work (or maybe just a *really* long lunch) and take care of the girls if Robby needed her to. The only thing was, she had to know by 11:00 whether or not she needed to leave. So that created the deadline -- if I didn't hear from Laura by 11:00 (or if she didn't want to go), then Robby would be my guest.

Then I realized that it probably would be a good idea if I secured the time off before I went charging out the door. So I talked to my boss, explained the situation, and asked if it'd be OK if I took some impromptu vacation. He said, "Oh no, we can't let you leave for something like that." Luckily, he didn't manage to keep a straight face while he did it.

Ginger called me, laughing, at about 10:00, and said, "I cannot believe you!"

"Like the way I took the pressure off you there?" I said. She told me it was a good thing, too, because she wouldn't have been able to get me in -- the record company and Stevie's management was keeping a very tight lid on things, and didn't want people from the general public (besides the contest winners) attending the event. We agreed that things had worked out for the best, and I told her I'd see her at 1:00.

I worked until about 10:30, then took off for home. I had to get prepared -- I'd bring a camera and some CDs for her to sign. Not that I knew I'd get the chance to use them, but I wanted to be ready in case the opportunity arose. It was 11:00 by the time I got home, and still no Laura. I called Robby and told him to give his wife the green light, and that I'd be by to pick him up in a little while. I left an apologetic note for Laura, and told her I'd call her when I could. Then it was off to the bookstore to find a gift for Stevie. When I met her in '94, I gave her a copy of the Complete Poems of Emily Dickinson, and explained to her that she and Dickinson were my two favorite poets, so I thought it would be appropriate. This time, I grabbed a biography of Oscar Wilde, since I know how much she likes him, and inside the cover I wrote:
To the "Wilde" heart whose music has touched my life so deeply -- Your songs have been the soundtrack to so many of the memorable moments in my life. In my darkest (and brightest) hours, I *have* heard you sing, and it's a gift I can never repay. Hope this book provides some good reading while you're on the road.
I also wrote my email address and phone number. Why the hell not? :) That done, I zoomed over to Robby's apartment. We had to wait a little while for Michelle (his wife) to arrive, and I was probably unbearably antsy while we were waiting. Of all the appointments in my life, this was one I did *not* want to be late to!
Michelle arrived at 12:15, and we were off! I'm usually a pretty conservative driver, but not this time! We sped up the highway to the KBCO studios, arriving at about 12:40. As we pulled in, we saw several fans milling around the parking lot, clearly hoping to catch a glimpse of Stevie when she arrived. Bright yellow signs were posted on the doors, reading:
KBCO'S STUDIO "C" IS CLOSED TO THE PUBLIC!
You can listen to the broadcast on 97.3
Thanks for your cooperation.

Clearly, the station knew it would be dealing with an eager batch of fans today. Feeling immeasurably lucky, Robby and I walked past the signs and took the elevator up to the station's third floor studios. We walked through the door and were greeted by KBCO program director Scott Arbough. Scott guided us to a couple of chairs against the wall, where the other winner and her guest were already sitting. He told us that Stevie would be arriving sometime after 1:00, and that she'd want to get set up in the studio after that. He asked that we stay seated out of the way during that period, so as not to crowd her. When the interview started, we'd be able to pull our chairs up to the window and watch the session. Naturally, we were all so thrilled to be there at all that we readily agreed to anything!
Studio C is a small room, certainly no bigger than my bedroom at home. It's fronted by a huge window pane, which we'd be looking through when the time came. While we waited, the four of us got to know each other. The other winner (who had correctly identified the lyrics to "Long Distance Winner") was named Nancy, and her guest's name was Kelly. We all talked about how amazingly lucky we felt, and how we could hardly believe it was all really happening. Ginger came over to talk to me for a moment, and I told her about the gift I brought for Stevie. I wasn't sure if I'd actually get to speak to Stevie myself and wanted to know if Ginger would give it to her in the event that I couldn't, to which she graciously agreed. A few minutes later, Kelly asked me if she could piggyback on my gift. She'd brought one of her own: a CD of songs that she'd written and performed. I told her that I'd be happy to do it, but that she really should give it herself -- if she could put on a guitar and sing in front of a crowd of people, surely she could give a CD to just one person! She demurred -- still too shy -- so I agreed to give them both.
Finally, at about 1:30, the place started to stir. Someone came up and said that Stevie had arrived, and that she had a dog with her. Ginger turned to me and said, "A dog?" I explained that the dog's name was Sulamith, that she was named after German artist Sulamith Wulfing, that the cover of The Wild Heart was patterned after one of Wulfing's works, etc. The people around me cracked up that I knew all this detail about Stevie's dog. Then Ginger went over to shake hands with a manager and some assistants, and suddenly: there she was.
I know nothing about clothes or fashion, and I'm usually pretty terrible at observing what people are wearing, but I knew Laura would want to know, so I tried to pay careful attention. Stevie had on black top that looked to be made of crushed velvet or something similar; it had a scoop neck and extended just past her hips. To my surprise, she wasn't wearing a dress but instead these wild tights, orange and yellow and red with a kind of Sixties-looking psychedelic pattern. Best of all were the platform sneakers. Yes, they looked like little black Reeboks but with rubber soles about two inches high. Even with the boost, she still only came up to about my chin -- she's a tiny little thing! And speaking of tiny little things, Stevie was indeed holding an itty bitty Yorkie dog. Ginger introduced herself, and asked "Who's this?" about the dog. Stevie said "This is Sulamith," and I got elbowed in jest by Nancy and Robby. The dog looked a little panicked at all the excitement, and Stevie handed her off to an assistant.
Soon after this I noticed Waddy Wachtel standing behind Stevie, and it was pretty amazing to see him close up too. He had been the guitarist the first time I saw Stevie live, and I've always been impressed by his musicianship. Stevie and Waddy were ushered into Studio C, and the four of us moved our chairs down just a little to get a better angle on the window. Scott reminded us not to move in yet, and we assured him that we were staying against the wall, just moving down a bit. We got occasional glimpses of Stevie as she was walking around, warming up, and we could faintly hear her singing tones from behind the glass.
After a few minutes, all was in readiness for the interview to begin. Ginger went in and got set in front of her mic, and the four of us were allowed to pull our chairs in front of the window. Technicians turned on the speakers above the studio window so that we could hear everything that was said inside, and the session began! Throughout the day, ever since 8:00, I had just kept saying to myself, "I can't believe this," and I said it out loud again. The four of us just looked at each other as the interview started, astonished at our good fortune.
When Ginger had told me that she'd get the chance to interview Stevie, she suggested that maybe I could come up with some good questions since I'm such an avid fan. Of course I did, and sent them to her, and I was wondering if she'd use any of them. As it turned out, though, she didn't get the chance, because Stevie was so talkative and effusive. Ginger later remarked to me that Stevie is an interviewer's dream, because Ginger had only to say something very simple and then Stevie would talk for five minutes. It was so much fun watching Stevie stand in front of her mic and talk, and to watch her animated presence and her graceful gestures.
At last, it was time for her to sing. She performed "Landslide" with Waddy on acoustic guitar, and it was just breathtaking. The arrangement was very similar to how it sounds on "The Dance," though Waddy played a different picking pattern than Lindsey does. When she got to the end of the song, where she sings each word of "snow covered hills" slowly and emotionally, Ginger shot me a look and a smile, sharing her excitement with me for just a moment. The emotion was overwhelming -- I felt the tears pricking at my eyes and thanked the universe for giving me this space in time.
The song ended, and the interview wound up after about five or ten more minutes. Ginger ran back to the regular DJ booth, and some staff types went into Studio C, bringing Stevie some sheets of paper. Robby whispered to me that she was probably recording promos (of the "Hi, this is Stevie Nicks and you're listening to..." variety), and as I saw her reading from the pages into the mic, I realized that he was exactly right.
After the promos were done, she and her assistants came out of the studio and headed straight for a little side room where there were a bunch of posters and CDs for her to sign -- again, promotional items for the various stations owned by Clear Channel (KBCO's corporate parent.) As she passed us, though, she made sure to say "I'll be back out to talk to you all." Woo hoo!
And sure enough, once she was done she came out to talk to each one of us individually. First in line was Robby, who told her what an inspiration she is to him, and that he'd named his youngest daughter Rhianna after her song (though slightly modified.) Stevie seemed genuinely touched, and gave him a hug. She replied, "Well, it's a magical name, so she will have a magical life." Then an assistant who was standing next to her handed her a promotional flat of the album art from Trouble In Shangri-La. She started to sign it for Robby, then asked, "Do you want me to sign it to Rhianna as well?" He (of course) said, "Sure!" Stevie made sure to get the spelling right, then finished signing the flat.
I was next! First I gave her my gift, saying, "I know you like Oscar Wilde," to which she replied, "Oh, I do! He and Edgar Allan Poe are -- I call them my two key poets." I explained what the gift was, and she said "That's great! I'll definitely try to read it!" Then I showed her Kelly's CD, and explained that Kelly was too shy to give it herself but that she wanted Stevie to have it. Stevie's face froze for just a second, and instantly (albeit belatedly) I remembered that she had been sued in the 70's by some nutjob who had sent her a tape and then accused her of plagiarizing "Sara". I could have kicked myself at that moment, but Stevie just smiled again and said (to Kelly and me both) "Well, thanks -- I'll take it!" The CD was still wrapped in plastic, so maybe that made Stevie feel a little safer -- I don't know.
I then tried to tell her the same things I had written inside the book jacket, or at least as much as I could remember in that flustered moment. She thanked me sincerely, and gave me an affectionate hug. What an amazing moment -- I was appreciating her warmth and openness as a human being even as I was thinking to myself, "I'm hugging Stevie Nicks!!!!"
Her assistant handed her another promotional flat, which she started to sign for me, when suddenly she said, "Wait, did I already do this?"
I was a bit surprised, and said, "No, um..."
"You're Robby?" she asked. I explained that no, I was Paul.
"Aha. And I'm an idiot," she said, smiling.
"No no no," I laughed, "You're fabulous." She smiled and signed the flat "To Paul, Love Stevie Nicks"
She then turned to talk to Nancy. I didn't pay close attention to that conversation, so only caught snippets. Apparently Nancy was friends with one of Stevie's former assistants, so they talked about their mutual acquaintance for a few minutes. As Stevie was talking to Nancy and Kelly, a producer came up to Robby and I and suggested that we four fans may be able to get in a group photo with Stevie, and perhaps (if she was willing) individual shots as well.
Almost in a daze, we four went into a conference room where there was a blank wall with a KBCO banner above it. They asked Stevie about the pictures, and she said, "Sure, let's do individual ones too!" So we each stood against that blank wall and got our pictures taken with Stevie by the KBCO staff photographer. I haven't seen that picture yet... I'm managing, with difficulty, not to call the station about it each day.
After the photos were over, the event was winding down and people began to disperse. I caught Stevie's attention and told her that I wanted to thank her for coming out and talking about Klonopin. Someone close to me has been struggling with depression and was medicated with Klonopin, and as soon as I put it together that this was the medication that had wrecked Stevie so badly, I talked to my friend about it. She went to another doctor who confirmed that it wasn't right for her, and she's now gradually scaling down on it. I told Stevie that her courage in discussing that dark part of her life had made a direct, positive impact on someone else's. She said, "Well, I'm on a mission! Tell your friend my heart is with her, and that she should spread the word!"
As I was talking with Stevie, her manager came up and laid a hand on her shoulder. "Sorry," he said to me, "but we really do need to go." So Stevie and I finished our conversation quickly, and then she was whisked away. Ginger beckoned me over to the window that looked down on the parking lot, where a crowd of about 40-50 people had gathered near Stevie's limo to await her exit. Some were carrying signs reading "We Love You Stevie", some were dressed in gypsy clothes. It always amazes me how devoted Stevie's fans are. They were also very polite, not pressing in on her as she went from the door to the limo. In return, she smiled and waved at all the faces gathered around. And then she climbed into the limo and rode away.
I was left stunned and buzzing from the intensity of the experience. Looking back on it now, I'm reminded of a lyric Stevie wrote in her song "The Second Time":
Did you feel like it was the second time with you?
That feeling of a vivid memory...
Well it had to do
With a dream come true...

---
---