---
Hit Parader Magazine
September 1983
Number 228
---
Stevie Nicks - That Magic Touch

By Stan Hyman and Vicki Greenleaf

There's a certain mystique surrounding Stevie Nicks. Maybe it's her spellbinding voice. Maybe it's her bewitching good looks. Or maybe it's her enchantment with the shadowy unknown. "I just like thinking that everyone is kinda magic," Nicks said smiling. "It's nicer than thinking it's not."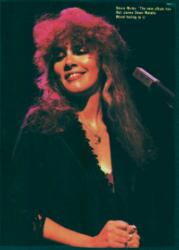 Whatever the magic that surrounds her, Nicks captivated audiences last year with her triple-platinum, debut solo album, Bella Donna. Not one to be intimidated by that success, the lead singer-songwriter of Fleetwood Mac fame has now released her follow-up solo LP. The album, The Wild Heart, retains much of the sound of her previous effort, according to Nicks. "But," she interjected, "it's like Bella Donna's heart is wild all of the sudden. It has that James Dean/Natalie Wood feeling to it. It's just Bella Donna a little more reckless," she said, explaining the new LP's title and over-all feeling. "She's just more sure of herself now, so she's taking a few more chances. I'm very pleased with the album," she added, "because there are no holds barred on it. It's real strong and emotional."
Nicks said she was encouraged, not intimidated, by the phenomenal success of her first solo effort. She foresaw such success intuitively, she claimed, and hopes for a repeat performance from The Wild Heart. "I just saw it in the stars that it would work," Nicks recalled, "and it did! I'm almost sad that it went by so fast. It was over too quickly and I didn't get to spend enough time with Bella Donna. It was very special. I knew it would be. I knew in my heart that it would be exactly what it was. "I'm not intimidated to go on and do something else," she continued, "because what I do doesn't depend on what I did last week. I write songs and I sing them because that's the thing in the world that I love most."
Nicks temporarily interrupted her recording schedule for The Wild Heart when she married long-time friend Kim Anderson and took time to honeymoon in Hawaii. However, according to producer Jimmy Iovine, the event has only added to her exuberant attitude in the studio. To complete The Wild Heart, Nicks had to sift through and overabundance of material. "I've got so many songs and only 10 spaces," she sighed. "The Wild Heart is wild. It's real blackhearted. It says, 'Don't blame it on me, blame it on my wildness.' It has an intense air like a desperate argument between two people when you think one of you is going to leave. It wrenches your heart."
Another track Garbo, is a ballad written about actress Greta Garbo, of whom Nicks is an ardent fan. Obviously intrigued by the song, Nicks recited, "It starts out, 'I love to waltz with the man in the dark linen suit; all alone at a party with someone I knew from a time gone by - turned to stone. You could be Marilyn or you could forget...'"
Stevie divided her time between recording studios in Dallas and Los Angeles for The Wild Heart with the same producer and studio musicians that played on Bella Donna. "I'd be crazy to change," she said. "We're all very superstitious. We haven't changed anything."
Despite her extraordinary success as a solo artist, Nicks doesn't foresee a breakup of Fleetwood Mac. "It'll all just depend on how understanding everybody is to everyone else's needs," she said. "If everyone is thoughtful, understanding, sweet and kind, then the band could go on forever. If everyone isn't, then that could cause a big problem." Nicks feels that fellow bandmembers Christine McVie, Lindsey Buckingham and Mick Fleetwood will also follow up their initial solo efforts, but she adds that the work apart from the group is therapeutic.
"My relationship with Fleetwood Mac will never change," she sighed. "I will always be the baby sister, the one that is left out a little bit. My solo work allows me not to feel bad about it and enjoy them (Mac) for what they are, instead of worrying about not being included enough. That's what I would get upset about. They were not even close to using my full potential. But now I know I have something else to go to."
According to Nicks, her solo work has also afforded her recognition as a songwriter. That recognition had alluded her, despite the fact that she wrote some of Mac's biggest hits including Sara, Rhiannon and Dreams.
"I've written down songs on a thousand pieces of paper for the last 10 years. If they would only respect me as a songwriter. That's all I ever really wanted," Nicks recalled. "Performing and singing was a wonderful addition, but the thing I wanted most - especially from Mac - was them to say to me, 'You're a pretty good songwriter.' It took them a long time to realize that I wasn't kidding around, that I'm deeply serious about my writing, that it mattered to me what they thought and that I was always striving for a certain excellence. They have that excellence, but I had to strive a little harder for it and make them believe that I really cared that much.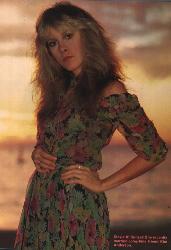 "My wonderful fans," Nicks continued, "my little, teeny, tiny 10-year-old fans and my big, grown-up 45-year-old fans always wrote and said, 'We love your songs,' and they'd make me feel good. It's the peer support that I had to work real hard for. But then I would walk out on stage and all those people would smile and they'd know the words and it would be alright."
Also in the works for Nicks is a book. A diary of sorts, it will include handpainted photographs. A friend of Nicks' is reproducing the print in calligraphy on parchment paper. "I just write a page every night," Nicks said. "You wouldn't believe the thousands of pages of stuff that I have. I just jot down what's happening. I'll get to say everything I ever wanted to say," she said laughing. "So, I'm real excited. The book people told me, 'You don't have to sing anymore if you don't want to. You can just stop and write books.'"
---
Thanks to Lori LaChance for sending this article to The Nicks Fix.
---
---