Stevie Nicks - FAN REVIEWS
11/26/2011 Nib Stadium Perth

---
Mark P.
Just saw Stevie in Perth. What a legend. The show was awesome and Stevie rocked like she always does. Thanks for more memories I'll treasure forever.
Lorre P.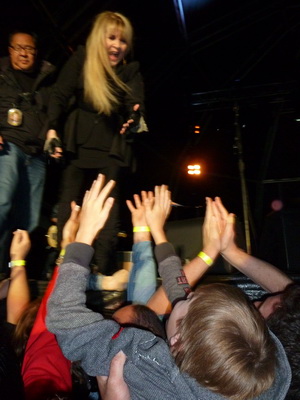 We were lucky to go to Stevies Perth Concert last and were we blown away! My 10 year old son, Jack insisted we go as he just loves her and her uniqueness. Jack gets a hard time at school for liking different things and in the morning on the way to school we play "In My Dreams" and it makes him feel great for the day - favs are "Secret Love", "New Orleans" & "For What its Worth".
At the end of the concert he was lucky enough to touch Stevies hand and blow her a kiss and she reciprocated blowing a kiss back - he couldnt believe it!!! Stevie looked so surprised to see such a little man in the audience - I think she loved it!
Suzy
I went to the Stevie Nicks concert in Perth i had seats in row B but when everyone ran to the stage i figured i had right to be at the front so i did. I had a beautiful bunch of roses which Stevie took and shook my hand – it was like being touched by an angel – my angel J I have seen Stevie twice now and once with Fleetwood Mac and my heart just melts every time. I have loved Stevie and her music all my life i am 30 tomorrow (3rd December 2011) i went to the concert as one of my presents – and i would not have been anywhere else!
Thank you Stevie for a lifetime of wonderful music – i will adore you and idolise you until the day i die.
Additionally i would like to thank "warra / wazza?" Stevies guitarist and musical director for the show – he was FANTASTIC! I was so impressed! I think he knew i was really enjoying his skills – i even caught his guitar pick – i was over the moon.
Fantastic show – fantastic band – gorgeous back up girls (as they always are)
Enjoyed it immensely.
---
Back to The Nicks Fix Main Page
© Copyright 1995-2011 The Nicks Fix, All Rights Reserved, Unauthorized duplication is forbidden