---
Calendar Giveaway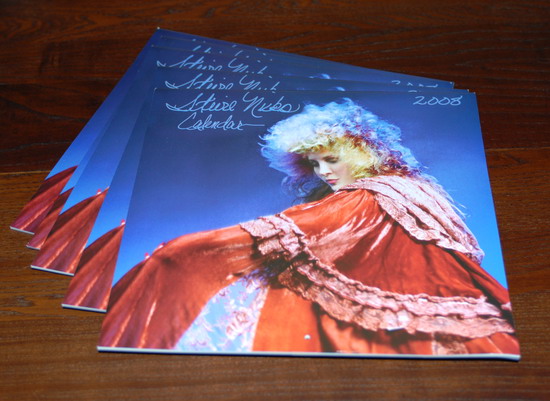 ---
The Nicks Fix is having another set of contests to give away 5 of the 2008 Stevie Nicks calendars. The photographer, Herbert W. Worthington, had donated the calendars for these contests. The calendar contains previously-unavailable photos of Stevie. It runs from January 1, 2008 to December 31, 2008 and each month has its own photo. The calendars are autographed by the photographer.
---
The contest for the second calendar is over. The winner was: Heddy Cuthbertson

The next contest will start in a few weeks. Below are the answers to the second contest.

Name the song title for each of the 5 sets of lyrics below. All are from songs that Stevie has sang on and they all appear on a Stevie Nicks or Fleetwood Mac album, CD or boxed set.

1. Make it easy for me
I been lonely baby

2. I'm the one who cares and I hope you'll see
That I'm the one who loves you

3. Part of me used to love you
Part of me still does

4. He's got rhythm in his hands
As he's tapping on the cans

5. Now I decided yesterday
that I would leave you

The answers for the second calendar contest (song lyrics) were:

1) I will run to you
2) Reconsider Me
3) Some Become Strangers
4) Gold
5) That's Alright
---
The next contest will start in a few weeks.
---