---
Waddy Wachtel - Music Director/Guitarist
---
WADDY WACHTEL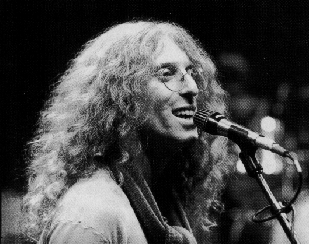 "People would hire me," Waddy Wachtel told Musician magazine in February 1999, "because they needed that rock & roll element." At that point, Wachtel's clean, direct, rock guitar-playing had been 'putting an edge,' as he as he phrased it, into the sound of soft-rock Los Angeles singer-songwriters for nearly a quarter of a century, and he had even gotten to record with such legends as Bob Dylan and the Rolling Stones.
Wachtel was born Robert Wachtel and raised in the Jackson Heights section of the borough of Queens in New York City. His unusual nickname was adopted at a young age. His first break in the music business came in the early '70s, when Warren Zevon, musical director for the Everly Brothers, hired him as a guitarist in the duo's backing band. He played guitar on the Everlys' 1972 album Stories We Could Tell, his first major credit. His next one came three years later with Kenny Rankin's Inside. But 1976 was his breakthrough year, as he appeared in quick succession on four chart albums: Maria Muldaur's Sweet Harmony; John David Souther's Black Rose; James Taylor's In the Pocket; and Zevon's Warren Zevon. Also appearing as an onstage backup musician, Wachtel cut a distinctive figure, a thin, left-handed electric guitarist with a head full of long blond corkscrew curls, wearing wire-frame glasses. In 1977, his credits included Linda Ronstadt's chart-topping Simple Dreams and Randy Newman's acclaimed Little Criminals. In 1978, he played guitar on another Ronstadt number one, Living in the USA, as well as Grateful Dead member Bob Weir's solo project, Heaven Help the Fool, and he earned a production credit on Bryan Ferry's The Bride Stripped Bare. But his most notable work released that year was on Zevon's Excitable Boy, which he helped produce and for which he co-wrote the Top 40 hit "Werewolves of London." Continuing to work with the cream of Southern California performers and other singer-songwriters in 1979, he appeared on Taylor's Flag, Newman's Born Again, Souther's You're Only Lonely, and Bonnie Raitt's The Glow.
In 1980, in a bid to get beyond being a sideman, Wachtel formed the group Ronin with Dan Dugmore, Rick Marotta, Don Grolnick, and Stanley Sheldon, and he wrote songs, sang, and played guitar on the band's self-titled debut album, released on Mercury Records. It flopped, but Wachtel had not given up his day job, and that year he also appeared on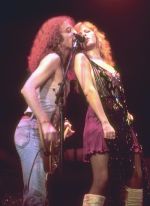 Zevon's Bad Luck Streak in Dancing School and Ronstadt's Mad Love. In 1981, he again participated creatively on a hit, co-writing "Her Town Too" with Taylor and Souther for Taylor's album, Dad Loves His Work; the single reached the Top Ten. The same year, Wachtel appeared on Kim Carnes' number one album Mistaken Identity and forged a long-term commitment with Stevie Nicks, playing on her debut solo album, Bella Donna, another number one hit, and joining her touring band. Nineteen eighty-two found him playing on such albums as Karla Bonoff's Wild Heart of the Young, the Motels' All Four One, Don Henley's solo debut I Can't Stand Still, and Ronstadt's Get Closer. His work with Nicks in the mid-'80s took up much of his time, but in addition to touring with her and appearing on 1983's Wild Heart and 1985's Rock a Little, he managed a few other sessions each year, notably Joe Walsh's You Bought It - You Name It and the Motels' Little Robbers in 1983, Steve Perry's Street Talk (his lead guitar work on the Top Ten hit "Oh Sherrie" was particularly characteristic of his playing) and Henley's Building the Perfect Beast in 1984, Walsh's The Confessor and Rosanne Cash's Rhythm & Romance in 1985, Jackson Browne's Lives in the Balance and Graham Nash's Innocent Eyes in 1986, and Zevon's Sentimental Hygiene, Cher's self-titled comeback album, and Dolly Parton's Rainbow in 1987.
With Nicks off touring with Fleetwood Mac, Wachtel was able to expand his outside work in 1988. Among other projects, he produced the Church's gold-selling Starfish album and developed an important new relationship by working on Keith Richards' debut solo album Talk Is Cheap. (He also appeared onstage with Richards and can be heard on the belated release of Live at the Hollywood Palladium, recorded in 1988 but not released until 1991.) In 1989, he played guitar on albums by several familiar names, including Nicks' The Other Side of the Mirror, Henley's The End of the Innocence, Cher's Heart of Stone, and Zevon's Transverse City. But 1990 brought a raft of new clients. In addition to producing the Church's Gold Afternoon Fix, Wachtel played on Iggy Pop's Brick by Brick, Bob Dylan's Under the Red Sky, and Hall and Oates' Change of Season. Nineteen ninety-one brought a mix of old friends like Walsh (Ordinary Average Guy) and Zevon (Mr. Bad Example) and new ones like Bob Seger (The Fire Inside) and Rod Stewart (Vagabond Heart).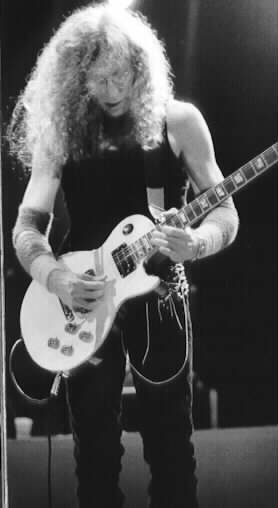 As the '90s went on, Wachtel worked steadily in the studio, and among his many credits over the next few years, the following represent only a sampling: in 1992, Tracy Chapman's Matters of the Heart, Richards' Main Offender, Ringo Starr's Time Takes Time, and Tom Waits' Bone Machine; in 1993, Browne's I'm Alive, Melissa Etheridge's Yes I Am, Bruce Hornsby's Harbor Lights, and Nicks' Street Angel; in 1995, Aaron Neville's Tattooed Heart, Newman's Faust, John Prine's Lost Dogs and Mixed Blessings, and Brian Wilson's I Just Wasn't Made for These Times; and in 1996, Browne's Looking East and Neil Diamond's In My Lifetime. Another notable credit in 1996 was Wachtel's participation on comedian Adam Sandler's What the Hell Happened to Me?, for which he served as arranger and musical director. He also went on the road as Sandler's musical director and eventually began to work on Sandler's films, notably The Waterboy (1998), for which he co-wrote the song "New Year's Eve" with Walsh.
Wachtel reached something of a peak as a session musician in 1997 by playing on the Rolling Stones' Bridges to Babylon, the same year appearing on Sandler's What's Your Name, George Thorogood's Rockin' My Life Away, the Bee Gees' Still Waters, and the self-titled album by the Wilsons. Among his 1998 credits were Johnny Rivers' Last Train to Memphis and Ronstadt's We Ran (which featured his song "I Go to Pieces"). In 1999, in addition to appearing on Michael Hutchence's posthumously released solo album, Wachtel concentrated on working with up-and-coming artists such as Janice Robinson, playing on her first album, The Color Within Me. He also found time to cut some solo tracks of his own for distribution on mp3. com, which has made available half-a-dozen of them under the title WW1 Unfinished Business.
Waddy's Bio is from the Barnes & Noble website.
---
---