---
Scott Plunkett - Keyboards
---
SCOTT PLUNKETT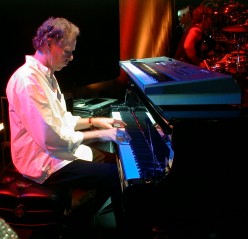 Listen to one of Scott's Rhiannon intros

A Brief (but probably not brief enough) History
I was born and raised in Southern California - just an average So Cal kid when I was little. But, around the time I was about 7, my parents got a Hammond organ. And that was the end of any possibility I had for a normal life. I fell in love with the thing and was constantly playing it, trying to figure out the music I heard on the radio and TV. It didn't take long before my parents got tired of that, so I wound up taking piano and organ lessons.
I got sick of the lessons when I was about 10 and stopped playing for a few years. But, by the time I was 12, I was back to hammering out my favorite songs on the keyboard whenever I could. When my friends needed someone to play organ with their "band," I jumped at the chance.
I played in a succession of bands through high school and college and went back to studying music seriously. In 1980, I happened to be playing at a club when David Foster (producer, songwriter, keyboardist, mogul) walked in. He had just worked on Boz Scaggs' Middleman album and wanted to know if I'd like to audition for one of the keyboard positions. Guess what I said... I managed to pass the audition and went on my first tour that summer. The percussion player on that tour was the up and coming Lenny Castro.
I worked with Boz on and off until 1984. In between tours I wrote and played with local bands and did sessions. I also joined a band with Michael McDonald's sister, Maureen. We made an album that Michael produced. Michael and I wrote some of the songs together, so it was a great learning experience for me.
After a short tour with Boz in 1984, I auditioned for Don Henley. I did the 1985 Building the Perfect Beast tour with a band that included two Stevie Nicks band alumni, Jai Winding and Jennifer Condos. At the end of our tour, we did a benefit show with Stevie and she sang "Stand Back." It was the first time I ever worked with her and I remember how much I liked having a song that rocked so hard in the set - and it featured the keyboards, too. You gotta love that!
The following year, I joined Michael McDonald's band and played with him for about 3 years. When Don released End of the Innocence in 1989, he asked me if I'd like to join the tour. Michael wasn't busy at the time and I loved the album, so I immediately signed on. We toured on and off through 1993. When we started the tour in 1989, one of our background singers was Sheryl Crow (it's almost impossible to imagine Sheryl as a background singer now, but that's the way it was...). And in 1991, we got a new background singer going out on her first tour - Mindy Stein. Don's guitar player at the time was Frank Simes who wound up playing with Stevie during the 1998 tour.
In 1995, Peter Cetera hired me to be the musical director for his solo tour. I dragged Mindy along for that one (I know a good singer when I hear one). After that, I was the musical director for Boz until 1999. Those of you who came to Stevie's 1998 shows will probably remember that Boz opened the shows on that tour. Stevie would often come out and watch us before her show. It was always fun to turn around and see Stevie sitting there and smiling during Boz's set.
After I got done with another tour with Boz in 1999, I got a call asking if I could fill in for Brett (who had previously committed to doing some shows with Chris Isaak) for a few of Stevie's Millenium shows. It was a blast ushering in the new century playing the New Year's Eve show with Stevie. I wound up also doing a few shows with her that summer and finished up last fall at the Arizona Heart Institute Benefit in Phoenix. It was a fabulous show and, it was great to play again with Don and Sheryl.
While we were working in the summer of 2000, Stevie was playing us a lot of her new tracks for TISL. I thought they sounded great even in their rough form. So, I was happy to be asked to join the TISL tour. And I wasn't disappointed. Stevie is the best, the songs are great, the band and crew - I can't say enough about them. Touring truly doesn't get any better than this. It's a privilege to have been a part of this tour.

So, enough of me talking about me. I can't imagine anything more boring. And I hate to leave anyone bored. So, I thought I'd make a list of my favorite moments of the tour. It will give me a chance to relive the tour (that's a good thing) and, with any luck, it will also be interesting.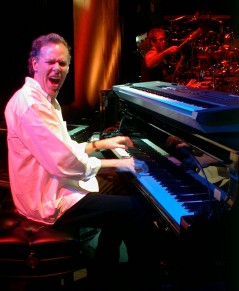 The Completely Unofficial Stevie Nicks TISL Tour "Best Of" List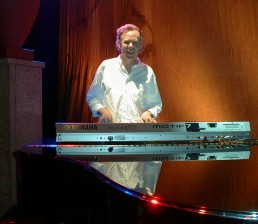 Thanks again to all of Stevie's fans. You made all of us up on stage feel welcome. I enjoyed every moment of the shows - it was a pleasure performing for you. I hope we get to do it again, soon!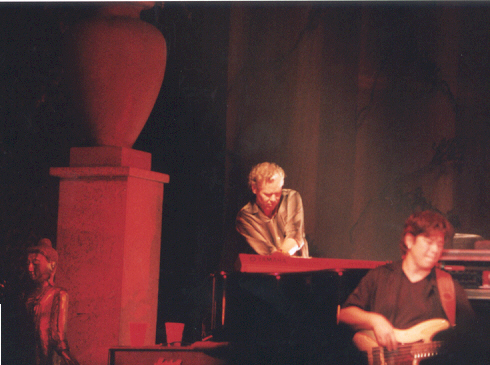 Scott on stage with Al O.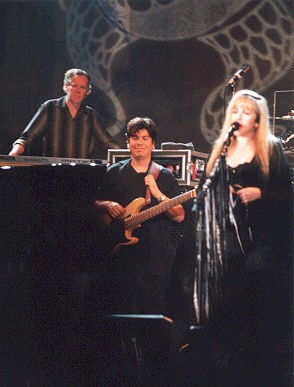 Scott, Al O, and Stevie
---
---