---
Rolling Stone
November 26, 2002
---
Fleetwood Mac Dance Again
Mick Fleetwood also drums up DVD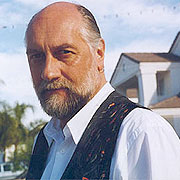 Fleetwood Mac are mixing their next record, now scheduled for a release in the early spring. Depending on one's figuring project will be the band's first new release since 1997 or 1987. Five years ago, Fleetwood Mac put out the The Dance, which mixed less than a half album of new material with some unplugged older material. Prior to that, the group released Behind the Mask in 1990, without Lindsey Buckingham. Thus, the new Mac record will be the first with the band's classic lineup since 1987's Tango in the Night . . . sort of. The record will also be the first since the departure of keyboardist/vocalist Christine McVie.
"It was not difficult, but different, absolutely," drummer Mick Fleetwood says. "She just doesn't want to be in this business anymore. And how can you knock it? You gotta honor her wishes. The end result was it just wasn't meant to be, and her heart -- it was in music always -- but she didn't have her heart in what comes with it."
With McVie out of the fold, Fleetwood, Buckingham, singer Stevie Nicks and bassist John McVie set about sculpting a record out of material both Buckingham and Nicks had initially considered for solo releases. Nicks left eighteen songs in the care of the other three members when she hit the road in support of her 2001 release, Trouble in Shangri-La. Buckingham had also been working up a reservoir of material over the past ten years. "This album will probably be a double CD," Fleetwood says. "Much like when we came out of the Rumours album and into Tusk. It has a lot of those sensibilities and Lindsey's definitely pushed some envelopes that are exciting. And I don't think people will accuse us of standing still."
Some of Buckingham's material had been on the shelf so long that one track features keys and vocals by Christine McVie. "Inadvertently she's hovering in there somewhere," Fleetwood says. Nicks' friend and collaborator Sheryl Crow also sings harmony and plays keyboards on one song.
Fleetwood's assessment of the Buckingham's role in the making of the record also reflects tones of the sprawling Tusk. "It's an art form, sculpting the pieces, which is what Lindsey spends so much time doing," he says. "I hope to God that this album is well received. For all of us, but most especially for Lindsey. He has simply put his heart and soul and life on hold into this album. We're all in it together, but he will take some sense of responsibility for whatever will happen. I'm really quite confident, though."
And once the record is floated out into stores, the band is planning a massive tour as support. "We have ten days to two weeks more of mixing, and we're praying we're done," Fleetwood says. "Hand it in, master it and then we all get a holiday. One way or other, a tidal wave is going to hit us, so we're trying to get some home time. We're trying to find a surfboard to hang on."
Fleetwood's year has also been busy with his myriad entrepreneurial pursuits, from running an auction house to a new line of instructional golfing videos. Over the summer, Fleetwood also drummed up more than 800 loops for Total Drumming, a computer-based program that allows musicians to incorporate drumming into their music royalty-free.
He is also front and center in Two Sticks and a Drum an hour-long feature film that is now available on DVD. "It's not sensational, not a Behind the Music," he says. "I believe you get an insight into me and what motivated me into becoming a drummer and what pulled me into this crazy life I've led."
ANDREW DANSBY
(November 26, 2002)
---
---